July 25, 2007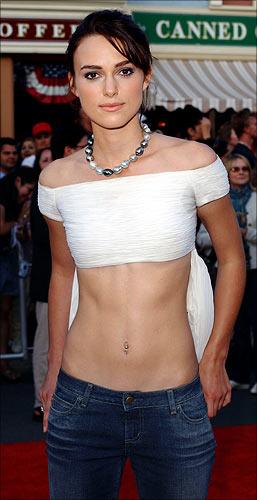 While those faithfuls blue jeans have never gone out of style, they certainly have evolved over the years. Walk down any street and you're sure to see a vast majority of men and women sporting a pair in every hue imaginable and every fit you could think of. From high waists to capris and fold-ups, there's something for everyone and every occasion.
The curent trend however is the 'low rise' variety (also called low-waist jeans, hipsters). The style was very hot when it came in a few years ago, and shows no sign of cooling off yet -- and there's a good reason why.
Low-rise jeans sit low on the hips, well below the waist as a result of which your bottom looks smaller, more petite. They also work on all body types, and actually give you a leaner, longer look. When it comes to comfort, this fit has that too. Since the waistband of these jeans fits lower on the waist, they're a lot less restrictive that high-waist jeans, and don't put too much pressure on the tummy after a heavy meal.
Every denim brand offers low-waist jeans (some lower than others) priced at about Rs 800 to Rs 2,000, while an unbranded pair can cost upwards of Rs 500.
When picking up a pair, do keep a few rules in mind. First, don't go lower than what you're comfortable with. Fidgeting with the waistband because it's too low, will ruin the look. Next, make sure to try on at least 4-5 pairs, experimenting with different lengths and fits, before you decide on one. And last, belts are a must-have. Wearing a belt will make sure they don't sink too low, thus avoiding any unneccessary attention. 
Do you want to see your fashion fundas on rediff.com? If so, mail a pic of your favourite fashion accessory, along with a brief description of where you got it and how much you paid for it, to getahead@rediff.co.in. Make sure to include your name, age, occupation, and contact details, and we'll feature the best entries!