July 09, 2007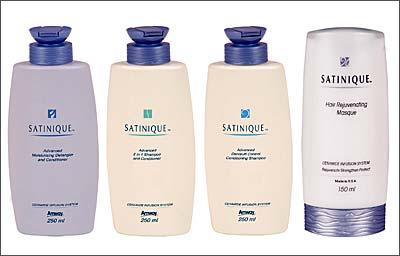 Amway India recently launched a specialised range of products for monsoon haircare, known as 'Satinique'. From shampoos to a hairmask, all the products replenish the ceramides and proteins that your hair tends to lose during the wet season.
Designed to keep your mane in top form, the Satinique range consists of the following:
~ Satinique Advanced 2-in-1 Shampoo & Conditioner: This dual-action product cleans and conditions in a single step, and moisturises your hair.
~ Satinique Advanced Moisturizing Detangler: This is a conditioner-cum-detangler that smoothes out your mane and makes it easy to style. It moisturises the hair, and replenishes natural protein.
~ Satinique Hair Rejuvenating Masque: The hair masque helps repair rough, damaged hair, making it stronger, keeping it well-moisturised, restoring lustre and replenishing natural lipids. In fact, research shows that one-time usage also benefits weak strands.
~ Satinique Advanced Dandruff Control Conditioning Shampoo: This shampoo that rids your hair of dandruff and prevents your scalp from itching and/ or flaking. It has a gentle cleansing-moisturising action and can be used on a daily basis.
All the above-mentioned Satinique haircare products cost Rs 349 per 250 ml bottle.  However, as with all Amway products, they are only available from Amway distributors.
~ Have you used these products? Tell us what you think. 
~ Do you have a new product you would like to see featured here? Send it to us with the details, the photographs and the contact details and you might just see it here.
DON'T MISS!