July 03, 2007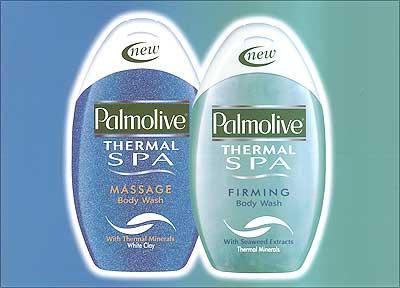 Want a spa-like experience in the comfort of your home?
Colgate-Palmolive (India) Ltd say they now offer the option with the two body washes they launched last week. These are part of its new range of bath products -- the New Palmolive Thermal Spa range -- and are targeted at women between the ages of 18 to 35.
The Palmolive Thermal Spa Firming Body Wash nourishes your skin with thermal minerals and seaweed extracts, to give your skin an ultra-soft feel.
The Palmolive Thermal Spa Massage Body Wash, on the other hand, contains thermal minerals, white clay, and massaging micro-spheres, all of which have a gentle exfoliating effect on the skin, leaving it looking fresh and feeling smooth.
Both Thermal Spa Firming and Thermal Spa Massage are available at most stories selling beauty products. They are priced at Rs 90 for a 250 ml bottle.
~ Have you used these products? Do share your feedback with us the comments section. 
~ Do you have a new product you would like to see featured here? Send it to us with the details, the photographs and the contact details and you might just see it here.