Home > Movies > Columns

Why Paheli's better than Black

Raja Sen | September 27, 2005 15:38 IST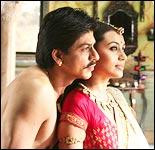 Ever since it has been announced that Paheli has been selected by the Film Federation of India as India's submission for the 2006 Academy Awards, all hell has broken loose.
The film opened to mostly poor reviews across the country, and protesters are voicing dissent in all directions -- Shah Rukh Khan's acting ability, the tragic omission of critically loved films like Hazaaron Khwaaishein Aisi and Iqbal, and even raising the possibility of lobbying done by Rajasthan Tourism!
And an entire nation of critics, armchair and otherwise, seem incensed by the fact that Sanjay Leela Bhansali's Black has been passed over for this relatively smaller commercial success.
In this article, we choose to argue the merits of the FFI's arguably gutsy selection. Here we defend our Oscar entry, especially over what can now be called its archrival, Black. Here's to the riddle:
| | |
| --- | --- |
| | More on rediff.com ! |
| | |
First things first, the two films being debated upon have quite a bit in common: Both feature the masterful cinematography of Ravi K Chandran; both highlight their sensational leading lady, Rani Mukerji; and both are undeniably works of extreme directorial self-indulgence.

But the difference lies in that very fact. Amol Palekar's bright abandon in Paheli leads to a languorously unhurried fairytale, a unique love story told without fuss. On the other hand, Sanjay Leela Bhansali trips the light narcissistic with his mega-budget Black to emerge with a half-baked, often derivative and crucially flawed film.

The story: Palekar adapted a folktale written by playwright Vijay Dandetha. Trusting in the script to do the talking, he peopled this setting with a fine ensemble cast and a magnificent Rajasthani setting. The story remains a familiar one as a ghost falls madly in love with a human, and dresses up as her husband. Even as the ghost is enjoying this life, the husband returns, providing the film with its simplistic point of conflict.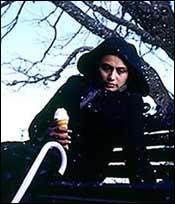 Meanwhile, Bhansali, goaded to heights of cinematic decadence after the inexplicable success of his most grotesque and overblown film, Devdas, puts together a dodgy tribute to Helen Keller that aims far too manipulatively for the heartstrings. Black slashes melodramatically across them, instead of tugging lightly, which is why kerchiefs stay largely in pockets; emotion cannot be this calculated.
Your Say: Is Paheli the right choice?

The setting: It's easy to fall into the rut of using Rajasthan as a clichéd backdrop, but Palekar avoids this pitfall by sheer excellence. The colours of the film make you reel, and its fairytale content is aptly framed by the bright magnificence of the desert state. Cinematographer Chandran hits peak with the film, wrapping Rajasthan in appropriate dream garb.
Black is a beautifully shot film, but amounting to vacant ambiguity. The setting is peculiarly English, the characters speak with a light (at the best times) accent, and everything aims to be perfect. But the candles and the bathtubs, the vastness and the artworks on the wall, all reek of trying-too-hard, of slathering on excess upon excess so you don't notice the emotion. As a friend said to me, if Black was set in the local marketplace, and you'd have seen Rani stumbling around in Lokhandwala (a northwest Mumbai area), it would have been a lot more effective. Indeed.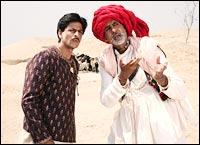 The acting: Shah Rukh Khan, despite whatever misgivings you might have about his thespian abilities, woos women on screen with superb panache. The actor also has splendid comic timing, and the film sees him in a dual role, utilising both of his strengths and adding miraculous layers of restraint. The film's producer isn't the 'he-he-hey Anjali' actor of yore, and this is a breakout role.
Rani Mukerji seems to be incapable of putting a foot wrong these days, and this is a powerful, sensuous, emotive performance. The supporting cast isn't important, but some scene-stealing is done through the comedic efforts of Dilip Prabhavalkar and Rajpal Yadav. Amitabh Bachchan is magnificent in his brief appearance.
Black has some marvellous performances. Ayesha Kapur, an unschooled little girl, plays the young Michelle McNally to absolute perfection, decidedly the highlight of the film. Theatre veteran Shernaz Patel is superb as the mother, and Dhritiman Chatterjee provides adequate foil as the father. In a script requiring massive acting histrionics, Rani rises to the occasion on most parts, but it is tragically the script itself that keeps hers from being an immortal performance. Amitabh Bachchan, rattling some insanely grandiloquent soliloquys, hams tremendously. He is required to deliver, but just mires the film into mediocrity.
The narrative: Paheli is a slow film. It starts slow, stays slow, and remains a lazily told story. The simplicity of the story is plain; it is how the director has chosen to sketch in the details that makes the difference. For example, a pair of hand puppets share occasional dialogue with the ghost, fleshing out his, and the film's, character delightfully. The song sequences were a total letdown, the director unaccustomed to the classic Bollywood devices, and the lengthy songs just drifted harmlessly through the film, aided by the splendiferous colours.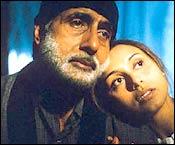 Black works in fits and starts. While you are still adjusting to the vacuously lit, tremendous open spaces, characters are introduced and confusion is born throughout as none of them achieve true credibility. At best, the film is shadowy, free of empathy and surrounded by cinematographic smoke and mirrors. For example, Nandana Sen, who plays Michelle's sister, is an inexplicable persona, a cross between jealousy and affection the script never works on explaining.
The flaws: WARNING. SPOILERS HEREIN
Ah. The 'interesting' bit. Paheli has its share of loopholes, with a lot of viewers decrying the fact that the ghost eventually chose to enter the husband's body. Why couldn't he have done that at the very beginning? Well, readers, if we're assuming that a spirit can fall in love, why can't we assume that he too gets spooked (sorry!) by commitment? He's drawn to her, he wants to have her, but really, isn't it reasonable to think that he too might need time to think things over? Anyway, doesn't a fairytale (!) always have a blissful lack of absolute rationale?
Black's errors, on the other hand, weren't as harmless. To mention just one in a tremendously long list, nurses were justifiably up in arms after the film, as Bhansali constantly mixed up Alzheimer's and Parkinson's! This in itself is an unforgivable error, and in a film aiming to be a finely oiled and polished product, there can be no possible defense. The film drags tediously on, painting a strange picture lacking almost completely in realism.
In sum:
Black is not a good film. Hold your protests, and I swear if anyone mentions Krzysztof Kieslowski (the Polish filmmaking genius) and makes comparisons -- as several critics did at the time of the film's release -- with his Blue again, I will hurl Devdas DVDs at their scalp. Despite lavish and even breathtaking cinematography, and a couple of standout performances, Bhansali's film is insubstantial and ends up utterly inconsequential. Sound and fury, signifying nothing. If we would have sent this film to the Oscars, it would be laughed away. Not least because of the plagiarised content.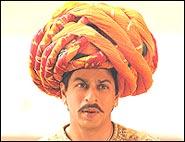 Paheli, on the other hand, paints a dreamscape. The enchanting story is laid out elaborately, framed magnificently in colours and Rajasthani exotica. The language is rustic and the actors have their accent-work well in place, so the dialect sounds appropriately faraway. The desert setting provides the cinematographer a perfect background to capture the trademark vivid brightness in the state's everyday clothing. The pagris are rich, layered, and as irresistible as the simple romance.
This is a magical film, and lets all hope fervently that the West wakes up to it as strongly as the Audrey Tatou movie (The French Le Fabuleux Destin d'Amelie Poulain, directed by Jean-Pierre Jeunet), a couple of years ago. And we go one better, and grab us an Oscar.
Here's to you, Pahelie!