Home > India > Cricket > Interview



The Rediff Cricket Interview / Suresh Raina

'IPL is a good platform for up-and-coming Indian cricketers'

April 13, 2009



Suresh Raina [Images] is not prepared to take anything for granted despite a spectacular comeback. It is a lesson well-learnt, he says, especially after encountering a similar scenario at the start of his career.

The 22-year-old left-hand batsman from Uttar Pradesh [Images] made a smashing start to his international career before being dropped in 2007 following a string of low scores. It was only a handsome showing in the inaugural edition of the Indian Premier League [Images] last year that put him back on track. Since then he's been virtually unstoppable in one-dayers and has played a key role in the series victories against England, Sri Lanka and New Zealand.

Back after a successful outing in New Zealand [Images], Raina tells Chief Sports Correspondent Harish Kotian what it took to take his game to a different level.

You had a good time in New Zealand, scoring 125 runs in five One-Day Internationals at 62.50, but your strike rate of 148.80 stood out. Did you focus on playing an attacking game?

I was batting quite well in the nets and was middling it, so I decided to play positively in the matches too.

I believe we did quite well as a team in New Zealand, because everybody performed and contributed. As a team we wanted to keep it simple, stick to the basics and work hard. The presence of a senior player like Sachin Tendulkar [Images] was vital because he changes the entire dressing room atmosphere.

We had blanked out Sri Lanka [Images] 4-0 in their own backyard so we were quite high on confidence; that reflected in the New Zealand series.

So, overall, the team strategy was to attack the Kiwi bowling, which was not so strong?

It was not that their bowling attack was weak. Their bowling was quite good, but I think we played very good cricket. If you see Viru [Virender Sehwag [Images]], Gautam [Gambhir], Sachin [Tendulkar], Yuvraj [Singh], Yusuf [Pathan] and myself, we all contributed with the bat. The matches were not all 50 overs games; sometimes 38 overs, sometimes even less, which was quite challenging. But we made sure that we played our Powerplay overs quite well. Cricket is a team game and one player cannot make a difference always, which was quite evident in New Zealand where everyone performed well and the team came out on top.

In New Zealand you attacked every bowler that came your way. Did you work on your stroke-play recently?

I spoke to coach Gary Kirsten and I also interacted with senior players like Sachin, Sehwag. They all told me to keep focus on the ball and try to hit straight. They told me to work-out and be in the best physical shape and, overall, keep it very simple when batting in the middle.

Sachin, especially, helped me a lot by talking to me from all his experience of touring New Zealand. He told me that the wickets in New Zealand are loaded more in favour of bowlers, so it is always better to spend some time in the middle before going for your shots.

I also had a few big partnerships with Mahendra Singh Dhoni [Images] during which I learnt a lot about batting in pressure situations. His advise was to rotate the strike and I know that whenever you get the loose deliveries you can hit it for boundaries. He told me to make most of my time in the middle and take a few chances at the right time against the right bowlers.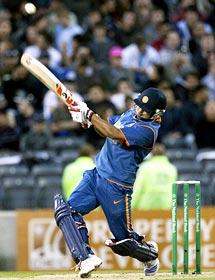 Do you favour batting at number three, where you have done well recently?
I have done well at number three and even in the middle order. I am ready to bat at any position that the team management asks me to. I just want to make sure, whatever the batting order they choose, it will be according to the situation. So I am okay with wherever they send me to bat.
Are you also looking at breaking into the Test team in the near future?
Definitely, I am looking forward to making it to the Test team someday. And whenever I get the opportunity I hope to make the most of it and contribute to the team. I am really keen to play Test matches, but I am ready to wait for the right opportunity. I am sure it will come soon if I keep performing in ODIs and Twenty20 [Images].
Mahendra Singh Dhoni has done a good job with this young Indian team by winning almost everything it has come across. How does he motivate youngsters like you who seem to relish playing in pressure situations?
He is a very confident captain and looks after all the players in his team. He motivates the new players, gives them confidence and makes them feel at home. Dhoni knows who is a quality player and how to develop him accordingly. He is a very good captain from the team's point of view, because whenever he has captained the team has done well in every part of the world, whether it is at home or Sri Lanka, South Africa [Images] and New Zealand.
Does Dhoni's calm and unfazed approach in the middle help the players stay cool, especially in pressure situations?
That is his nature, and I think it helps the team a lot, because we also learn how to deal with pressure. There is a lot of passion in him too for cricket and for the team, and that motivates us. He gives 100 percent to the team's cause, both as player and captain, whenever he walks out to the middle. That is what inspires us team members to try and give our best.
He leads from the front and never lets the team down. The team has also gelled well under him and we enjoy each others success, which is the key for any top side. He stresses on how important it is to maintain the momentum and keep doing well to ensure that we keep winning.
Do you think this Indian team is on the right path towards achieving number one status in ODIs?
I think we are playing good cricket at the moment and if we continue our winning run then surely in the near future we will be the top team.
Even Sachin said recently that this is the best batting line-up he has been part of in ODIs. I think it is a big compliment for all us that we are a part of this team. It is a real honour that someone like Sachin has praised us. As you can see, there are so many quality batsmen in the team, like Sehwag, Yuvraj, Gautam, Dhoni; everyone has his own style. So if we can maintain our form and continue dishing out top level performances then the future will only be bright.
Can you tell us about your preparations for the IPL?
We had a training camp in Chennai for a few days after which we will have a training camp in South Africa to get used to the conditions before the IPL starts. I am sure we will do well because we have started our preparations well in advance.
How do you rate Chennai Super Kings' [Images] chances in this year's tournament?
The expectations have definitely increased this time after we finished runners-up last time. This time we have new international players coming into the team and also our domestic players, like Parthiv Patel [Images] and S Badrinath, have done well this season.
Dhoni, myself and all the other international stars have also performed well this season for the national teams. If you compare us to the other teams, I think our team is well-balanced and definitely one of the favourites to win the tournament.
Last year's IPL was the tournament that helped you make a comeback to the Indian team. How would you approach the tournament this time now that you have found a permanent berth in the Indian team?
Definitely, I am looking at it quite positively, because last time I did very well in the tournament. Also, it will be a good preparation for the Twenty20 World Cup, which will be played right after the IPL. I will look to enjoy myself out there and make use of every opportunity that comes my way. The most important thing is to learn from each and every international player in your team; they come from different parts of the world and you can learn from their experiences of having played in different conditions.
With the IPL being considered a domestic tournament, do you take it as seriously as an international match for India?
So many world-class players take part in the IPL, so it is almost like an international match. Ultimately it is up to you as to how you treat the tournament, whether you take it seriously or not. But I am sure there is a lot to learn from the tournament, which will help us young cricketers become better players.
Last year the IPL was a great help because not only did I learn a lot of things playing with international cricketer, but it also helped me comeback into the Indian team. That is why I believe it is a good platform for up-and-coming Indian cricketers to announce themselves. So many people all around the world follow the tournament. It is a big opportunity, especially for India's domestic cricketers to prove themselves on the world stage.
Are you disappointed that the IPL is not being held in front of your home fans?
It is a good thing that the IPL is happening after all. I think whether it is held in India or South Africa, people will still support the tournament.
Definitely, we will miss the Indian fans, because last time mostly all the stadiums were full. But I am sure South African fans will also come out in large numbers and support all the teams because they also love the game.
I must surely congratulate the BCCI; hats off to them for organising the tournament in South Africa at such short notice.
Photographs: Reuters
More Interviews