Home > India > Cricket > Interview


The Rediff Cricket Interview / Suresh Raina

'I am a better batsman now'

February 14, 2008


| | |
| --- | --- |
| Suresh Raina | |
| | |
| | |
| | |
| | |
| | |
| | |
Suresh Raina made his international debut at the age of 18, but since then has seen a lot of ups and downs in his career.
His explosive batting in the home series against Sri Lanka [Images] and England [Images] in 2005-06 saw him make a quick impact, but lack of runs subsequently forced the selectors to drop him after the 2006-07 tour to South Africa.
A knee injury and remedial surgery that followed last year did not help, as he spent much time on the sidelines. However, once he regained fitness, he made up for lost ground with a consistent showing in the Challenger and Ranji Trophy. He amassed 683 in eight matches in this season's Ranji Trophy, which was instrumental in Uttar Pradesh finishing runners-up to Delhi. The showing did not go unnoticed as he was rewarded with a berth in the squad for the ongoing tri-series in Australia, also involving Sri Lanka.
The talented UP youngster spoke to Special Correspondent Harish Kotian before embarking on the tour Down Under.
At such a young age you have seen many ups and downs. What have you learnt from them?
I learnt a lot from my setbacks. I have always been positive and never let negative thoughts clog my mind. I realise that whatever improvement I make with regard to my batting, and overall game, will help me grow as a cricketer.
How does it feel to be back in the Indian team?
I am feeling good. It's a great feeling coming back into the side because it was not easy after being down with injury. I am in good shape and feeling much better than before.
What lessons did you learn from being dropped?
It was not easy for me because I had a ligament injury. But my progress went off very well and I must thank Dr Mithun Joshi, Chandan Chawla and physio John Gloster for helping me through. Also, the BCCI deserves special mention for providing me everything I needed during my treatment and rehabilitation. I used to be in touch with Mahendra Singh Dhoni [Images] and Irfan Pathan [Images] during this period and they motivated me.
I had a good season in the Ranji Trophy for UP after that; I played some good knocks, so I am pretty confident looking at the season ahead.
What is the difference in your game now and when you made your debut in 2005?
I have become mentally strong now. When I made my debut I could not understand anything as everything was happening so fast. But this time I have improved a lot; my mindset is quite good and fitness is better than before. I believe am a better batsman now and my shot selection has improved. So I am hoping to do well.
Did you make a conscious effort to play big knocks this season?
Yes, because last season, in the Ranji Trophy, I was getting out in the 70s and 80s. But this season I was getting big scores and that made me feel comfortable.
My UP team mates, coach Gyanendra Pandey and captain Mohammad Kaif, all played a part in helping me this season. The team performed as a unit, which also helped me get settled through the season. I hope to carry this momentum and produce a similar performance in Australia.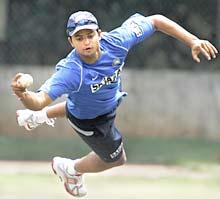 Was there extra determination to use this Ranji Trophy season as a golden opportunity to stage a comeback?
I was certainly determined. I was quite eager to comeback into the Indian team once I had recovered from my injury. Even when I was injured I used to go to the ground to watch kids play, or the Under-16 and Under-19 matches, despite being on crutches. Even at home I used to follow the Indian team on television. So that way I was never far from cricket. My family and friends also helped me get through that period because it was quite difficult at the start.
The selectors are now looking towards youth, especially in one-dayers and Twenty20. Did it give you that extra motivation to do well in domestic cricket?
I think the young team did really well in the Twenty20 World Cup and made history by winning the trophy. So right now the focus is to give youngsters opportunities. I think they have not let the selectors down. Also, the Indian team performed brilliantly in the Test series against Australia. They have taken that extra momentum into the tri-series.
How important is it to get settled at the earliest when playing in Australia?
It is very important to get settled down and get used to the conditions at the earliest. It is important that we practice hard, so that we get used to the wickets and conditions. We need to work hard and plan accordingly so that when we get a chance we are ready.
The selectors dropped all the seniors, except Sachin Tendulkar [Images], from the ODI squad. For a young cricketer like you, how comforting is it having someone like Tendulkar in the dressing room?
His presence is very important for us, because he is a world-class batsman. He is always ready to help and the dressing room atmosphere is so light when he is around. His sheer presence motivates you; he always helps the young players by telling them how to improve and how to improve on their mistakes.
Quite a few youngsters have come into the team in recent months. There is extra competition now for a place in the middle order. How do you look at it?
In the Indian team the competition for places is always there. But I am confident of doing well whenever I get the opportunity. I have done well in all the tournaments I played, like the Challenger Trophy and in Ranji Trophy.
I won't be feeling the pressure, but I will take everything positively. I am raring to go, but at the same time I would also look to learn from the experience. I am not worried about whether I get to play every match or not, but the important thing is that I will try and learn everyday. Australia is a place that helps you develop as a cricketer. I will try and improve my batting, fielding and running between the wickets.
In Australia, since the grounds are big, if you are a fast runner you can convert one into two. Similarly, you need to be a good fielder with a strong arm otherwise you will find it difficult in the big outfields in Australia. That is why as a cricketer it helps you grow if you can pick up things quickly playing in a difficult place like Australia.
Do you get affected by sledging?
I don't get affected; I just ignore if a bowler sledges at me. I don't believe in replying directly, but rather believe in replying with my performance. I think performance speaks better than words.
More Interviews