Home > Cricket > First Look


Gilchrist hits second fastest Test century

December 16, 2006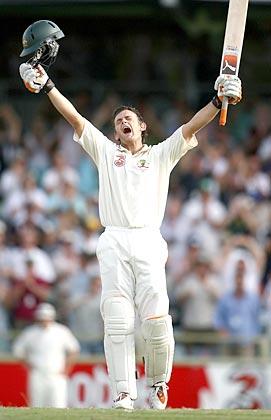 Australia's Adam Gilchrist scored the second fastest century in Test history when he reached a hundred off 57 balls in the third Ashes Test against England on Saturday.
Scorecard | Day 2 pics | Schedule
Gilchrist brought up his ton in 98 minutes with a two off Steve Harmison late on the third day at the WACA.
Gilchrist just missed the world record of 56 balls set by West Indian Viv Richards against England at St. Johns in 1985-86.
However, he eclipsed the previous second best mark of 67 balls set by Australia's Jack Gregory against South Africa in Johannesburg in 1921-22.
Gilchrist also broke the record for the most runs in a six-ball over in an Ashes series when he plundered 24 off Monty Panesar.


What do you think about the story?








Read what others have to say:





Number of User Comments: 6








Sub: about match

gilly,superb, what a fantastic innings, your a main member of aus team without you team is not completed keep it up ...


Posted by unmesh









Sub: gilly

Simply superb! An awesome perfornmance. He is the best ever wicketkeepr-batsman in the test history. gilly keep going and of course hang in your boots, ...


Posted by pvbn murty









Sub: Gilchrist Rocks!!!!

It was really very nice to see gilchrist playing a woonderful knock in the second innings...especially he was out for duck in the first one...he ...


Posted by manoj









Sub: GILCHRISH

GILCHRISH - DISTRUCTIVE Only he is capable of making such things happen


Posted by BIVIN









Sub: superb century by gilchrist

he is the best wicket keeper batsman in the world he is the key player in australian team in one world he is the best ...


Posted by ramesh






Disclaimer