Home > Cricket > PTI > Report


Lillee rates Vishy higher than Sunny

August 02, 2003 17:41 IST



Aussie fast bowling legend Dennis Lillee does not think his contemporary record-breaking Indian rival Sunil Gavaskar had much quality, and surprisingly rates Gundappa Viswanath as the best batsman who played against Australia.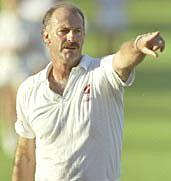 "I know he was a great batsman but I cannot rate him among the great batsmen I bowled against," says Lillee in his recently-released autobiography.
"I rated Gavaskar of medium quality only and I have not changed my mind," he wrote.
Lillee instead gives the pride of place to the stylish Viswanath, brother-in-law of Gavaskar.
Viswanath was the best batsman against Australia "who made runs against us and regularly at that", he says.
Both Gavaskar and Viswanath enjoyed a very good average against Australia. Viswanath averaged 53.03 from 18 matches, scoring 1538 runs with four centuries. Gavaskar scored 1550 runs at 51.66 with eight hundreds in 20 matches.
And when it comes to current batsmen, Lillee has no hesitation in putting Sachin Tendulkar at the top of the list.
"You don't really need to say much more than he is the 'Little Master'. He plays on all wickets against all sort of bowling and doesn't appear to have any weakness.
"He will be the first batsman in history to score a century of centuries in Test and ODI," predicts Lillee.
Lillee says he had first seen Tendulkar during a coaching stint in India. Watching him bat, he asked the head coach who this 14-year-old was, and much to his embarrassment was told that he had rejected him a couple of years earlier as a fast bowler.
The firebrand bowler, who never played in India but does visit the country often now because of his association with the MRF Pace Foundation in Chennai, says he was instrumental in changing the entire way in which fast bowlers were trained in India.
"When the pace foundation started there was no fast bowling history or base in India. Even Kapil Dev, a great swing bowler, was not genuinely fast," he wrote.
However, Kapil Dev is included in Lillee's list of great fast bowlers of his time.
Of Kapil he wrote: "A wily bowler with inswing and outswing and the slower ball, he was prepared to bowl 35-40 overs an innings to get his four or five wickets. He was not short of Richard Hadlee as a true professional."
On another great Indian bowler, Bishen Singh Bedi, Lillee says, "He was not a big turner but he used the angles and the crease, if they let him. Batsmen rarely got on top of Bish and he loved batsmen as much as I did. He treated Australian batsmen like a game, almost playing cat and mouse."
Also read:
Lillee mocks Gavaskar on sledging
© Copyright 2006 PTI. All rights reserved. Republication or redistribution of PTI content, including by framing or similar means, is expressly prohibited without the prior written consent.



What do you think about the story?








Read what others have to say:





Number of User Comments: 5








Sub: Vishy better than Sunny???

Lillee dont be silly


Posted by krishna kumar









Sub: Sunil the Great

The Australian's opinions are always biased. While there is no doubt about the quality of Vishwanath it has been extremely difficult for any Indian batsman ...


Posted by Mahesh Gokhale









Sub: lillee'rating of Gavaskar

I agree with LIleee's rating of Vishwanath as a better batsman compared to Gavaskar. Vish scored runs faster ,under difficult conditions and contributed to producing ...


Posted by Sankar krishna









Sub: Marketing Gimmick

I don't think it is a coincidence that Lillee is making controversial comments about Indian players at the same time as releasing his autobiography. India ...


Posted by Ajit









Sub: angry

Lillee is just angry over Gavaskar's true comments about Australian's team behavior.


Posted by sachin manchanda






Disclaimer