Home > Cricket > Reuters > Report

Lillee mocks Gavaskar on sledging

August 01, 2003 12:05 IST
Last Updated: August 01, 2003 16:14 IST



Dennis Lillee has mocked his former Indian rival Sunil Gavaskar for accusing Australia of tainting the image of cricket with sledging tactics.

Gavaskar, 54, called on Tuesday for "verbal bouncers" to be stopped to prevent damage to the game.

"Sledging has gone on since W.G. Grace and it will go on as long as any sport is played, not just cricket," former Australia paceman Lillee, 54, was quoted as saying by Melbourne newspaper The Age.

"If they think it's too bad, the authorities are there to stop it.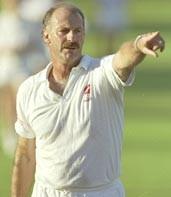 "I think it's funny coming from someone who took his bat and went home when an umpire's decision went against him," added Lillee.
Gavaskar protested after being given out lbw for 70 off Lillee's bowling during the Melbourne Test in February 1981.
The India captain led his batting partner Chetan Chauhan off the ground. They were met at the gate by a team official and Chauhan was sent back out.
"There are perhaps not even 15 (in Test cricket) who indulge in this verbal abuse and intimidation," Gavaskar said while giving the Colin Cowdrey lecture for 2003 at Lord's on Tuesday.
"But unfortunately most of these belong to a champion side (Australia) and it makes others believe that it's the only way to play winning cricket," added the former opener, who holds the world record for Test centuries with 34.
"Unless something is done quickly about it, the good name of the game that we all know will be mud," cricket's third highest run-scorer said.
"Just look at any school games anywhere in the world and we will see bowlers having a go at the batsmen. They see it on TV from their heroes and believe that it is a part of the game, and so indulge in it."
Lillee, who took 355 wickets in 70 Tests, said: "I don't know how much junior cricket he (Gavaskar) has watched in Australia! That's not right."
© Copyright 2005 Reuters Limited. All rights reserved. Republication or redistribution of Reuters content, including by framing or similar means, is expressly prohibited without the prior written consent of Reuters. Reuters shall not be liable for any errors or delays in the content, or for any actions taken in reliance thereon.



What do you think about the story?








Read what others have to say:





Number of User Comments: 25








Sub: Yet another aussie..

He is yet another australian.. Gavaskar is truly a master batsmen who has tormented WI in WI. No doubt he is the best test batsmen ...


Posted by Ramanathan









Sub: ISANE TO LE HI LI (VB)

Look at Lillee's response. What else u could except from another sledger. Lillee look at ur backyard. What happens at junior level sports. How many ...


Posted by Vinod









Sub: lillee about sunny

Dont publish these non-sense comments from this non-sense man. Vish is great but sunny...no body played blowers like him..tell this lillee to do his work..we ...


Posted by KALYAN MITRA









Sub: What lies!!

Gavaskar walked off after being given out, AND hearing the comments being passed by the sledging Aussies. Someone has got their facts all wrong here.


Posted by kiran









Sub: I agree as well.......

I agree with the view that Lillee has crossed the limit. Obviously, everyone around the cricketing world knows that Australians are masters of sledging, and ...


Posted by sridhar






Disclaimer