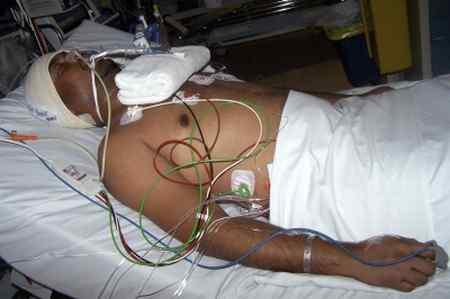 Anger is mounting among Indian students in Australia in the wake of the recent assaults that left a youth from the community battling for life after being stabbed and another badly burnt following a petrol bomb attack.
The Federation of Indian Student Association in Victoria said that they have been receiving non-stop calls to hold rallies and protest shows in Melbourne against the spate of attacks on Indian youths. However, it was too early to hold such rallies as both Indian and Australian authorities were discussing the issue of the safety of Indian students, FISA President Gautam Gupta said in a statement.
"At this point of time, well-being and health of victims are most important," he said. Gupta said he received at least 300 calls on Friday night, out of which nearly 200 asked him to hold rallies against the attacks.
But he urged the Indian community to maintain calm. His remarks came as an Indian student, 25-year-old Rajesh Kumar, suffered 30 per cent burns after a suspected petrol bomb was hurled at him in his home in Sydney two days ago.
Sravan Kumar, a student from Andhra Pradesh, was fighting for life in a hospital in Melbourne after being stabbed by a screwdriver by a group of teens in a weekend attack that also left three of his friends injured.
Sravan Kumar remained in coma in the intensive care unit of the Royal Melbourne Hospital on Friday night. A 17-year-old from Glenroy has been charged with attempted murder in connection with the attack on Kumar and his friends. Baljinder Singh, another student who was stabbed by two attackers earlier this week, has been discharged from the hospital. In two of the assault cases, the victims or witnesses reportedly spoke of the specific racial abuse.
But deputy commissioner Kieran Walshe said on Friday that he had 'no specific data' on that. Concerned over the increasing attacks on Indians in Melbourne, Prime Minister Manmohan Singh raised the issue with his Australian counterpart Kevin Rudd on Friday night. Singh, who received a call from Rudd to congratulate him on assumption of office for a second term, used the opportunity to convey India's concerns over the attacks on Indian students in Australia.
Rudd was quoted as saying by the media here that he was 'concerned about any act of violence in the streets and suburbs of Australia's cities and towns and particularly when we are obviously hosts to students from around the world'.
"It is appalling in every sense. Any act of violence, any decent human being just responds with horror at the sorts of attack which have occurred recently," he said.
Image: Indian student Sravan Kumar Theerthala in the intensive care unit at a hospital in Melbourne | Photograph: Ho New/Reuters