Home > Cricket > The Cup > First Look


Triumphant Aussies return home

May 03, 2007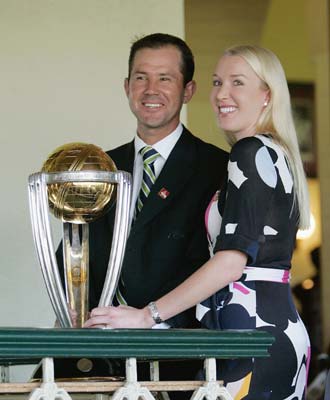 Australia's triumphant cricketers arrived home on Thursday with the World Cup safely tucked under their arms after their victory in the West Indies and another big day of celebrations awaiting them.
Captain Ricky Ponting and his squad were greeted by family, friends and a large media scrum when they touched down at Sydney Airport around dawn following the long-haul flight from the Caribbean.
The team were due to head to the Sydney Cricket Ground for a celebratory breakfast before a public reception in the central business district at noon.
Australia won the World Cup for the fourth time, and third in a row, with victory against Sri Lanka in Sunday's final in Barbados.
The game was marked by a shambolic ending when the umpires mistakenly called the players back to contest the last three overs when the match should have already been declared finished.
The Australians hardly raised a sweat as they coasted through the whole tournament undefeated but Ponting said the relative ease of their win and the farcical finish had failed to dampen their celebrations.
"The celebrations were long and hard which is what they should be after you win a World Cup," Ponting told a news conference in Sydney.
"For us to again go through undefeated and once again have a lot of our players peaking at the right time in the World Cup is an amazing achievement by everybody.
"It has been an amazing couple of months of our lives and even more amazing last few days."
Photograph: Australian captain Ricky Ponting and his wife Rianna Ponting pose with the ICC World Cup trophy at the Australian World Cup team breakfast at the Sydney Cricket Ground Members Dining Room/Getty Images