Home > Cricket > The Cup > First Look


Yousuf makes quiet entry, squad to return on Wednesday

March 27, 2007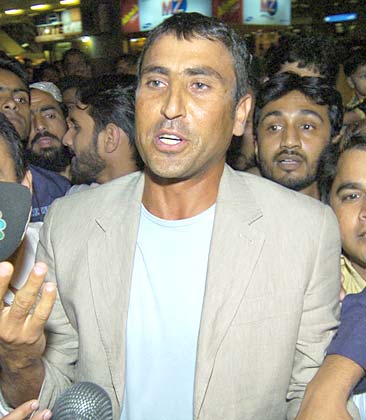 Pakistan's senior batsman Mohammad Yousuf on Tuesday made a quiet return to the country while the World Cup team is scheduled to reach Karachi on Wednesday from London after their failed campaign in the Caribbean.

Immigration officials at the Karachi airport confirmed Yousuf had arrived by an Emirates flight in the afternoon from Dubai and was received at the airport by some of his colleagues of the Tableegi Jamaat.

Vice captain Younis Khan (in pic) has also reached Dubai and is still there on a private visit. "However, Younis Khan is already in Dubai on a private visit and some players including Azhar Mahmood, Rao Iftikhar, Shahid Afridi, Danish Kaneria might stay back for a while in London," a Pakistan Cricket Board official said.

Rest of the World Cup squad was scheduled to reach home in the early hours of Wednesday on a Gulf Air flight from London, the official said dismissing speculations about the schedule of the team's arrival from London.

He said the players had been strictly advised not to speak to the media in London or on reaching home as investigations were still continuing into the Bob Woolmer death and the Board did not want to complicate the situation with half baked information or unnecessary statements.

There has been a media frenzy to know about the team's schedule to return home ever since they reached London from Kingston on Saturday night.

The media is keen to catch the sort of reception the players get on their return home after a dismal World Cup performance in which they were beaten by Ireland and knocked out of the tournament after just two matches.

"I don't think we are going to see any violent reactions to the team's arrival because the murder of Woolmer has overshadowed the performance of the team. People are now more interested in knowing why and who killed Woolmer," former Test captain Rashid Latif said.

"Once the mystery of Woolmer's death is resolved then we will see the attention focus back on the team and what steps need to be taken for the future," he said.

Sources said the PCB was also unhappy with the performance of media manager Pervez Mir particularly after confirming he had been giving out sensitive and inside information to some media people relating to the team and the Woolmer investigations.

A Board official said the PCB would not send any lawyer or investigator to Jamaica for the ongoing Woolmer investigations as the two Pakistani diplomats, who had flown into Kingston from Jamaica, were handling the issue on behalf of the government and Board.

"As yet the Jamaican police have not approached us for any assistance in this case," he said.