Home > Cricket > The Cup > First Look


Police deny Woolmer murder theories

March 22, 2007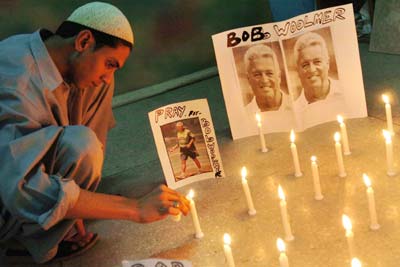 Jamaican police are continuing to treat the death of Pakistan coach Bob Woolmer as "suspicious" but denied widespread reports on Thursday that a murder investigation was already underway.
"We made it very clear in our statement on Tuesday that we are treating this as a suspicious death and suspicious means that we rule out nothing," Jamaica police spokesman Karl Angell told Reuters on Thursday.
 Angell dismissed a report in the local Gleaner newspaper that said police were now treating the death of Woolmer as homicide after discovering neck injuries on the former England test player.
The paper quoted an un-named "high ranking police officer" as their source but Angell said that officer must be "a rogue officer".
"We are playing this by the book," said Angell.
Former England batsman Woolmer, 58, was found unconscious in his Kingston hotel room less than 24 hours after Pakistan's shock World Cup defeat by Ireland which knocked them out of the tournament. He was pronounced dead in hospital later that day.
CAST PALL
The death of Woolmer, regarded as one of the best coaches in the world, has cast a pall on the Cricket World Cup in the Caribbean which lasts for seven weeks and culminates in the final on April 28.
Angell's comments to Reuters on Thursday followed a Sky TV interview by Woolmer's widow, Gill, who said that she had not ruled out murder.
"I suppose there is always the possibility, I mean some of the cricket fraternity fans are extremely volatile and passionate about the game and about what happens in the game... so I suppose there is always the possibility that it could be that (murder)," she said.
 "It fills me with horror. I just can't believe that people would behave like that or that anyone would want to harm someone who has done such a great service to international cricket."
A statement from Jamaican police on Wednesday said that a second pathologist's opinion was being sought.
The Pakistan cricket team, who were widely castigated at home for crashing out so early after losing their second match to debutants Ireland, were scheduled to fly out of Kingston later on Thursday.
Photograph: Getty Images | Report: Reuters