Home > Cricket > The Cup > First Look


Gibbs, Sobers present $1 million

March 20, 2007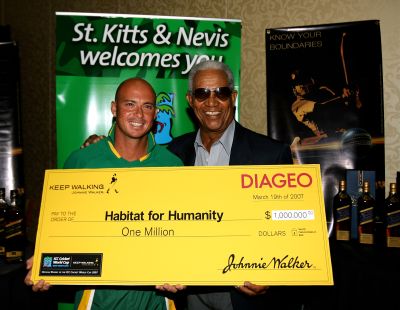 Sir Garfield Sobers joined Herschelle Gibbs, the newest member of cricket's most exclusive 6-6-6-6-6-6 club, to present a million-dollar cheque to charity.
South African Gibbs emulated the West Indian's feat last week when he became the first man to hit six sixes in an over in an international match, striking the unfortunate Dutch bowler Daan van Bunge over the short Warner Park boundary for 36 runs.
Only three men have achieved the act, with Sobers and India's Ravi Shastri getting their record in first class cricket.
Gibbs's accomplishment was recognised by whisky manufacturers Johnnie Walker who wrote a $1 million cheque, which was handed over to a representative for Habitat for Humanity to build accommodation for the homeless in the Caribbean.
Sobers, one of Wisden's five cricketers of the 20th century and recognised as the greatest all-rounder to play the game, recalled the memorable day in 1968 when he struck Glamorgan's Malcolm Nash out of the ground playing for Nottinghamshire in an English county match.
''I hope that Herschelle doesn't suffer the way I have suffered over the years since way back in 1968,'' he told a news conference on Monday.
''Everywhere people recognise me by saying that that is the man who hit six sixes. I have often wondered if that is the only thing that I have done in cricket.'' ''But it's really a great achievement to create history in a different area. My six sixes were in first class cricket. Herschelle's were in the World Cup.
''They were in a different category from mine. I don't know when he decided to hit his but I know when I decided to hit mine and that wasn't until the last ball. I didn't believe a bowler would allow a batsman to hit six sixes.'' Sobers added that he and Nash had attended a television interview together. ''I said, 'Malcolm, why are you smiling?' and he said to me 'you couldn't have done that without me'.'' Gibbs paid tribute to Sobers as one of the ''true legends of the game''.
''It's an honour and privilege to be sitting with him,'' he said.
Asked when he decided to attack van Bunge, Gibbs said South Africa had needed to increase their run rate.
''So the first one went for six,'' he said. ''The second and third one went for six. So, I thought, I'm obviously hitting it quite cleanly. I hit the fourth and I couldn't stop smiling so I thought 'should I move my feet?' ''I decided to stop in my crease and the next ball disappeared. I had a huge grin on my face, I had a really nice feeling and I could feel the reaction of the team when it happened.''
Text: Reuters | Photograph: Shaun Botterill/AFP/Getty Images