Home > Cricket > The Cup > First Look


Irked cricket fans burn player effigies

March 18, 2007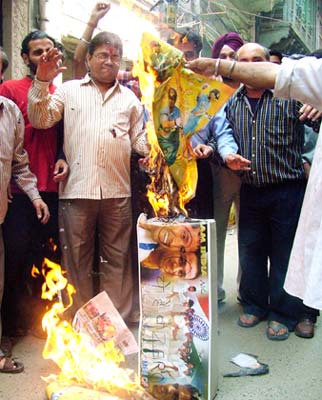 Cricket fans burn posters of Sachin Tendulkar and Virender Sehwag in Amritsar after the India's shock three-wicket loss to Bangladesh at the World Cup on Saturday.
Similar protests were carried out in Jalandhar and Ahmedabad on Sunday as the country woke up with the bitter taste of defeat.
In Jalandhar, cricket lovers gathered at local Company Bagh Chowk and raised slogans against the national team before burning posters of city boy Harbhajan Singh, Sehwag, Rahul Dravid and Tendulkar.
"If they perform like this in the World Cup, there is no need to send the team," a fan Vinod Kapoor said.
The protestors in Ahmedabad said the team "betrayed the hopes of an entire nation" but were full of praise for Sourav Ganguly, who stood his ground and top-scored with 66.
"Dada (Sourav) is the real champ. He was put down by the team management and many people. But given a chance he has risen to the occassion," said Hardik, another protestor.
In a rather ironic incident in Allahbad, cricket fans, who had stoned and blackened Mohammed Kaif's house after India's disappointing performance against Holland in the 2003 opener, gathered to demand the middle-order batsman's inclusion in place of the out-of-form Sehwag.
They Kaif's absence, they said, badly affected the team in the championship and demanded immediate recall of the player, who had impressed all with his batting and superb fielding in the last edition in South Africa.
Devesh Mishra, who had coached Kaif in his younger days, echoed the sentiment and urged the BCCI to reconsider the case of the Uttar Pradesh player "who can play well in moments of crisis".
Photograph: Munish Sharma/ Saab Pictures