Home > Cricket > The Cup > Statistics


When New Zealand withstood Aussie pressure

Srinivas Bhogle | March 10, 2007 15:05 IST
Last Updated: March 10, 2007 15:10 IST



Chasing 337 against Australia was never going to be easy, even at Auckland's Eden Park where every other hit over the square leg umpire goes for a six.

 

Only once had a larger score been successfully chased, when South Africa scored 438 to beat Australia at Johannesburg.

 

Most experts watching the game said that New Zealand might at best get to about 280.

 

As Fleming walked out with Vincent to open New Zealand's innings, he felt the pressure; just over 140, indicating that the dice was strongly loaded in Australia's favour.

 

Fleming didn't last long and his departure made it even worse for New Zealand with the pressure index edging past 150. A few lusty blows by Vincent brought the pressure down to 135, but then Bracken got Vincent and the pressure again rose to almost 150.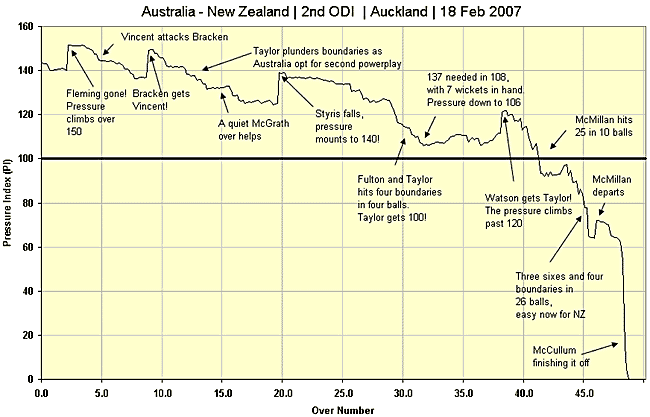 We could go on analyzing the match in this vein but that isn't our objective.
We actually want to illustrate how faithfully the pressure index, introduced on Rediff on Thursday, chronicles the highs and lows of an ODI innings. How the pressure dropped as Taylor launched a memorable counter-attack, how Styris's departure sent it up again and even how a quiet McGrath over briefly helped steady things.
If we look at the pressure index plot we'll discover how the first ray of hope appeared after 32 overs when NZ needed 137 runs in 108 balls with 7 wickets in hand. At that point the pressure was down to 106. But then Taylor's wicket sent the pressure up to 120 again.
The match eventually changed course only after the 41st over when McMillan was in the middle of a plundering half-century in just about 30 balls.
I thank my colleagues Sunil T and Sunil Patil of Cranes Software for carrying out this analysis.

The pressure index, which will be a live, ball by ball feature of the Rediff scoreboard for the forthcoming World Cup matches, is powered by Cranes Software, Bangalore.
Also see: One day cricket, and the concept of pressure
The Cup: The Complete Coverage
Would you like to join the Cricket and Cricket Lovers Discussion Group and discuss your cricket views with other cricket freaks? Click here. Have fun!