Home > Cricket > The Cup > Interview


The Rediff Cricket Interview / Zaheer Khan

'I am happy to lead the attack'

March 08, 2007


| | |
| --- | --- |
| Zaheer Khan | |
| | |
| | |
| | |
| | |
| | |
| | |
Around a year back Zaheer Khan was dropped from the Indian team after a disappointing tour of Pakistan. With the emergence of a new crop of fast bowlers his hopes of regaining a place in the side looked all but finished. But the left-armer knew very well that the only way he could return to the fold was through sheer hard work, which he put in during the English county season with Worcestershire. That proved the turning point. Not only did he break a few records in England, but also emerged as a potent bowling force.
Zaheer became the first Worcestershire bowler to take ten wickets in a match on debut for over a hundred years against Somerset. He also took the first nine wickets to fall in the first innings against Essex, ending up with 9 for138; had wicket-keeper Steven Davies not dropped a catch he would have been the first bowler to take all ten for the county.
Thus, it was no surprise that he was recalled for the tour of South Africa, where he was in devastating form, picking wickets every time he came on to bowl. He carried on the good showing into the home ODI series against the West Indies and Sri Lanka, taking 17 wickets in 10 matches.
Now fully fit and with more bite in his pace, he says he is ready to take on the world's best batsmen. Special Correspondent Harish Kotian caught up with the 28-year-old bowler in Mumbai before the team departed for the 2007 World Cup.
How did it feel to be selected for the World Cup, considering that you spent most of your time last year trying to stage a comeback?
I am very happy and proud that I will be representing India at the World Cup for the second time. I am looking forward to it. And if you see how the whole of last year went, it adds to everything. Probably, one year back there were a lot of question marks whether I would go for the World Cup or not; right now I am there and am boarding the flight for the West Indies. So, overall, I am very happy.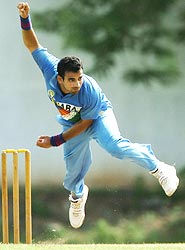 As you have admitted that a year back there were a lot of question marks, how did the comeback happen?
Well, as I have been saying all through, playing in English county cricket [for Worcestershire] was a big help in terms of my overall growth as a cricketer. Being there and bowling a lot of overs, getting a lot of wickets, helped boost my confidence. As I bowled so many overs through the season, my rhythm and match fitness benefitted.
It helped me condition quite a lot. Also, it helped improve my fitness, playing so many matches. I was out there in the field every second day playing a match and bowling a certain amount of overs in every match. It helped me work on my line length, because if you bowl so much then you tend to hit the length consistently.
Who in county cricket would you credit for regaining your confidence?
Basically, playing so many matches was a big help in itself. In six months I played 16 four-day matches and about 20-odd one-dayers. So, that way, playing so many matches itself was a big help. There is nothing like match practice. You can practice in the nets, but practice in the middle in that environment is something different and I was able to get that pretty frequently.
In the 2003 World Cup you were in great form. You were India's top wicket-taker with 18 wickets. Were the conditions in South Africa very helpful?
In South Africa, overall as a bowling unit we did very well. [Javagal] Srinath was an experienced bowler and he led the attack well. Ashish [Nehra] also performed well. So as a trio we did very well. Even Srinath had around 16 wickets, even Ashish took a similar number of wickets. The pitches are conducive for fast bowlers, so that was also a big help.
In 2003, India had a great run till the final before going down to Australia. How disappointing was it going down pretty tamely in the final after such a fantastic run?
I think we were trying to give that extra bit in the final. Everyone was so excited, because it was such a big occasion for everyone. Right from the playing eleven to the support staff, to the whole of India, it was such a big moment that India had made it to the final.
So, in trying to achieve that extra bit because it was such a big occasion we sort of lost our way a bit in the initial overs, and it was hard to come back after that.
At the last World Cup you were a young bowler and looked up to Srinath. This time you will be leading the pace attack comprising youngsters. Will that put pressure on you?
Well, I am happy to get up to this pressure. It's something that I have been missing for the last 6-8 months. When I was playing domestic matches I missed playing at the highest level. Playing in international cricket at the top level you deal with pressure and I am happy to deal with such pressures. I am very happy to lead the attack and looking forward to the World Cup with confidence.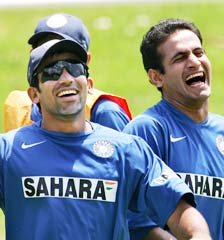 How would you rate India's bowling attack? Is it a bit inexperienced for a big event like the World Cup?
I won't say it is inexperienced. Ajit [Agarkar] is very experienced; he has played so many matches and done well. When it comes to me, it's experience again. And Munaf [Patel] and Sreesanth are young bowlers, but they have done well in the last one year or so. Irfan [Pathan] is also a good bowler. He can make the ball talk; he can swing it really well. He is also one guy who has done really well for India since making his debut in 2003.
So, I can say, we have a complete bowling attack. It's a perfect balance of experience and youth.
How do you expect the pitches in the West Indies to behave? You toured the country before with the Indian team. Will they be a bit on the slower side?
Well, I visited the country long time back in 2002. I missed the tour last year so I am exactly not sure of how the pitches will behave. A lot of new stadiums have come up recently for the World Cup and I have heard a lot of wickets have been re-laid. So, I just can't say how the pitches will be, but the good thing is that we will be going two weeks in advance. We will get the opportunity to see how the wickets will play and the practice matches will also be helpful in our build-up to the tournament.
The 20-over Powerplay rule will be in operation for the first time in a World Cup. Does it scare you that batsmen now have more scope for shot making?
Well, one-day cricket is going in that direction. We have been seeing in the last year-and-ahalf that scores of over 300 are being made consistently. And those high scores are also being chased quite regularly now. And now, because of the 20-over Powerplay, it's definitely going to happen often.
It adds more responsibility to the fast bowlers as well. If they can provide early breakthroughs, if they can restrict the opposing team from having a flying start, that will be of a great help to the team. This Powerplay rule consists of 20 overs, which is nearly half the game. Twenty overs at the start and then the 8-10 overs at the end are the areas which teams now look to exploit for quick run-scoring. So those overs will be the key.
Have you set any targets for yourself for the World Cup?
Not in numbers. I just want to give my best and go in with a clear and positive frame of mind. I am just looking to stay positive and focused. That's only what I am looking for.
Indian fans expect the team to win every match. Any message for them?
Root for India, cheer for India! Two months is a long time, any team can gain form, any team can lose form, so just keeping backing the Indian team no matter what! We will give our best everytime we take the field.
The Cup: Complete Coverage
More Interviews