Home > Cricket > The Cup > First Look


Jeetan Patel sees India as a major threat at the World Cup

Y Sarangi | March 07, 2007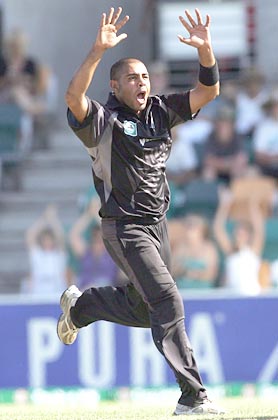 His roots firmly entrenched in India, he idolises Harbhajan Singh and practices the same craft closely associated with Indian cricket.
Everything about New Zealand off-spinner Jeetan Patel is typically Indian, sans the nationality.
And, if needed, the tweaker from Wellington does not mind crossing swords with the Indians in the Kiwis' campaign to win their first World Cup.
"All the top teams are capable of beating each other on their day as witnessed by the recent CB Series in Australia where England surprised. The West Indies have home advantage while the Sri Lankans have been playing well. You cannot count out Australia and definitely not India," said Patel in an interview to PTI.
The Kiwi spinner said the 3-0 clean sweep of the Chappell-Hadlee series against world champions Australia had boosted the confidence of his side which would come in handy in the mega event.
"Our aim, as always, is to win the World Cup. We know that we will have to be at our best to do that and are working hard to achieve this goal. We have good confidence after the recent Chappell-Hadlee Series but still realise there are aspects of our game than need improving," he said.
Patel is very clear about the role he has to play for New Zealand in the quadrennial event.
"My role in the team is to support Dan Vettori in the spin department as well as being a lower order batter. In the field I'm looking to create run outs and take stunning catches, mainly inside the circle. I see myself as an important cog in the wheel to win the World Cup," he said.
Patel idolises ace Indian offie Harbhajan Singh.
"The Indian I follow the most is Harbhajan Singh because he is one of the world's best off-spinners," he said.
Coming from a humble Indian family settled abroad, Patel fondly remembers his trips to India, be it for playing cricket or meeting relatives.
"My parents were born in villages in Gujarat. My dad moved to England when he was 15 and then on to New Zealand. I was born and bred in Wellington. I have been back to India six times in total, four to meet family and twice to play cricket," he said.
But when it comes to the World Cup and the support needed to excel there, Patel falls back on fellow New Zealanders.
"There is good support from New Zealand with a lot of Kiwis heading to St Lucia for our games there. It will be great to have them," he said.
Photograph: Getty Images