Home > Cricket > The Cup > Special


The Rediff Special/Haresh Pandya

When Vishy walked tall

March 02, 2007



The second World Cup was in no way different than the first in terms of India's performance. The team lost all the three matches it played, including one to Sri Lanka, which was not a full member of the ICC then.

But unlike 1975, when one player sullied the cricket-crazy nation's image with his bizarre batting, in 1979 another proved that India was adept in the shorter version of the game.

Indeed, if Sunil Gavaskar became the butt of everyone's hatred for his unpardonably slow batting against England in the first edition, Gundappa Viswanath, affectionately called 'Vishy', found a place in aficionados' hearts in the second after a superb innings against the West Indies.

His vintage 75 against the defending champions, who went on to bag another world title, was outstanding in many ways.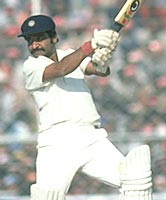 Boasting an array of explosive batsmen and hostile fast bowlers, when there were no restrictions whatsoever on them in Tests as well as One-Day Internationals, the West Indies were the most feared side.

Considering their traditional weakness against awesome pace bowling, and also the West Indies' dominance in world cricket in those years, the Indians were written off by most long before the first ball in the match was bowled.

But cricket, like any other sport for that matter, is not all about winning and losing. Sometimes the fragrance of individual brilliance lasts even longer than the memories of a triumph, howsoever great.

Birmingham, June 9, 1979: It did not come as a surprise when Clive Lloyd, armed with his most effective and dreaded four-pronged attack of Andy Roberts, Michael Holding, Joel Garner and Colin Croft, invited India to bat first after winning the toss on a moisture-laden pitch.

It was that phase of Indian cricket when the team depended almost totally on Gavaskar and Vishy. Gavaskar being an opener, his cheap dismissal generally handed the opponent half the battle.

Roberts drew first blood when he had Gavaskar caught by Holding for 8. 'Whispering Death' Holding then dismissed new batsman Dilip Vengsarkar for 7 and India were precariously placed at 24 for 2 when Vishy walked in.

But Holding soon consumed opener Aunshuman [Gaekwad insists that his name be spelt Aunshuman and not Anshuman] Gaekwad, who managed to score 11 off 30 balls. India were reeling at 29 for 3.

But Vishy was his artistic, elegant and enterprising self at the other end. Demonstrating tremendous sangfroid regardless of the mayhem created by Roberts and Holding on 22-yard territory, the original 'Little Master' tried his best to rescue the Indian innings.

Although very watchful, he did not curb his natural game and let loose a flurry of attractive shots, including his trademark square-cuts and square-drives. It was a measure of Vishy's confidence that dared cut a swinging yorker from Holding, the ball going went past the boundary like a bullet.

His Karnataka team mate Brijesh Patel gave him good company for a while, but was run-out after scoring 15, leaving India tottering at 56 for 4.

India went for lunch at 121 for 7 in 33 overs, having lost three more wickets in Mohinder Amarnath (8), Kapil Dev (12) and wicketkeeper Surinder Khanna (0). Vishy was still there, undefeated on 45. The only element of interest in the post-lunch session from India's point of view was how many more runs the master craftsman would score, and when the innings would fold.

Vishy continued from where he had left. What was noticeable was he was more innovative and aggressive than before the break. But just as he was heading towards what would have been a glorious century Holding bowled him with a beauty. He scored a pristine and priceless 75 (159 minutes, 136 balls, 7 fours). It was the ninth Indian wicket to fall. The maestro added 36 valuable runs with Karsan Ghavri (12) for the eighth wicket before departing.

India's captain S Venkataraghavan and Bishen Singh Bedi put on 27 runs for the last wicket before the innings folded at 190 in 53.1 overs. Holding was the wrecker-in-chief with figures of 4 for 33 in 12 graceful but gruesome overs. Roberts claimed 2 for 32 in 9.1 overs. After Vishy's 75, the next highest scorer was 'Mr Extras' with 16!

Though it was a one-day match, Vishy's batting reminded many of his memorable 97 not out in India's total of 190 against the same opposition in Chennai in 1974-75.

His 75 was not only the first truly great World Cup innings by an Indian, it was also adjudged one of the ten best of the 1979 edition. As if that was not enough, Clive Lloyd, Vivian Richards, Andy Roberts, Michael Brearley and others voted it the finest innings against the West Indies in the 1979 World Cup.

"That particular innings enjoys a special page in my diary. We were losing wickets regularly but I kept playing my shots because that was the best way to answer the West Indies pace attack, which was so good.

"It was a good wicket for batting. I remember Clive [Lloyd] telling me some time later that it was one of the finest innings he had ever seen against his team. Michael Brearley also told me, as did some other players, that he was very impressed by my knock.

"Yes, I really enjoyed playing that innings. But you can't compare it with my 97 not out against the West Indies [Chennai, 1974-75]. It was a Test match innings. Test cricket is always different from one-day cricket," Viswanath told rediff.com.

India's total was never going to pose a challenge for the mighty West Indies. Gordon Greenidge and Desmond Haynes put on 138 runs for the opening wicket. All that was left after Kapil Dev dismissed Haynes (47) was a mere formality, which Greenidge (106 not out) and Richards (28 not out) completed in a jiffy.

Just for record, the West Indies romped home in 51.3 overs with nine wickets in hand.

"It was one of the finest innings I ever saw at any level of cricket. Vishy was simply superb. It was a very difficult wicket to bat on. The conditions were cloudy and the ball was coming very low. It was alien conditions for the Indians, but Vishy exhibited tremendous technique and footwork. His timing, his placing, his shot-selection, everything was just unbelievable. He had so much time to play his shots even against the rampaging Holding," said Surinder Khanna, a member of the team.

"Though I couldn't score a single run, I was there for a while, having faced 12 deliveries. I knew how it was like batting against that fearsome foursome. When I was at the non-striker end I saw how dangerously Holding was running and bowling threateningly at the batsman. But the way Vishy was leaving certain deliveries inches close to his stumps, and the manner in which he was timing and placing his favourite shots, was simply breathtaking. It was a sight to behold. It was education in itself. I for one will never forget that innings," he added.

Gaekwad is still in awe of that knock.

"It was a champion innings. Champagne stuff, really! But then no one was surprised by the way Vishy played. He was always a man to depend on in an hour of crisis. Apart from Holding, his handling of Croft, who was bowling really quick, was a lesson to many," he told rediff.com.

"I was also there when he played that unforgettable innings of 97 not out against Roberts at his fiery best at Chepauk. So Vishy was always at his best when batting against fast bowlers under pressure. It's a pity he had to end up in a losing side. But then we were still new to one-day cricket then," said the former India opener and coach.

"Vishy made batting look too easy on a difficult wicket, and against a powerful team inundated with so many fast bowlers, when other Indian batsmen were struggling even to stay there. All things considered, it was a great innings. No doubt about it," said Ghavri.


The Cup: Complete Coverage | More Specials