Home > Cricket > The Cup > Special


The Rediff Special

Hussey is Australia's trump card

March 02, 2007


| | |
| --- | --- |
| Michael Hussey | |
| | |
| | |
| | |
| | |
| | |
| | |
Ricky Ponting may be the captain and Glenn McGrath may be the oldest player but the real heartbeat of Australia's one-day team lies within Mike Hussey.
The man known as Mr Cricket has become the new saviour of Australia's one-day team, replacing Michael Bevan as the player they turn to whenever they are in crisis.
Like Bevan, Hussey is at his best when the pressure is really on, batting with the tail chasing a target that seems out of reach.
But while others panic, Hussey stays calm, always discovering new ways to keep the scoreboard ticking along, whether it be smashing the ball over the fence or threading it through the narrowest of gaps in the field to scamper through for a single.
Hussey is a quiet achiever but his achievements have not gone unnoticed. The 31-year-old was named by the International Cricket Council last year as the world's best one-day player and he is currently the top batsman.
From 61 one-day internationals, he has piled on 1,739 runs at an average of 66.88 and a strike rate of 91.33 and also captained his country four times in the absence of Ponting and his deputy Adam Gilchrist.
Yet the most extraordinary thing about Hussey, is not what he has achieved in international cricket, but why it took so long for him to get there.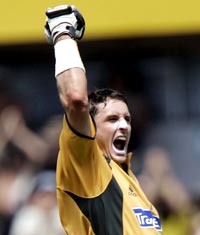 The left-hander was not selected for Australia's one day team until he was 28 and had scored more than 15,000 first-class runs before he finally made his Test debut when Justin Langer broke a rib.

It is little surprise that he has been so quick to make up for lost time. He set a record for the fastest player to chalk up 1,000 Test runs when he reached the milestone 166 days on from his debut.

Bevan played a key role in Australia's wins at the last two World Cups and Ponting says Hussey could be the player to give his team the edge this time.

"He has certainly stepped into the Michael Bevan role," Ponting said. "He has managed to win us a lot of games off his own bat, whether it be Test matches, making hundreds batting with the tail or controlling one-day games."

 


The Cup: Complete Coverage | More Specials

© Copyright 2007 Reuters Limited. All rights reserved. Republication or redistribution of Reuters content, including by framing or similar means, is expressly prohibited without the prior written consent of Reuters. Reuters shall not be liable for any errors or delays in the content, or for any actions taken in reliance thereon.