Home > Cricket > The Cup > First Look


SRK leads India's World Cup wishes

February 28, 2007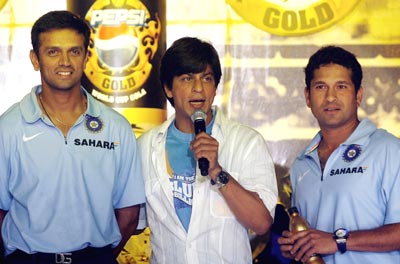 Indian filmstar Shah Rukh Khan wishes luck to Rahul Dravid and Sachin Tendulkar ahead of Team India's departure for the West Indies from Mumbai on Wednesday morning.
Pepsi organised a grand farewell for the Indian team with the Blue Billion campaign, where thousands of fans got a glimpse of their cricket stars, who will be gunning for World Cup glory in the Caribbean. The soft-drink giants also announced the launch of Pepsi Gold on the occasion.
Shah Rukh Khan gifted the first bottle of Pepsi Gold, a flamboyant new gold colored cola to commemorate cricket's premier event, to Indian captain Dravid.
"If the Blue Billion campaign gave the cricket fan a powerful voice through the 'Ooh Aah India' chant, Pepsi Gold is symbolic of the magic that is possible when every Indian cricket fan joins the drive to bring the World Cup home," said a company release.
With the World Cup frenzy pouring over, Dravid said, "A truly momentous journey begins tomorrow for all of us, and I want to express our thanks to the Blue Billion, who have steadfastly stood by us, believed in us and motivated us to excel at the ICC Cricket World Cup 2007.
"I remember Pepsi turning Blue four years back during World Cup 2003, and we didn't do too badly either. This time, it is Pepsi Gold, and gold is what we will aim for."
Photograph: Getty Images