Home > Cricket > The Cup > Special


The Rediff Special/Deepti Patwardhan

Farce of a trial in Ahmedabad

February 26, 2007



The way things transpired on Sunday, one wondered whether the Board of Control for Cricket in India's selectors were serious about their threat of dropping Irfan Pathan from the team for the World Cup?

In sum, it was the futility of the exercise that was frustrating.

Pathan, already going through a rough patch, was put into unnecessary focus. Making him play the Deodhar Trophy game for the West Zone, to help him regain rhythm, and threatening him that his ticket to the World Cup would depend on it are two different aspects.

The drama was heightened when Dilip Vengsarkar, the chairman of the selectors, entered the Motera stadium in Ahmedabad with even more new-found fanfare from an Ahmedabadi crowd that pleaded Pathan's case from the stands.

Also read: Genius in the time of hate and bloodshed

Surrounded by over-eager administrators from the Gujarat Cricket Association, Vengsarkar waved to them, smiled at them like he was taking his entourage down the Oscars red carpet.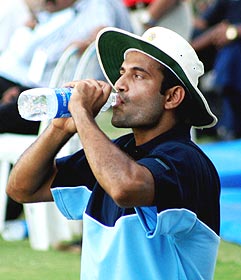 The chairman of selectors had earlier in the week said the BCCI did not want to carry passengers to the West Indies, hence Pathan's form and fitness would be assessed on Sunday. Stern message from a stern man!

But, like most BCCI verdicts, it lacked the verve to translate into reality.

If indeed Sunday was supposed to be Pathan's test, the fast bowler did nothing to merit selection in the premier event. He was taken for 30 runs in his first five bowlers against unheralded openers Faiz Fazal and Pravin Kumar. Moreover, it was the contempt with which the left-right opening combination tackled India's strike bowler that was startling.

First ball of the match, Pathan ran in trying to prove a point, over-pitched the ball, Fazal lifted it unflinchingly over mid-off. Though the ball failed to roll over the boundary ropes, the opening delivery suggested that Pathan, the only bowler in Tests to take a hat-trick in the first over, didn't hold any fear in the minds of the batsmen.

His form apart, what was more worrisome that Pathan himself didn't give an impression that he was on a fitness trial. The body language was discouraging. Fielding mostly on the boundary, he never looked involved in the team, which mainly comprised players from Mumbai (who eventually contributed a lion's share in West Zone's three-wicket win).

Even during Saturday's training session, he didn't undergo the extra yards that would suggest that he was affected by the selectors' tough talk.

The result: He was taken for 48 runs by a shaky Central Zone batting line-up from his 8.4 overs and only claimed the last two wickets, in his final spell.

Vengsarkar wasn't impressed. He didn't say it openly at the press conference, but hinted that the bowler was far from his best.

'He needs to bowl a lot more,' said Vengsarkar. 'He has not played much in the last few months but will get enough chances before the World Cup.'

Vengsarkar, though admitting that one game was too little to assess a player's fitness, confirmed that Pathan would travel to the West Indies. He also denied that the selectors were in Ahmedabad solely to gauge Pathan's fitness, a U-turn from his comments made the earlier day.

If you analyse the situation, it was unlikely that Pathan would be dropped. It would be too tedious under ICC rules to replace him in the final 15 since there are no apparent signs of lack of fitness.

In fact, Vengsarkar's bland statement that Pathan was 'of course going for the World Cup since he is in the team' testified the fact that it was yet another BCCI farce.

The Board is talking of increased professionalism in the game, but it continues to handle things unprofessionally.

Every time it puts up its television rights up for sale, the matter ends up in court; the contracts issue which should have been a one-time news extends into a three-month drama; when the coach and captain fly accusations publicly, they tutor them like school kids and ask them to make up for greater interests of the team.

All the while we hear about how much richer the Board is getting, but what is never discussed is the dearth of opening batsmen, the decline of India's great spin tradition, the receding corporate and government jobs for up-and-coming cricketers, the condition of our stadiums, the appalling spectator facilities in the country.

It is because of this that we cannot defend ourselves from scathing attacks like Malcolm Speed's at the end of the Champions Trophy.

After India failed to progress to the second round of the event, the ICC CEO taunted the Indians that it was the team's performance and not money that matters on the international stage. Though uncalled for, it sounded a ring of truth.

Given to creating media events such as the latest Pathan issue, the BCCI does not have a valid answer to that and is running the risk of not being taken seriously.

PHOTOGRAPH: Getty Images


The Cup: Complete Coverage | More Specials