April 29, 2007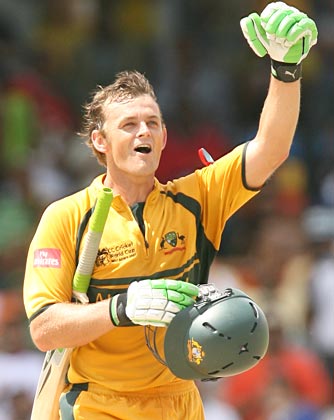 Australia's Adam Gilchrist credited a squash ball stuffed inside his glove after pulverising Sri Lanka's bowlers with his match-winning 149 in the World Cup final on Saturday.

Gilchrist hit 13 fours and eight sixes from just 104 balls and pointed to his glove as he celebrated the fastest hundred in the history of Cup finals.

"I was pretty pumped up," he told a news conference after being named the player-of-the-final. Australia beat Sri Lanka by 53 runs on the Duckworth-Lewis method for truncated games to complete a unique hat-trick of World Cup titles.

Australia piled up 281 for four in the 38-overs-a-side match after a delayed start due to rain. Sri Lanka ended at 215 for eight after two more overs were deducted due to the weather.

"I also had a little message, to wave to someone at home in Australia about something in my glove," he said.

"(It was) the guy (Bob Meuleman) who helps me with my batting at home," he explained. "I had a squash ball in my bottom hand in the glove that I use in training just to help with my grip.

"I decided I will use that in this World Cup in a match but hadn't.

LAST WORDS

"His last words to me before I left the indoor training centre where I train with him in Perth were 'if you are going to use it, make sure when you score a hundred in the final you show me and prove to me you got it in there'.

"I had stayed true to that."

Gilchrist bettered skipper Ricky Ponting's 140 not out in the 2003 final against India, the previous highest score in a World Cup final.

"What I do know is the belief that arrives from the team mates around you and the coaching staff around you and everyone involved," he said.

"That belief those guys gave me allowed me to go out and play with freedom."

Sri Lankan skipper Mahela Jayawardene said Gilchrist had put the game out of his side's reach.

"It was a brilliant innings," he said. "Unfortunately, I was the opposition captain looking at it."