Home > Cricket > The Cup > PTI > Report


Fleming quits as New Zealand ODI captain

Ashish Shukla in Kingston (Jamaica) | April 25, 2007 09:49 IST



The 2007 Cricket World Cup signalled the end of another era when Stephen Fleming stepped down as New Zealand's one-day captain after more than a decade at the helm.

Fleming announced his decision after the 81-run defeat in the semi-final against Sri Lanka on Tuesday and said he took the step in a bid to provide 'fresh energy' to himself as a batsman.

The stylish left-hander said he had arrived at his future course of action quite some time ago.

"I had made up my mind long time ago though New Zealand Cricket (NZC) wasn't privy to it as I didn't want to hamper the preparations for the World Cup," Fleming, who was largely acclaimed as the most cerebral of contemporary captains, said.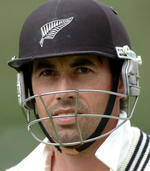 In his over 10 years in charge of Kiwi fortunes, he led in 217 matches with a 98-106 win-loss record. He wanted to continue as a one-day batsman as well as be the Test captain, "if afforded the opportunity."
"I am 34 and now want to concentrate on my batting and stack up some good individual performances. It's time for some fresh mind to come in and take New Zealand cricket to the next level."
Fleming did not see any conflict in New Zealand having separate captains in Tests and one-dayers as he felt with "some fine tuning and management," it could deliver the goods.
He dropped a word in favour of left-arm spinner Daniel Vettori, vice-captain for sometime, but believed "NZC will take stock of the situation and decide upon the course of action which is best for our cricket."
Fleming, who has played 279 one-day internationals so far, making 8037 runs at an average of 32.41 with 49 fifties and 8 hundreds, reflected on his legacy saying he was someone who perhaps "added subtlety in team's performance though it's not as much reflected in results."
"It's the fifth time we have reached the World Cup semifinals and given the resources we have, and not so many world class players, it's not a bad result. But if you don't have better players, you just fall short."
He had no hesitation in confessing that his side had been thoroughly "outclassed" in the semi-final by Sri Lanka.
"Coming into this World Cup, we realised that Australia and Sri Lanka alone are two teams who could give us trouble."
"We weren't good in key moments and even though I am proud, I am pretty disappointed that we haven't taken the next step. The feeling is pretty hollow."
The left-hander believed that Sri Lanka, pure and simply, was a better skilled team than his own.
"Sri Lanka is a more skilful team than us. They have some unusual bowlers and Australia -- or South Africa -- are good in batting. So it could be a clash of good bowling and fine batting in the finals," he said looking ahead.
Fleming did not think the toss was the major reason for his side coming unstuck in the semi-final.
"They can be contributing factors but they don't determine the outcome of a match.
"For long, I felt the worry in our top order and the problem of bowling in the death overs wouldn't become an issue. But that wasn't to be."
He was all praise for his counterpart Mahela Jayawardene for the innings he played and the way he handled his team.
"He is a fine captain with the right attitude and his innings today was noteworthy," he said.
The Cup: The Complete Coverage
Would you like to join the Cricket and Cricket Lovers Discussion Group and discuss your cricket views with other cricket freaks? Click here. Have fun!
© Copyright 2007 PTI. All rights reserved. Republication or redistribution of PTI content, including by framing or similar means, is expressly prohibited without the prior written consent.