Home > Cricket > The Cup > Reuters > Report


Sri Lanka expect Malinga to be fit for semi-finals

John Mehaffey | April 19, 2007 11:55 IST

Sri Lanka strike bowler Lasith Malinga is expected to be fit for next Tuesday's World Cup semi-final against New Zealand in Jamaica after missing three games because of an ankle injury.

"He's probably 90 percent okay, we probably should have played him today but we didn't want to take the risk," captain Mahela Jayawardene said after Wednesday's eight-wicket second-stage Super Eights win over Ireland.

With Chaminda Vaas and Muttiah Muralitharan restored to the side after missing Monday's match against Australia, Sri Lanka dismissed Ireland for 77, the lowest score of the tournament so far.

Jayawardene told a news conference Malinga had bowled 10 overs in the nets on Wednesday morning.

"We don't want to take too many risks. He should be ready to go in the semi-finals, definitely," he said.

Malinga, who took an unprecedented four wickets in four balls in the Super Eights match against South Africa, injured a ligament in his left ankle during training.

ANKLE INJURY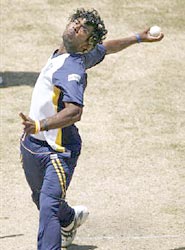 Jayawardene said opening bowler Dilhara Fernando had missed Wednesday's match because he had also sustained an ankle injury.
"Dilhara played against Australia with an ankle problem. He had two injections in it and he needs to prove his fitness before the semi-finals," he said.
Jayawardene said he was not concerned about the probability of a bouncy pitch at Sabina Park after the low, slow tracks his team had experienced so far in the tournament.
"We like bouncy wickets. Like any other cricketers in the world, our batsmen love to play on bouncy tracks when the ball is coming on to the track," he said.
"We're not worried about those conditions. We just need to go to Jamaica and have a look at it and adjust to it. That's what we did all through the World Cup. Every venue offered us different conditions.
"We're looking forward to it. We've come a long way and there's no looking back for us now."
Ireland captain Trent Johnston, whose team exceeded all expectations by defeating Pakistan in the first round and Bangladesh in the second, said Sri Lanka were "a quality outfit who showed us up".
"You are never going to recover from losing three wickets in an over," he said. "Then you bring on the best spin bowler in the world who we have never seen. It's a recipe for disaster."
The seven-week World Cup, the first in the Caribbean, culminates in the final on April 28 in Bridgetown, Barbados.
Photograph: REUTERS/Tim Wimborne
The Cup: The Complete Coverage
Would you like to join the Cricket and Cricket Lovers Discussion Group and discuss your cricket views with other cricket freaks? Click here. Have fun!
© Copyright 2007 Reuters Limited. All rights reserved. Republication or redistribution of Reuters content, including by framing or similar means, is expressly prohibited without the prior written consent of Reuters. Reuters shall not be liable for any errors or delays in the content, or for any actions taken in reliance thereon.