Home > Cricket > The Cup > Special


The Rediff Special

Bevan relives 1999 WC tied semi-final

April 01, 2007


| | |
| --- | --- |
| Michael Bevan | |
| | |
| | |
| | |
| | |
| | |
| | |
| | |
| | |
| | |
The 1999 semi-final between Australia and South Africa is regarded as one of the best World Cup matches ever.
It was one day cricket at its best, as the contest finished in a thrilling tie.
The Aussies qualified because they had a better standing on the Super Six table. And a tsunami of gloom swept over South Africa.
There were many memorable moments from that great contest that still linger on in our minds -- like Allan Donald's run out that denied South Africans the victory, Lance Klusener's amazing hitting at the end, Shane Warne's stunning bowling to capture 4 wickets for 29 runs.
And taking us through that game will be the man who pulled off an amazing rescue act after Australia were reduced to 68 for 4 at one stage. In many ways, Michael Bevan's solid knock of 65 turned the tables on the South Africans.
'It has to be one of the best matches I ever played in,' Bevan said in an exclusive chat with Special Correspondent Harish Kotian.
Excerpts:
Was it the greatest match you ever featured in?
It has to be one of the best matches I ever played in. There was certainly a real edge of the seat type match and I can distinctly remember fielding out in the boundary within the last couple of overs of the match feeling very nervous and very concerned about how things were going to go and whether or not we would progress to the World Cup final.
How were the emotions at the end of the match?
We were all stunned to tell you the truth. It was so emotional. Usually when we finish a match we celebrate and everyone is pretty loud, but on this occasion everyone just went quiet, sat in a room and then contemplated what had just happened and the type of match we had been involved in.
Because we had the final 2 or 3 days later we couldn't really celebrate until the last match of the World Cup.
Nine runs were needed off the last over and then Lance Klusener hit two boundaries off the first two balls of the over. Did it seem all over at that point?
We thought while Lance Klusener was there it was going to be hard to win because he was hitting the ball so hard. Some of the shots he hit were amazing.
The game really fluctuated, the balance switched and at times we were on top and at times South Africa were on top. It was really a good match. But at that particular point of time in the last over we felt we had a very good chance with nine runs needed and Damien Fleming to bowl, who is a good depth bowler.
But Klusener hit two of the hardest shots you ever see. At that point we felt a bit of lump in our throats, felt it might have slipped away from us.
When you came into bat, Australia were struggling at 68 for 4. But you rescued them with a fine half-century. How difficult was it considering that South African pacers were on top after striking a few early wickets?
For my memory there was a little bit in the wicket, a little bit of bounce and swing, but it started to flatten out as I came in to bat. It was nearly survival [at that stage]. Steve Waugh and I were just batting so we could post a score somewhere around 200 to give us a chance to win the match. So it was more about survival that anything else.
What gives Australia this mental toughness? You always see them winning matches from tight situations. What makes them so tough?
In that particular match, I suppose we shouldn't have won really. It was really only a mix-up between Allan Donald and Klusener that cost them the match. It seems to me that they hadn't really talked about or communicated how they were going to go about the match. It was more do with South Africa's mistake than anything else on this particular occasion.
Is it fair to say South Africa choked on that particular occasion?
It was really one mistake that cost them. That was because there didn't seem to be any definite plan or communication when Allan Donald came in. If it was not for that then quite easily they would have won. So I think looking back now they would have probably been a bit disappointed that they didn't approach it differently or have a clear plan as to how they were going to win the match.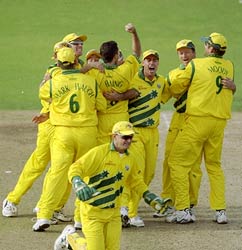 How important was Shane Warne's contribution in that match? He nearly turned the game in your favour, claiming 4 wickets for 29 in an astonishing display of spin bowling.
It was amazing really. We were feeling quite flat as we took to the field because the wicket was pretty good, it had flattened out. They got off to a pretty reasonable start and we hadn't scored that many runs. We were a little bit concerned that we hadn't got enough runs on the board.
But because it was a nice day, the wicket flattened out and started to turn. So as soon as Warnie came on to bowl, he did things that only Warnie can do and really changed the match around. He bowled beautifully in a big pressure situation and that was really the turning point that gave us the chance or hope of winning the match.
Tell us about Steve Waugh's leadership in that match. How did he keep control of things especially in the final overs when the match was on the edge?
It was extremely important. As I mentioned before it was one of matches where South Africa were in front for a little while, then we clawed our way back, then they went on top again and so on. So each time the captain and the group had to make a decision as to what was going to happen next and how we would give ourselves a chance of winning the match. So the bowling changes were crucial, the fielding placements were important and the rest is history I guess.
So how was it after the match?
We just sat in our change room stunned and they were doing the same. So both change rooms were really, really quiet and for different reasons.
Usually when you are playing a normal one-day match, the winning team usually visits the opposition or vice-versa. But I think the occasion was too much for them and it was really more about them understanding what had just happened and for us to recognise that we were through to the final.
Did this amazing victory give you that extra push for the final against Pakistan?
Yeah I think it did. If you remember back the competition now, we had to win seven games in a row to win the World Cup final.
The Australian team had to win seven games in a row, so every match was a final for us. So we played six finals before we got to the World Cup final. So we were ready.
The other thing I seem to remember that the wicket [for the final] had a bit of pace and bounce in it. So as soon I saw that the wicket had a bit of pace and bounce, I knew we might do pretty well.
What did you do after that run out of Allan Donald which won you the match?
At that point of time I was most excited, the most happy that I ever have been and it really looked like everyone else was as well.
Some of those celebrations in the middle of the wicket when everyone ran in and really started to understand how we had actually gone through was quite amazing actually. It was certainly very emotionally charged.
- Previous: Australia will be tough to beat: Michael Bevan | Audio 


The Cup: Complete Coverage | More Specials