For women's hockey in the country, this result may well turn out to be a watershed moment, observes Vaibhav Raghunandan.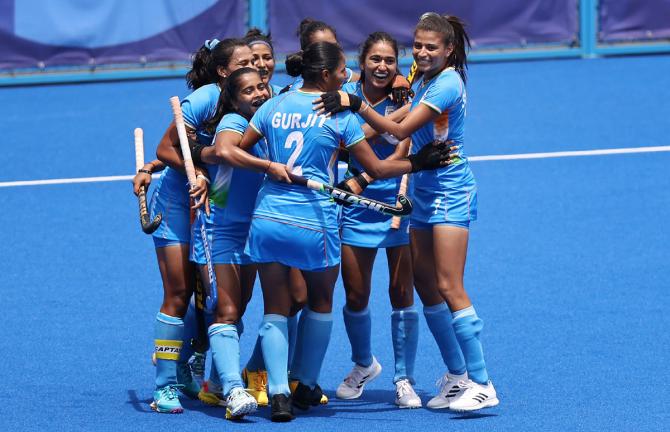 While comparisons are inevitable, in this case 'life imitating art', 'the real following the reel', the Indian women hockey team's 'Chak De' of Australia in the quarter finals of the Olympics is a good time to pause and reflect on all that has happened.
If the men's dismissal of Great Britain -- what with the buildup involving a full-on invoking of the colonial past -- was fist-pumping passion and confirmation that, yes, maybe #ItsComingHome, the women's response to that has been significantly bigger.
In scale, shock value, achievement, astonishment and everything in between.
Human beings play sports, but confirmation of success in this information age is always linked to statistics.
The Indian women were ranked 12 (having dropped three places after three consecutive losses in the group stage) when they went into their match against Australia, the World's second best team.
Australia had conceded one goal throughout the group stage, in their opener against Spain, and scored 13 through it.
India, meanwhile, scored seven and conceded twice as many.
Australia were the favourite for the knockouts, but as the Indian team's coach, Sjoerd Marijne, had emphasised in the match's build-up, after those three losses, India had been in a knockout tournament every game.
And when it mattered, they delivered, scoring essentially just that one goal more than their opponent each time they had their backs to the wall.
For women's hockey in the country, this result may well turn out to be a watershed moment, one that takes this team from a feel-good story -- something that is in equal parts patronising and condescending to such talented, hard-working elite athletes -- to one where more is demanded, aspired for and provided for, too.
While the faults of national sports federations in India need magnification all the time, Hockey India, despite all its eccentricities, has done what many others have failed to for a long while -- give equal funding to teams of both sexes in preparation for the Olympics.
In 2018, prior to the Men's World Cup in Bhubaneswar, the government of Odisha entered into an agreement with the federation to sponsor both teams for five years.
While the exact sponsorship amount has never been released officially, it is estimated to be around Rs 150 crore (Rs 1.5 billion).
Both teams were also sponsored under the TOPS scheme, which guaranteed them a Rs 50,000 per month allowance till the Olympics.
For onlookers, this may not seem as important as wearing the national colours at the Olympic stage, but it is exactly the safety net most athletes desire and need to achieve success.
Furthermore, as professional sport disintegrated into home workouts in isolation last year, the federation locked probables of both squads at the Sports Authority of India centre in Bengaluru, a high-performance complex with world-class playing facilities and housing.
For a majority of the past year, they have been separated from their families -- allowed to return for a short while at the end of the lockdowns for a break.
Even in that time, online sessions were maintained.
There is a deep sense of camaraderie within a team forged on this shared experience of lockdown.
Speaking out of quarantine in SAI, midfielder Neha Goyal said how fortunate they were in comparison to the world at large.
"We get three meals a day, a roof over our heads, superb facilities, good company. There are families, individuals, people struggling. (Ek din ka khaana naseeb nahin ho raha) (many are not getting to eat a proper meal)."
Goyal has been one of the mainstays of this team, a feisty midfielder who just doesn't stop running -- her engine stronger than her size would betray.
The recalibration of her situation wasn't just personal; it grew into a team's conscience.
At the peak of the migrant crisis last year, as different civil societies came together to help, this team was at the forefront of change.
A majority of the girls in the squad have seen hardship up close, and so when the time arrived, they put together a crowdfunding initiative (an 18-day fitness challenge where every player nominated 10 people to compete and contribute Rs 100 to the cause) that raised Rs 20 lakh (Rs 2 million).
The proceeds went to feeding over 1,000 families in collaboration with Delhi-based NGO Uday Foundation.
The word 'family' features heavily in conversation with any member of the team.
Goyal used it liberally, sometimes saying she was "worried for my family in Sonepat" or "we had become like a family here, in this facility together".
After the quarterfinal victory goalscorer Gurjit Kaur used it again: "This team is like a family."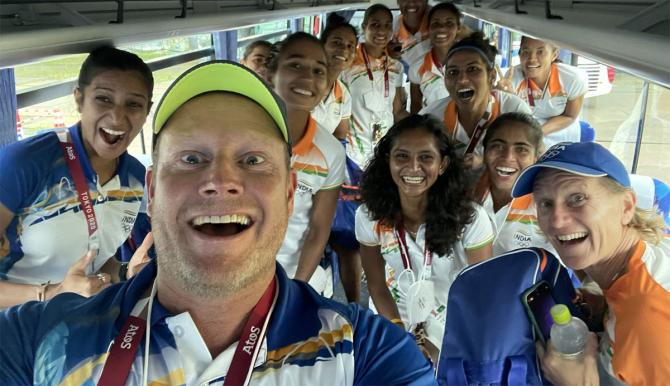 And at the forefront of turning them into one has been a man separated from his real family for a long while now.
There is a lot that can be said about Marijne and his coaching but the only thing that needs to be said is that he should be held up as someone Indian men aspire to be.
This is a coach who has suffered hugely over the past few years.
In 2018, despite doing some outlandish things with the women's team, he was shifted to the men's team -- the federation playing musical chairs for no reason.
After a short stint, which saw him oversee a disastrous Commonwealth Games campaign, he was promptly brought back to the women.
Most would've considered it a demotion, felt belittled and walked away (a few others have, after going through the same game) but Marijne didn't want to leave his girls in the first place.
This was (his) team. He had built it block by block, forging relationships with every girl and member of the coaching staff.
He leaves this job at the end of the Olympics, citing a need to get back to his family who he has seen for a mere few weeks in over two years.
"He misses his kids terribly. You can see it. He chats with them on video, but (dekh ke na, rona aata hai)," Goyal said.
But he will miss this, too.
His tears at the end said it all. And then the tweet from the team bus that followed -- a selfie with the entire squad beaming in the background. 'Sorry family, I [am] coming later,' it simply said.
Feature Presentation: Aslam Hunani/Rediff.com