'When I am at the top, I always feel I am blessed and closer to god.'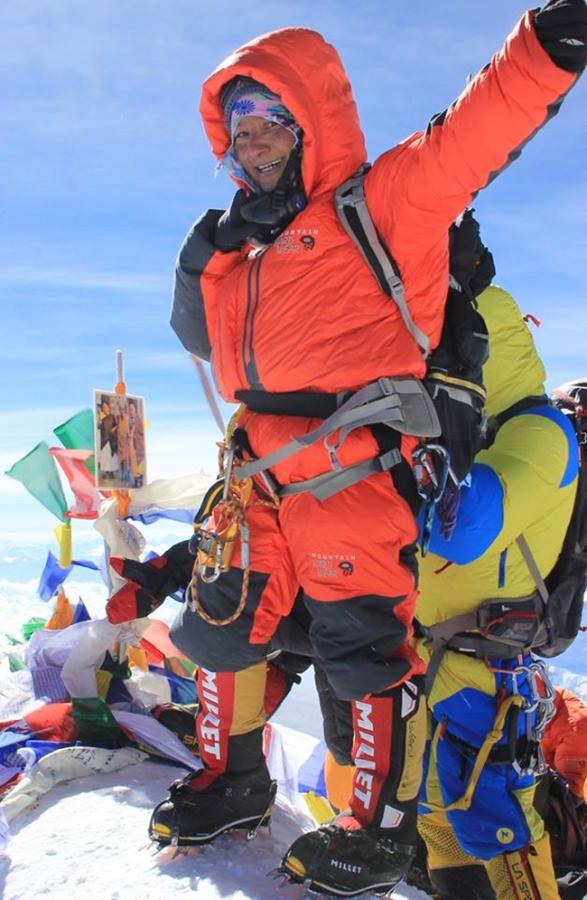 IMAGE: Anshu Jamsenpa on Mount Everest. All photographs: Kind courtesy Tsering Wange/Facebook
There is something unattainable about the mountains.
For Anshu Jamsenpa though, it is not the case even if it means taking up the challenge of the planet's highest mountain.
Last month, the 37-year-old mountaineer from Arunachal Pradesh returned from Mount Everest contented, having reached the summit of the 8,848-metre (29,029 feet) peak twice in five days.
Jamsenpa set a women's record for a double ascent of the world's highest mountain in a single season.
The mother of two teenage daughters climbed Everest by its Southeast Ridge route on May 16.
She repeated the feat on May 21 and, in the process, bettered the record set by a Nepali woman, Chhurim Sherpa, who made the dual climb in seven days in 2011.
This was not Jamsenpa's first double ascent of Everest.
On her first attempt in 2011, she conquered the peak twice in 10 days between May 12 and 21.
Two years later, on May 18, she made another successful attempt.
Rediff.com's Laxmi Negi spoke with Anshu Jamsenpa to find out how she pushed her limits to achieve the ultimate test in mountaineering.
Of all your Everest summits, which is the most memorable?
It has to be my second summit, in 2011.
The weather was good and the view of mountaineers climbing from the north side was amazing.
It was mesmerising. I will always treasure that.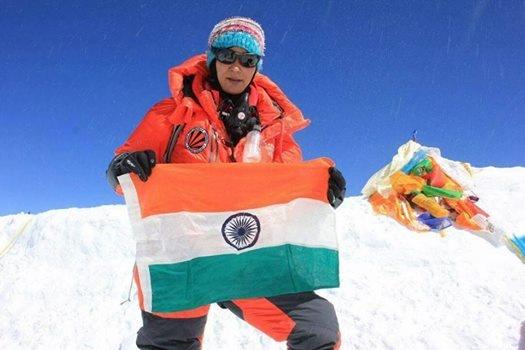 You experienced an earthquake on your ascent... What were you thinking then?
I first experienced disruption in 2014. Fortunately or unfortunately, my flight got delayed and we could not reach the Base Camp in time.
We were stuck for a week to get clearance, then the climbing season was cancelled after an avalanche killed 16 Nepali guides.
Another attempt the following year was foiled after an avalanche -- this one triggered by a massive earthquake that left Nepal in ruins -- killing 18 people at the Base Camp.
I was shocked! It was hard to believe it was a coincidence and that I was not at the Base Camp at that point in time.
Also, it is interesting how people perceive women.
In 2014, when the expedition got cancelled, people thought I would not go back.
They were surprised to know that I was going to scale Everest again.
Unfortunately, the expedition was called off. I was down and out.
In 2016 I didn't have the time and energy.
What makes you go again and again to Everest?
The feat I achieved this year.
I wanted to do that in 2011, but I wasn't aware of the two permits in one season. So I had to go back for a second permit which took time.
In 2013, I was part of a group expedition from the north-east.
I had gone in 2014 to scale Everest twice in five days, but it was not meant to be.
In 2015, I mustered the courage to do it again, but it was called off.
Everest is not easy.
Apart from physical and mental toughness you need to be financially sound too. I had no energy and money to run after sponsorships.
My 2016 permit was extended till 2017. I was still feeling low. My last two attempts were foiled.
I have really worked hard to be here today. I didn't want to miss the opportunity and regret it later.
So I motivated myself to look for sponsorship and luckily, I got it in time.
So this season everything fell into place.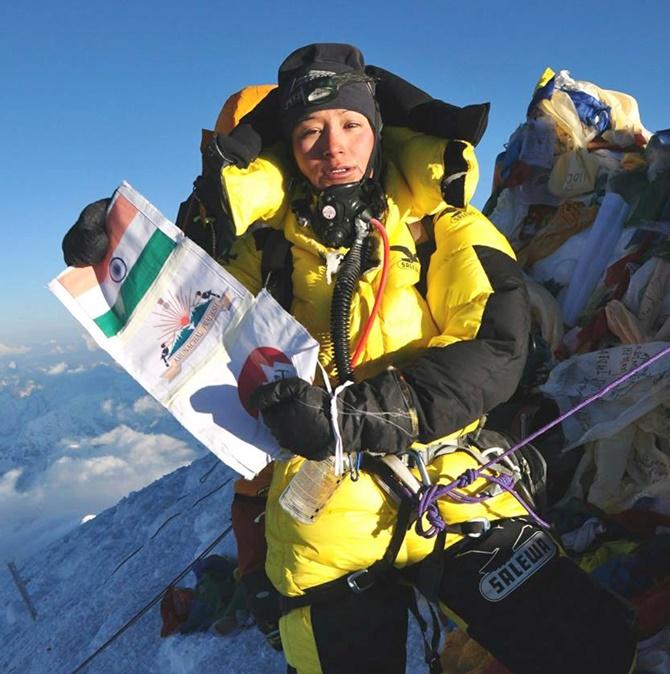 What is the feeling at the top of the world?
It is always a mixed feeling. It is always different.
When I am at the top I always feel I am blessed and closer to god.
I feel I have special blessings on me. I feel more spiritual.
This time also I was emotional.
Why mountaineering?
I was always interested in adventure sports. I wanted to do para-gliding, but didn't get proper guidance in that.
Later I met some mountaineers who had come for rock climbing. Looking at me they advised that I should try my hand at mountaineering.
I did a 15-day adventure course, where I had to stay in a jungle for a night.
I would never have imagined doing that, but I loved it.
I got married at 19 and today I have teenage daughters.
When I started my journey as a mountaineer, I was married with two kids.
I had my doubts, but I always had the will to survive.
My journey hasn't been easy. There was a lot of trouble, pain.
I have had difficult times. There have been times when I have been exhausted, but I didn't give up.
I told myself I cannot give up.
When I started trekking I realised that mountaineering is not just about climbing mountains or personal satisfaction. It can be used as a tool to bring in a lot of changes.
We can spread awareness through it.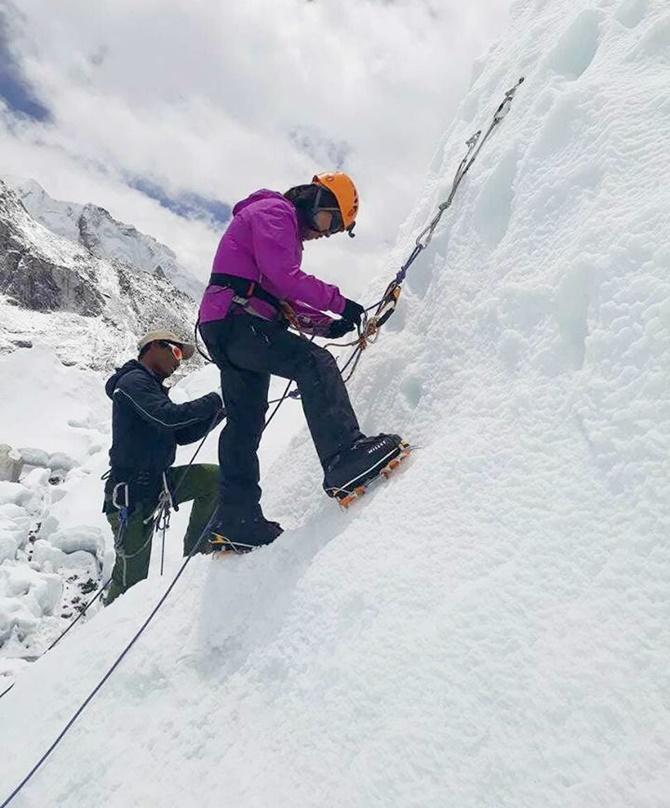 What do your daughters have to say? Are they scared?
When I went for the first time, my daughters did not know about the risk involved in mountaineering.
Actually in the north-east, there was not much awareness.
When I was at the Base Camp I had these thoughts cropping up in my mind like what if I don't go back home to my kids.
What if people told them things like their mother was crazy.
But I shunned all the ghosts and kept my mind strong.
When I came back I sat with them and told them how unpredictable life can be.
When my time will come to leave, I will have to go.
Death can come to me even if I am sitting at home.
I also told them that if something happened to me they should be proud of their mother as she followed her dreams..
I also showed them a film on Everest to show what hardship we go through during the expedition.
I told them that if one has to follow their dreams, that path has various sacrifices.
I have also made a lot of sacrifices.
How important is support from one's partner?
It was not easy for me to convince my husband. I was under a lot of mental pressure.
But I was determined that no one could stop me, not even him.
He is also an adventurer and was away from home for months, but I never questioned him.
As a wife, I used to think how could I support him. So when my time came, he had to support me.