At 12 years, seven months and 17 days, Dommaraju Gukesh is the second youngest Grandmaster of all time.
Devangshu Datta meets the ace.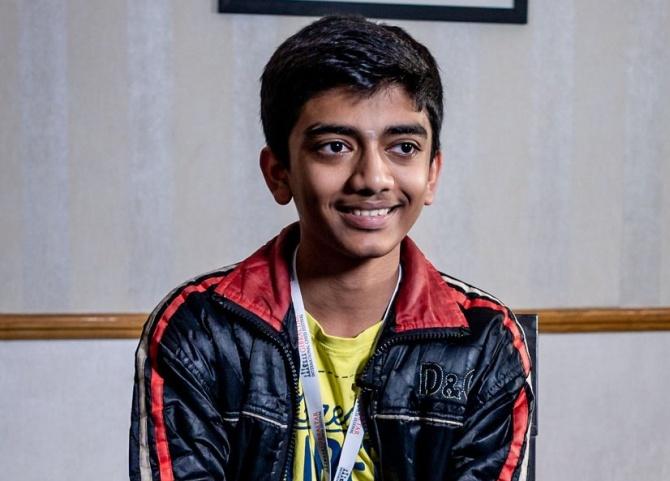 Dommaraju Gukesh is a quiet, soft-spoken boy. He considers every question addressed to him carefully before whispering out the answer from under the little wisp of his moustache.
You have to strain to hear him over the background noise at the Indira Gandhi Indoor Stadium, Delhi. "No, I wasn't nervous before the game. But I did get nervous while playing," he confesses.
The Class 7 student of Velammal Vidyalaya, Chennai, is referring to his ninth round game at the Delhi Open. He knew before he sat down that a victory against International Master Dinesh Sharma would be enough to ensure the Grandmaster title and that it would also give him a shot at winning the tournament outright.
On January 15, Gukesh did what he always does when he's playing a tournament. He scanned through a database of his opponent's games. He listened to some "spiritual music" as he calls it -- meditation music suggested by sports psychologist Krishna Prasad.
Then, in a quick consultation with his coach, Grandmaster Vishnu Prasanna, he prepared his opening. He decided on a Tarrasch System, aiming to rapidly dominate Sharma's anticipated French Defence. It worked in that he accumulated a big edge.
Finally, despite the admitted nervousness, he blasted Sharma off the board with a devastating rook sacrifice.
That win makes Gukesh the youngest Grandmaster in the world at present.
At 12 years, seven months and 17 days, the Chennai-based boy is the second-youngest Grandmaster of all time, a mere 19 days older than Sergey Karjakin was when he set the world record back in 2003.
Anti-climactically, Gukesh lost in the last round to Abhijeet Gupta, when a win would have guaranteed him a share of first place. But that loss was not due to a sudden relaxation of intensity, caused by some sense of achievement. Gukesh had the better position against Gupta and he blundered when he pushed too hard.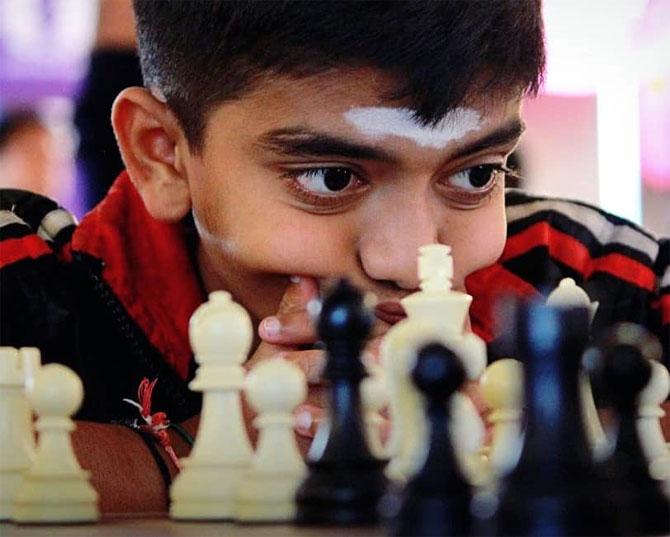 Gukesh never relaxes at the board -- he just enjoys playing chess too much to switch off that calculator in his head. The quiet exterior and polite manner also conceals the instincts of a predator -- Gukesh likes to win and he always plays to win.
Indeed, that can sometimes get him into trouble. It happened at his last tournament -- the IIFL Wealth Open in Mumbai that ended just two days before the Delhi Open.
Gukesh lost two games there to lower-rated juniors simply because he refused to throttle back and take draws in equal positions.
India's 60th Grandmaster is one among a long line of Indian prodigies who are all some years short of voting age.
As somebody pointed out, India could field a sub-junior team of Under-16-year-olds that would be stronger than most adult national squads.
Nihal Sarin, 14, and Rameshbabu Praggnanandhaa, 13, made it to Grandmaster in 2018, and Gukesh almost got there last year as well.
Logging the Grandmaster title requires either an extraordinary performance in a world title event, or more commonly, three strong performances ('norms') over at least 25 games against rated opponents.
Gukesh logged his first Grandmaster norm at Bangkok in April 2018 and his second norm came in December at the Orbis in Paracin, Serbia.
That suddenly set up the possibility of breaking Karjakin's record and he came close at the Sunway Sitges in December, when he ended just half a point short.
The next shot was at the IIFLW, Mumbai, when he again missed out by a whisker.
Finally, he did the trick at Delhi when he scored 7 points in 10 games, where he faced five Grandmasters.
In case you haven't figured it out, Gukesh plays a lot of chess and he does it in bursts. Most young players tend to average out at around 100-odd tournament games a year.
Gukesh played 247 games since last January -- this is an incredible workrate, if one may borrow a phrase from football.
The schedule of where he plays is worked out by his coach and his father, D Rajinikanth. It is, of course, partly dictated by the need to attend school.
Even though Velammal has been very accommodative of Gukesh's needs, and even supported him financially, he tries to pack in as many events as possible during the holidays.
But there is also careful calculation in the events that Vishnu P and Rajinikanth choose. Gukesh's ambitions are completely centred on becoming a chess professional and maximising his potential. And his parents have backed that to the hilt.
This is unusual for middle-class Indian parents. Rajinikanth and Padmakumari are both doctors -- just like Nihal's parents. But Gukesh grins and emphatically denies any ambitions in that direction. "No! I just want to play," he says.
Rajinikanth says it's been that way since 2013, when he learned the moves. "He's always been self-driven. He does his own homework, reads up his schoolbooks without any prompting. So, when his talent became clear, we decided to try and back him as necessary."
As doctors, his parents thought they could finance his career, with all the travel and expense it entails. Indeed, they managed to do that until around 2017, when the foreign travel started to stress the family out.
At that stage, some help came from their medical colleagues who set up an unsolicited WhatsApp group where they raised funds. After that, some financial support came in from Microsense Networks, a Delhi-based firm specialising in networking solutions. ONGC has also contributed to his expenses.
Despite the heavy schedule, the boy does most of his own work, with his coach doing one or two intensive sessions per week. The first thing Gukesh does on waking up is check on the games and the results of ongoing tournaments.
When he's doing his analysis, he takes deep dives and has to be dragged away to eat and sleep. He relaxes by playing blitz and bullet (time-controlled to one minute). He likes cricket as well and also plays badminton, often against his mother in their colony in Anna Nagar. Once in a while, he watches a Tamil movie -- his favourite actor is Vijay Sethupathi.
The parents decided that although neither is a strong player, they would back his ambitions scientifically. Hence, his interactions with a sports psychologist and inputs like meditation that are designed to keep him on an even keel.
Gukesh is unusual in that he doesn't obsess about his results. He plays every game to win. He tries to be flexible in his opening choices and he studies the classics. He is level-headed enough to know that this aggressive maximal approach is going to lead to losses every so often and he can shrug them off.
If it comes off, it's a podium finish and that compensates for the occasional sub-par results.
This year, he intends to try and break into the World Cup, which is a Wimbledon-style knockout that can lead to qualification for the candidates. So he'll play the national championship and the Asia Cup.
His favourite player is the late Bobby Fischer, whose career more or less concluded in 1972 (with a brief comeback in 1993). In his best games, Gukesh concocts a similar blend of classic positional build-ups coupled with sharp tactics.
The learning curve has been steep so far and it will have to stay that way. Despite his huge talent, Gukesh belongs to an extraordinary cohort. There are some half a dozen players in his age group who appear to be on the same plane.
Apart from his pals Nihal and Praggnanandhaa, he will have to contend with Javokhir Sindarov, Alireza Firouzja, Awonder Liang, Nodirbek Abdusattorov and co. He will do so in his own clear-eyed, understated way.