'I hope travel and physical competitions don't diminish drastically,' The Chess Legend tells Sai Manish.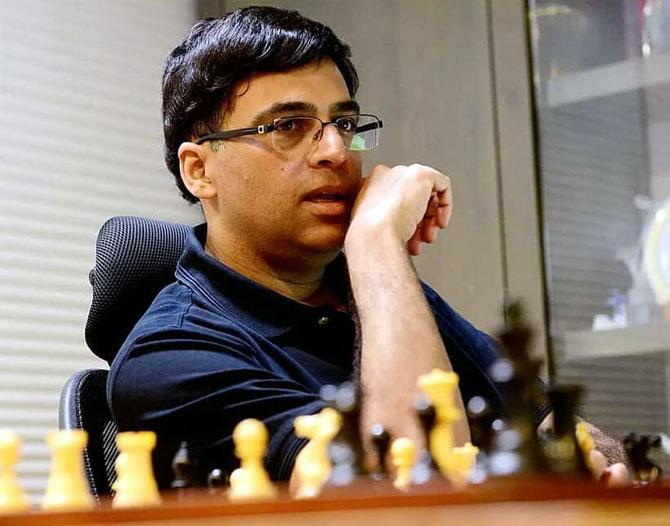 It has been three months since Viswanathan Anand has been away from home, stuck someplace across the globe like thousands of Indians waiting to be reunited with their families under the Vande Bharat Mission.
From an apartment near Frankfurt, Germany, he meets me via Skype over breakfast (for him) and lunch (for me) in India.
As my spinach-rice takes care of itself in an electric cooker, Anand, sporting a casual white Polo T-shirt and munching on a bowl of cereal with raspberries and strawberries, appears cheerful.
"As chess players, we are all loners and perpetually in isolation to train," he starts off, anticipating my first question.
"The apartment where I am staying now," he continues, "is where I have lived for my training camps -- so it doesn't feel much different."
"In a funny sort of way, that itself was isolation. While it doesn't feel very different for me, the rest of the world seems different."
"They don't seem to be moving around as freely as before. There are fewer people around... restaurants here are now just takeaway joints."
He has been in this "situation" before and recounts it with the exuberance of a hippie.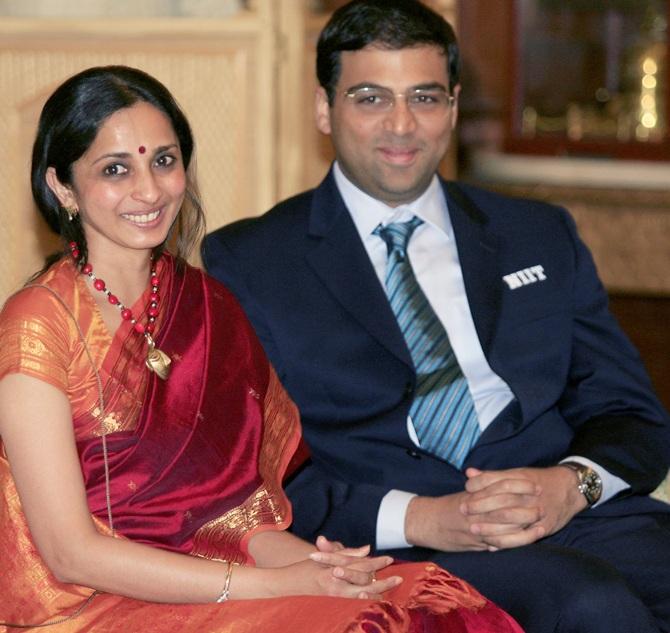 The year was 2010 and Anand, along with his wife Aruna, had landed in Germany after a vacation in Venice to meet his trainers and then fly to Sofia for the world championship against Bulgarian grandmaster Veselin Topalov.
A week before the tournament, as Anand, Aruna and team were packing up to fly to Sofia from Frankfurt, Eyjafjallajokull decided to spew the earth's guts out into the world.
The ash belched by the Icelandic volcano sent the European airspace into lockdown.
With the date of resumption of flights appearing uncertain, Anand and his team hired a minibus and decided to drive all the way to the Bulgarian capital.
Over the next 40 hours, they drove through Germany, Austria and Hungary. The quickest way to reach Bulgaria from Hungary was through Serbia.
But none of the Indians in the team had a Serbian visa. So they decided to drive through Romania.
"At the beginning of the journey we all thought that let's be productive and get some work done. Half an hour into the drive we realised being productive was getting us nowhere and we decided to stop pretending. Luckily, we had a television. So we put on the Lord of the Rings extended version," recounts Anand.
As the bus reached their hotel, there was still 10 minutes of the movie left to watch.
The chauffeur was asked to drive around the hotel so that the group inside could complete the movie.
"The ring had already dropped into the fire. But we just wanted to finish the movie you know!"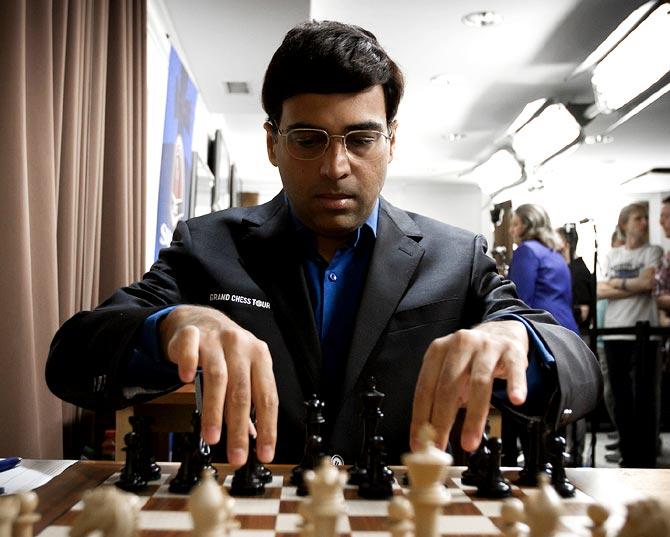 It is during times like these that hidden memories come calling -- and Anand, who turns 51 this December, has had a fair share over the past one year, much of which he has put down in his autobiography, Mind Master: Winning Lessons from a Champion's Life.
Now, between Netflix and Comedy Central, he has been religiously following the news to analyse how governments across the world are responding to this once-in-a-lifetime crisis.
News, entertainment and chess training are sandwiched between morning jogs and yoga. Long walks are also part of this isolated existence.
He says when governments say "we need to learn to live with the virus", they actually mean they can't do much about the virus.
They bought time to test their administrative capabilities and with a vaccine or a cure not on the horizon the realisation has perhaps dawned that people can't live locked up anymore.
But here's the nub: When all this is over, humans aren't going to be a better version of themselves, says Anand.
All of us would be comfortably numb and eventually drift to status quo.
Look at the economic crisis, he says. "Everyone said the world would be a fairer place when every economic crisis is tackled. But nothing of that sort has happened."
After helping himself to another spoonful from his cereal bowl, Anand says people subliminally adapt to circumstantial changes thrust upon them.
"Many years ago, airports were pretty innocent places where you could just walk in without anyone noticing you. But after 1984, metal detectors started appearing for the first time due to the Khalistan issue."
"Then after 9/11, airport security simply transformed to what it is now. And we all got used to it."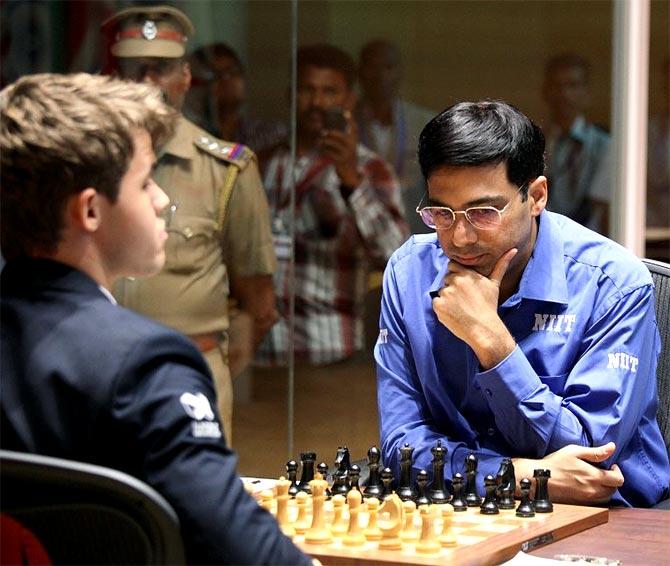 That said, chess faces far fewer challenges than any other sport. It's easier to get the chess ecosystem online without destroying the ambience, thrill and the entirety of the sport, he sums up.
That isn't necessarily the case with other field sports that require gladiatorial comportment to buttress bona fide sportsmanship.
The recently culminated Magnus Carlsen Invitational -- the first professional online chess tournament -- to address the "drought of competitive entertainment" during the pandemic exemplifies the dilemma before chess in particular.
The tournament was won by the 29-year-old Norwegian genius after whom it is named and didn't feature the classical format of the sport.
All games were played in the rapid and blitz formats with the Armageddon thrown in to keep the online viewer from going elsewhere.
"There already exists a system where you can get players to a central hall in the presence of an arbiter who ensures they don't cheat. But I hope travel and physical competitions don't diminish drastically," says Anand.
"It would be a pity if the whole chess world goes online," he adds.
Technology is doing more for players than it is for the sport, he says. The advantage of experience has been blunted by super-computers that train teenagers to become champions.
Now a 10 year old gets the same experience in a few years that a player like Anand gathered playing against formidable opponents in multiple tournaments across the world over decades.
"These days a lot of Grandmasters are in their early and mid-teens because of that. It's harder to dominate for a very long time. As a result, there is a lot of movement among players for the top ranking, barring a few. That's probably the new normal."
The immediate future for Anand and the world of chess is uncertain. He doesn't know whether he will play another tournament this year or even the next.
He will try to play as many online tournaments as possible till the world gets accustomed to the new normal.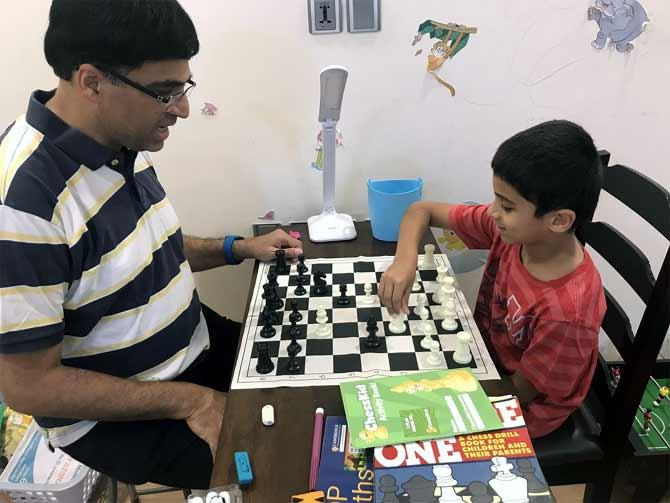 All he wants right now is to get back home and to his family.
"Aruna has been managing all alone. Akhil's (his eight-year-old son) classes are shifting online. I can help him with that once I'm back." He appears restless.
Given the inglorious uncertainties pervading the world at the moment, a discussion on food seems a bit inappropriate.
I pop the question nonetheless: "So what are you having for lunch?" "There is some bread and spreads lying around. I'Il make a sandwich for myself," he says without much enthusiasm.
Evidently, this is one protracted stalemate the champion in isolation is yearning to get out of.
Vishy has since returned to Chennai.
Production: Rajesh Alva/Rediff.com