'Our athletes are well-prepared for the Games'
A Ganesh Nadar
Manisha Malhotra, CEO, Mittal Champions Trust, is determined that the Indian athletes her organisation sponsors bring gold for India.
She shares her plans with Rediff.com's A Ganesh Nadar.
Disappointed by India's dismal showing at the Olympics over the years, the Mittal Champions Trust was set up in 2005 by billionaire businessman Laxmi Narain Mittal and his son-in-law Amit Bhatia to produce world-class Indian athletes, with the 2010 Commonwealth Games in New Delhi and the 2012 London Games in mind.
The Trust identifies talented Indian athletes from five Olympic disciplines -- archery, wrestling, shooting, athletics and boxing -- and provides them the best training, nutrition and supporting infrastructure.
PHOTOS: The leading modern Olympians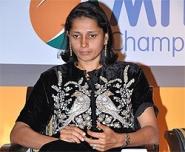 Mittal -- who is incidentally the richest man in the country that will host the Olympics in July -- and Bhatia chose Manisha Malhotra, left, as the trust's CEO and administrator.

Malhotra represented India in tennis at the 2000 Sydney Olympics and won a silver medal in the mixed doubles, partnering Mahesh Bhupathi, at the 2002 Busan Asian Games.


She tells Rediff.com how the Mittal Champions Trust hopes to strike gold in London.

How did this trust come into being?

The Mittals had gone to the Athens Olympics. They decided to find out which disciplines Indians were participating in and go and cheer them. They searched in vain, could not find a single one (Indian athletes).

The Mittals were later visiting Wimbledon where they met Mahesh Bhupathi and me. They told Mahesh what happened at Athens, and that they wanted to do something to help Indian athletes. I told them I would send a concrete plan.

I came back to Mumbai and researched the subject for three months. I formulated a plan and sent it to them.

Tell us about this plan...

We gave ourselves time to prepare till the London Olympics. He (EM>Laxmi Mittal) had given us ten million dollars. We decided that we will not try for everything, but concentrate on a few disciplines.

We decided on shooting, boxing, archery and, at that time, squash, but later dropped it as it is not an Olympic event.

It took me sometime to understand the sports and a lot of time to understand the athletes.

In India, athletes are a different kind of breed. They are very suspicious and sceptical of people, but once they trust you, they will gladly jump out of the tenth floor if you tell them.

Please click Next to read how Manisha plans to produce champions...
Image:
Shooter Ronjan Sodhi, one of India's Olympic top hopefuls
'Yogeshwar Dutt has a good chance at the Olympics'
How do you choose the sportsmen and women you sponsor?
I check with the concerned federation of that sport. I speak to the Olympic committee and also to coaches in that discipline. They have to be Olympic level coaches.
Once you choose the athletes, do you choose the coaches or do you have your own?
These are individual sports and everybody's needs are different.
We need cutting edge technology and have to use every aspect of science to train them. The training has to be scientific.
One athlete had an injury; he needed a doctor, another needed a coach. So I found both the doctor and coach for them.
After we hire the coach we send the athlete to him. We are ready to provide anything they need.
One athlete, (wrestler) Yogeshwar Dutt, had an injured knee. We treated him for eight months. He missed out on one Olympics because of his knee injury, but now he is ready for the Olympics. I think he has a very good chance.
Mine to medal: The Olympic medal journey
How old is the youngest athlete under your trust's care?
The youngest athlete we have is 16 years old. Her name is Srabani Nanda.
Give us the names of athletes you are sponsoring?
In shooting, Abhinav Bindra, Ronjan Sodhi, Heena Sidhu and Joydeep Karmakar; in archery, Laishram Bombayala Devi and Chekrovolu Swuro; in boxing, Vikas Yadav; athletics, Seema Antil and Gurmeet Singh; wrestling, Yogeshwar Dutt.
How many of your athletes have qualified for the London Olympics?
We have 33 athletes. So far 13 have qualified.
Please click Next to read more about how Manisha plans to produce champions...
Image:
Yogeshwar Dutt displays the gold he won at the Commonwealth Games
Photographs:
Getty Images
'Abhinav needs cutting edge technology'
How did you help Abhinav Bindra?
Abhinav does not need money; he needs cutting edge technology and we provided that for him
Are you happy with your athletes' Olympics preparations?
Very much. We started very early and they are well-prepared and raring to go at the Games.
Five facts about the London Olympics torch
Which of them has the best chance for a medal?
Of the 13 who have qualified I think 11 have a fair chance. The shooters, wrestlers, are doing very well. I think the archers will win a medal.
They have been practicing very hard; earlier on, they missed a medal by a whisker.
How many medals are you expecting from your athletes?
Three or four, definitely! Maybe, more.
How involved is Mr Mittal with the trust?
His son-in-law, Mr (Amit) Bhatia, is personally involved. He is very interested in sports and is like the managing trustee.
Mr Mittal meets us once in three months when we have a board meeting.
Who are the other trustees?
Mahesh Bhupathi, (L N Mittal's son) Aditya Mittal, Mr Bhatia. Abhinav Bindra has now been appointed a trustee.
Where do the athletes train?
Some of them are here in India, like the archers; some abroad.
Is Mr Mittal's initial $10 million enough?
It is more than enough; there is a lot left!
Do you interact with India's sports ministry?
In seven years, the current sports minister, Ajay Maken, is the only one who has spoken to us. He is good. Earlier there was no interaction.
Image:
Abhinav Bindra, India's only solo Olympic gold medalist
Photographs:
Getty Images