Federer stunned by Tsonga
Last updated on: June 30, 2011 00:06 IST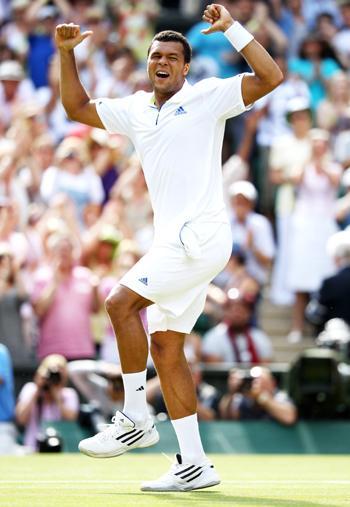 Roger Federer's dreams of a seventh Wimbledon title were shattered by an extraordinary comeback from Frenchman Jo-Wilfried Tsonga who won an epic quarter-final 3-6, 6-7, 6-4, 6-4, 6-4 on Wednesday.
It was the first time the third seed has lost a grand slam match having been two sets up and it condemned the 16-times major champion to a second Wimbledon quarter-final exit in a row.
"It was just amazing today, I played unbelievable, everything was in," Tsonga said in a televised interview.
"That's crazy, he is the biggest champion in my sport, he achieved a lot of things. He is the best player in the world and I'm just so happy to beat him, especially on grass as it is one of his best surfaces."
Federer, bidding for a record-equalling seventh title, glided through the first set and never looked in danger in the second set or tiebreak as Tsonga showed few signs that he was capable of making a scrap of it.
However, the 12th seed soon found his groove with his immense energy and athleticism suddenly worrying Federer, who was dumped out by Tomas Berdych at the same stage last year.
Tsonga broke for 2-1 in the third and fourth sets and held out thanks to some rasping groundstrokes and trademark volleys.
His raw power threatened to completely stifle Federer, who failed to raise his game and slipped a break down at the start of the fifth set when he netted.
'He didn't give me many chances'
Last updated on: June 30, 2011 00:06 IST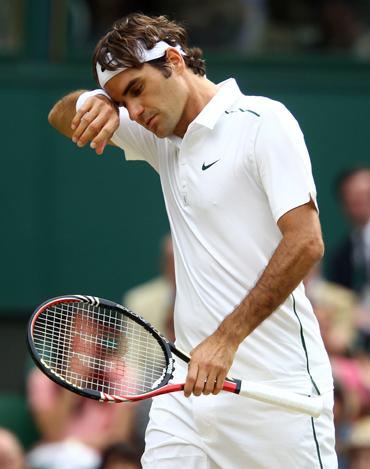 Federer could do nothing to halt Tsonga's momentum with the Frenchman piling into every stroke with all his might to reach a third grand slam semi and set up a meeting with Novak Djokovic on Friday.
"I think Jo played great from start to finish, I don't remember a break point after the first game," Federer told a news conference.
"Except the score, many, many things went right. I'm pretty pleased with my performance, it's hard going out of the tournament that way. I think he played an amazing match, he didn't give me many chances."
One of the keys to Federer's incredible success over the years has been his coolness under pressure but it was his very lack of emotion as the match began to slip away which seemed to be his undoing.
When other players would have slammed the racket against the ground or screamed at themselves to snap out of their malaise, the 29-year-old passively continued to play the same way despite desperately needing a break.
In contrast, Tsonga looked a beaten man at the end of the second set but somehow found a second wind with the Centre Court crowd urging him on despite their attachment to Federer.
The Frenchman loves to dive around on the grass and his entertainment value meant the fans, including golf great Jack Nicklaus, were enthralled by his stunning comeback.
"I thought my game was plenty good enough to win the tournament," Federer said, indicating his will carry on fighting despite not winning a grand slam since the 2010 Australian Open.
Subdued Djokovic ends Tomic run
Last updated on: June 30, 2011 00:06 IST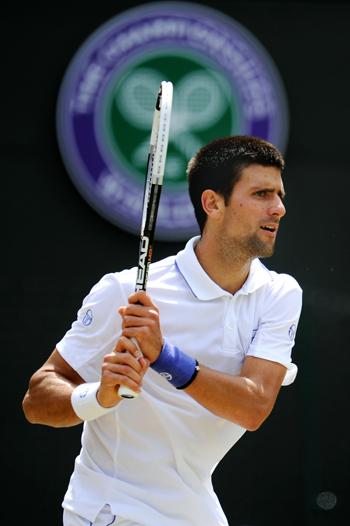 A subdued Novak Djokovic ended the dream Wimbledon run of 18-year-old Australian Bernard Tomic with a 6-2, 3-6, 6-3, 7-5 victory in the quarter-finals on Wednesday.
"I'm delighted to be through it's a great result but was a very even match," Djokovic said in a televised interview.
"I played very well to start with but I played one very bad service game and he got back into the match and from that moment on he was the better player.
"I had some very very difficult serve games which I managed to hold."
The Serbian second seed, bidding for his first Wimbledon title and the world number one ranking, cruised through the opening set.
"He is a very unpredictable player and has never been in a grand slam quarter-final before and he had nothing to lose and was hitting a lot of winners and I couldn't predict where he was going," Djokovic said.
"He was not making many unforced errors from the baseline which made my life very difficult. I was trying to change the pace, but he was better at that and it was like a game of cat and mouse."
Tomic made a string of basic errors
Last updated on: June 30, 2011 00:06 IST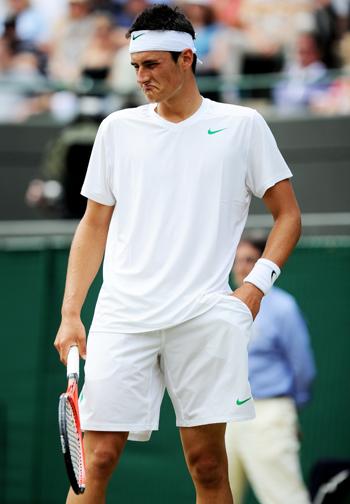 Qualifier Tomic grew in confidence though and using his patient and delicate groundstrokes to frustrate the Serb, he took the second and opened up a 3-1 lead in the third.
Djokovic had struggled to deal with the low, slow sliced backhands of Tomic but was stunned into action and reeled off seven games in a row to take command.
Tomic, the youngest man to reach the Wimbledon quarter-finals since Boris Becker in 1986, made a string of basic errors but out of the blue he hit back in the fourth set, whipping a ferocious forehand down the line to seal another break.
Djokovic fell heavily at 4-5 and struggled to hold his serve but an exquisite drop shot in the next game set up another break.
The 24-year-old Serb rediscovered his consistency and earned himself two match points in the next game, the first of which he converted when Tomic netted a groundstroke.
Nadal eases past Fish
Last updated on: June 30, 2011 00:06 IST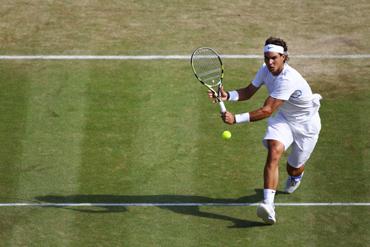 Rafael Nadal comfortably moved into the last four of the Wimbledon Championships.
The defending champion scored a 6-3, 6-3, 5-7, 6-4 win over American Mardy Fish to book a semi-final date with home favourite Andy Murray, a straight sets winner over Nadal's compatriot Feliciano Lopez.
The 10th-seeded Fish had upset last year's beaten finalist Tomas Berdych in an earlier round but was no match against the Spaniard.
The American did recover to take the third set but ran out of ammunition in the fourth.
It was Nadal's sixth victory on the trot over Fish. The American has never returned the compliment.
Murray crushes Lopez to reach last four
Last updated on: June 30, 2011 00:06 IST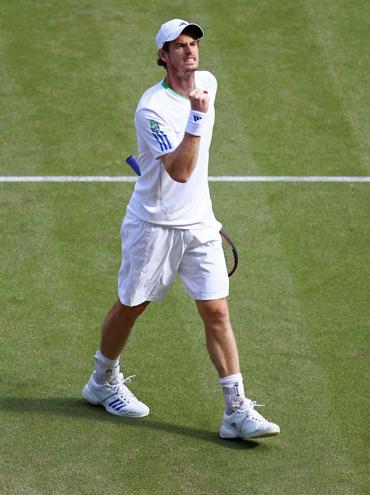 Andy Murray crushed Feliciano Lopez 6-3, 6-4, 6-4 on Centre Court to reach the Wimbledon semi-finals for the third year in a row on Wednesday.
The British fourth seed was never threatened by the unseeded Spaniard who wilted under a relentless barrage of pinpoint groundstrokes and consistent serving.
Murray served three successive aces to seal victory on his first match point and he will next play top seed Rafa Nadal as he continues his bid to become the first British men's singles champion at Wimbledon for 75 years.
Source:
© Copyright 2022 Reuters Limited. All rights reserved. Republication or redistribution of Reuters content, including by framing or similar means, is expressly prohibited without the prior written consent of Reuters. Reuters shall not be liable for any errors or delays in the content, or for any actions taken in reliance thereon.