Rafa showing signs that he can chase Federer's record
Last updated on: July 2, 2011 21:45 IST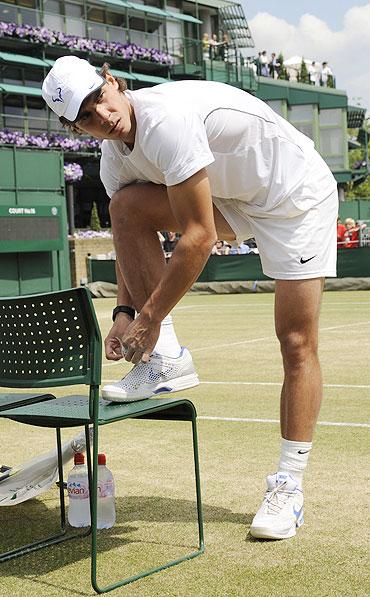 Often overshadowed by his classic duels with Roger Federer, Rafa Nadal's rivalry with Novak Djokovic has been brewing slowly and it will come to the boil on Sunday when the world's two best players contest the 125th Wimbledon men's final.
The dream showpiece pits Djokovic, the man the ATP computers will show is the new No.1 in the rankings on Monday, against the bullish Spaniard who is showing every sign that he can chase down Federer's record of 16 Grand Slam titles.
While Andy Murray briefly raised hopes that Britain would have its first Wimbledon men's finalist for 73 years by leading Nadal in the semis, there is no doubt that the final is befitting the sport's blue-riband tournament.
Djokovic has never beaten Nadal in a best of five tie
Last updated on: July 2, 2011 21:45 IST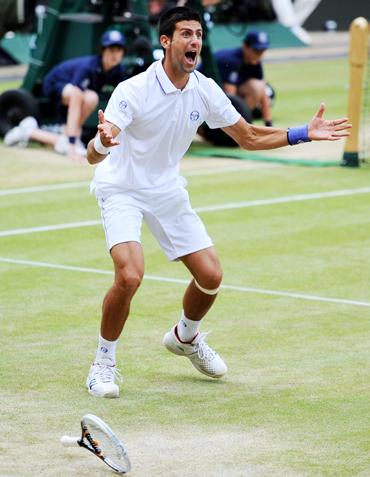 Djokovic trails their series 16-11 but during a remarkable year for the Serb winning-machine he beat Nadal in consecutive finals in Indian Wells, Miami, Madrid and Rome.
While the first two in that burst were on his favoured hardcourts the latter were on Nadal's beloved red dirt.
Should he prevail on Centre Court's lawn on Sunday and become the first player to beat Nadal at the All England Club since Federer in the 2007 final, it would rubber-stamp Djokovic's lofty new status more effectively than ranking points.
The 24-year-old has never beaten Nadal in a best of five set match, however, and he knows that the Mallorcan will be sweating blood to claim a second consecutive French Open/Wimbledon double.
'I'm mentally motivated'
Last updated on: July 2, 2011 21:45 IST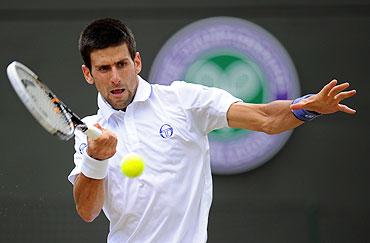 "I'm ready for long rallies, long points," Djokovic, who will fulfill his boyhood dream by playing in his first Wimbledon final, said.
"I need to be physically ready, which I am. I feel fit in this moment, and mentally obviously motivated.
"The four times I won against him this year can probably help me in some ways mentally prior to this match."
While iron-man Djokovic's 41-match winning streak from the start of the year to the French Open semi-finals has propelled him to the top of the rankings, Nadal remains the more feared warrior in head-to-head combat at Grand Slams.
Nadal's ferocious spirit enough to make opponents crumble
Last updated on: July 2, 2011 21:45 IST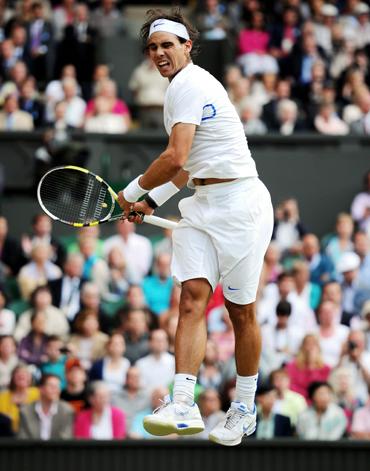 Nadal will be appearing in his 13th Grand Slam final and so far he has lost just two, both against Federer at Wimbledon while he was still adapting his topspin game to the subtleties of grass.
Against Murray on Friday he was out-played for a set but pounced on the first sign of weakness from his opponent before going on to pound the Scot into the baseline dust.
Just seven unforced errors in three hours of combat underlines the task facing Djokovic on Sunday. When it matters most, Nadal's ferocious spirit and on-court presence is enough to make opponents crumble.
'I have to play with intensity, with rhythm'
Last updated on: July 2, 2011 21:45 IST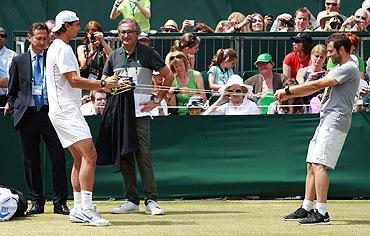 Nadal though attempted to turn the tables when he said Djokovic will walk on court with a slight mental edge.
"His mental position over me today is probably a little bit better because he won the last four finals against me," Nadal, who is playing in his fifth Wimbledon final in six years, said.
"I will try my best. I have to play aggressive. I have to play with intensity, with rhythm. That's what I'm gonna try."
Nadal's demotion to world No.2 would look rather odd if he retained his Wimbledon title on Sunday but the polite Spaniard will turn his thoughts to that in the months ahead.
For the three, four or five hours he will be on court on Sunday, only victory over Djokovic will matter.
"We will see when I finish my career where I am in the history of tennis," he said.
"Right now for me, my history is I am in the final of Wimbledon. The history of tennis, we'll have time to talk about it another time."
Source:
© Copyright 2021 Reuters Limited. All rights reserved. Republication or redistribution of Reuters content, including by framing or similar means, is expressly prohibited without the prior written consent of Reuters. Reuters shall not be liable for any errors or delays in the content, or for any actions taken in reliance thereon.