'What you play for is really to be in a Wimbledon final'
Last updated on: June 20, 2011 11:33 IST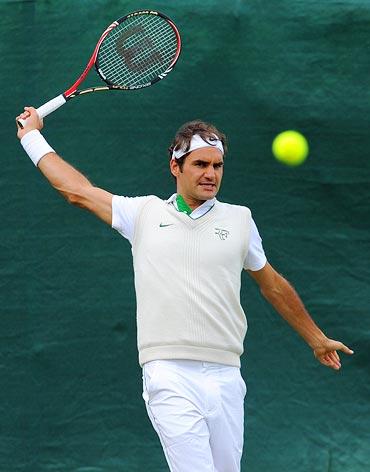 A Wimbledon final without Roger Federer almost seemed unthinkable 12 months ago but the 'unthinkable' happened last July when the most gifted player to have picked up a tennis racket discovered he was no longer on the guest list for the showpiece match at the grasscourt Grand Slam.
But the man who enjoyed the privilege of opening Centre Court proceedings at the All England Club for seven successive years - including 2009 when Rafa Nadal was unable to defend his title - is now back to reclaim his crown.
The six-times Wimbledon champion purposefully strode into the grounds on Saturday and even the miserable British weather did not dampen his spirits as he went through his paces during a 30-minute hit with his friend Tommy Haas.
Just in case Federer had forgotten the identity of the current holder of the title, Nadal navigated his way through the couple of hundred people jostling for space around the outside court and the Spaniard was soon nodding his head in appreciation as Federer finished off the session with a flurry of aces.
Job done for the day, Federer exchanged high fives with his great rival and walked off court knowing that he was just seven matches away from drawing level with Pete Sampras and William Renshaw's record of seven men's titles.
Dressed in an all white track suit, Federer settled into a green chair in a bunker of the All England Club to talk about how much he wants to win back the Wimbledon crown, his desire to reclaim the world number one ranking, his various records and how he combines his on court commitments with fatherhood.
Roger, last year was the first time in eight years that you were not involved in the final weekend at Wimbledon. What was that like for you?
Honestly, I did not even think of that. First you're disappointed you lost, then you move on and then you're like 'okay, I'm going on vacation'. Then you don't think about it. Only later did I hear so many people telling me 'uh, a final without Federer is not the same'. That's just the Federer fans or my supporters who felt that.
I didn't think about it too much and it hasn't come to my mind much this year. What you play for is really to be in a Wimbledon final, walking out on that Sunday, that's so special. I've been fortunate enough to be there so many times. But (Tomas) Berdych played a great match against me and deserved to be in that final against Rafa. Obviously it hurt a bit but it didn't hurt not being in the final. It hurt not winning that match against Berdych.
Photographs: Getty Images
'I did so much better than I ever thought I would'
Last updated on: June 20, 2011 11:33 IST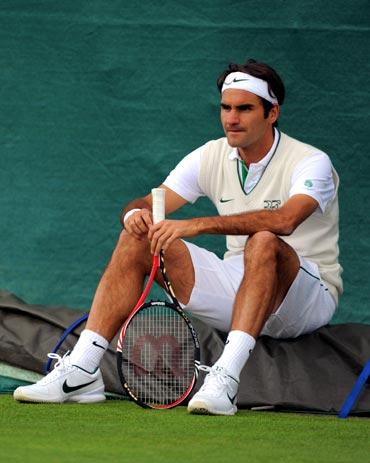 Is that something that you have been dreading for the last few years - that your run of reaching seven consecutive finals would eventually end?
I was disappointed but life goes on. I've had an amazing run here. I did so much better than I ever thought I would. The important thing is that you learn from defeats like this. You take the right decisions after that and that you don't panic. Many times what can also happen is you lose a match and whole thing just goes sideways.
You (think) 'I'll change everything around me. I'll change my coaches, I'll change the way I travel, I'll change the tournaments I play because I made so many mistakes'.
But the important thing is to really be able to pinpoint what didn't go well, what I could have done better. You just lay out all those things in the table and you take the right decision for next time. Sometimes you have to accept that a guy played better on the day than you. (Alejandro) Falla played fantastic in the first round (last year before losing in five sets) and Berdych played an amazing match against me. Ok, maybe I wasn't playing at my very best but I was playing not bad. I didn't make it easy for those guys to beat me.
'Sometimes people are very short sighted'
Last updated on: June 20, 2011 11:33 IST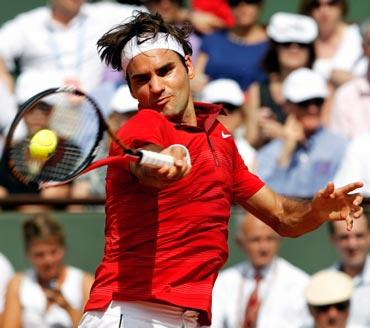 When you see that people are not talking about you as a potential champion of an event, as was the case in the build up to Roland Garros - does that irritate you?
I felt I was (in contention). I was quite surprised (how people) said 'oh you have no pressure'. I would have had less pressure anyhow because I wasn't defending champion, Novak (Djokovic) was on an (unbeaten) streak and Rafa was defending champion. I've already beaten the all-time Grand Slam record (by winning 16 majors), I've won the French Open before so I'm going into this French Open regardless of how I did before. That I was such a small favourite, only later did I hear that.
It surprises me a bit and it seems sometimes people are very short sighted and they look at only the last three weeks instead of looking at the last three years. That's unfortunately how tennis is, it's very volatile in terms of the rankings, and that can change a few things.
I know I have a chance for world number one if I play well from now till the US Open. The players know that but sometimes people tend to forget.
'I'm still going and I'm still able to re-write history'
Last updated on: June 20, 2011 11:33 IST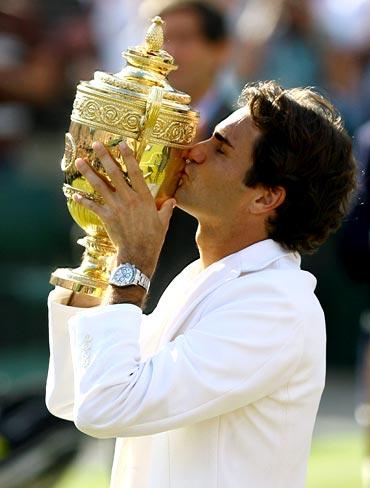 Out of all the records you have achieved, which is the one you are proudest of?
Let's wait and see when I finish. Then maybe I'll say 'this one is my favourite one'. I'm still going and I'm still able to re-write history. But I guess it's the ones (streaks) that last five or seven years, that you know you only get one chance in a lifetime to do, like Sampras's six straight year end number one rankings. You're not going to miss one year and then get another six. It's almost impossible to do. You only get one chance for those kinds of things.
I have short term records, like at one point I think I beat 24 top 10 guys in a row. Or once I made the finals, I won 24 finals in a row. Those kinds of records are also unbelievable for me when I look back. There are many of them but I don't know which one to choose from.
Out of all your many records, which is the one do you think will last the longest and why?
I wouldn't know because sometimes you think 'this is the one' but then it won't. It doesn't matter too much to me.
What about the streak of reaching 23 successive Grand Slam semi-finals?
Maybe that one. Yeah, maybe you're right. If it gets interrupted once after a few years, then you won't get it again. That will be a tough one to beat.
'For me the biggest shot was against Haas'
Last updated on: June 20, 2011 11:33 IST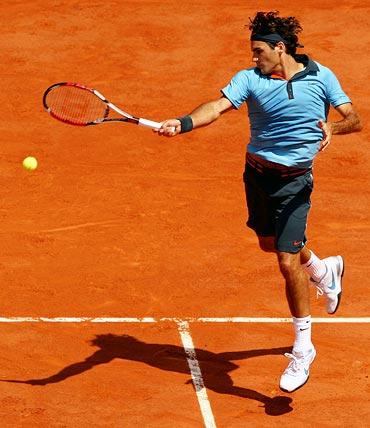 If you had to pick one career defining shot/point you have played during your career, which one would it be and why?
Uhhmmmmm (laughing). For me the biggest shot was unfortunately against Tommy Haas, who's a good friend of mine, at the French Open (in 2009). You probably know which one I'm talking about, on break point (at two sets and 3-4 down in the fourth round), the forehand inside out. I couldn't hit any more forehands for some reason I completely lost it. That's the one I needed and I remember I fist pumped and thought 'this is it'. This is what was going to put me back into the match and into the tournament. Who knows, maybe I would have still won the French Open later on but it just all seemed so perfect to win that year. The way I had to battle against Haas, against (Juan Martin) del Potro, against (Jose) Acasuso, against (Gael) Monfils, against (Robin) Soderling, all those players. It was just a very tough tournament and still very vivid in my mind.
That shot was a bit like Tiger Wood's miracle birdie at the 16th -- when ball appeared to teeter tantalizingly over the edge of the hole before, a second later, dropping into the cup -- during the final round of the 2005 US Masters.
Yeah, maybe, although mine went a bit quicker. It was all over in a hurry. Second serve, bang, bang and it was over. But it was huge.
'I wish I had a serve like Sampras'
Last updated on: June 20, 2011 11:33 IST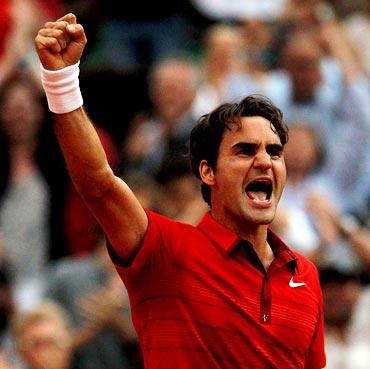 Lots of people have said they wished they could have played like you. Is there any player or a particular shot of a player - past or present - that you are envious of?
I am very happy with what I have. Sure I cannot hit a double handed backhand, I wish I could. But it's fine. I wish I had a serve like Sampras but I'm happy with mine. I wish I had volleys like (Tim) Henman or (Stefan) Edberg or (Pat) Rafter but I'm happy with what I have. I have tried to become the best player I can be over all these years and I think I did really well. I'm surprised how well I actually did.
I grew up in the era of Sampras, Henman and (Richard) Krajicek and all those guys who kept coming in, I would have loved to have played an even better serve and volley game. Even though I know I can play it well, I don't know if surfaces have slowed down or if my volleys are just not good as the other guys or if the guys return so much better today. I guess it's a combination. I would like to play much more moving forward but it is very difficult in this day and age.
In less than two months you turn 30? Are you dreading it?
No, no problem. I can only smile about it. Do I feel 30? I guess I do. I feel ripe like a grape for (a good quality) wine. I feel like I'm in a really nice place right now. Everybody who's 20 wants to stay 20 and everybody who turns 30 wants to stay 30. That's the feeling I get. It's a wonderful age to be. You've already experienced a lot but there's still a lot to come. It's a wonderful age and I'm looking forward to the next 10 years.
'I've had a lot of losses and a lot of heart breaks'
Last updated on: June 20, 2011 11:33 IST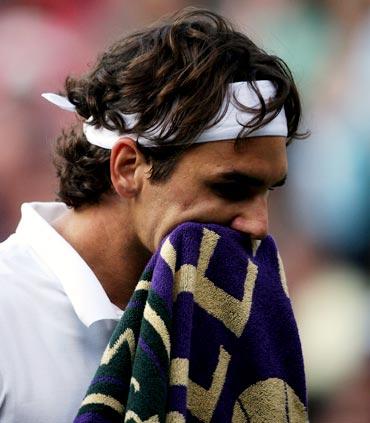 What has been your lowest point in your tennis career?
I have had a few tough losses and the other night I was having dinner and (my friends) were saying 'oh I remember that loss, and this one and that one and this one' and I was like 'oh God, we're only talking about my losses.' With all the 950 plus matches I have played, I've had a lot of losses and a lot of heart breaks.
To pick the toughest one, was it here [Wimbledon] against Nadal (in the 2008 five-set final described as the best ever tennis match)? Possibly, but at the same time it was such a special match to be part of it doesn't hurt as much down the stretch. In the very moment it hurts but not later on."

'I think I'm patient, good husband and good father'
Last updated on: June 20, 2011 11:33 IST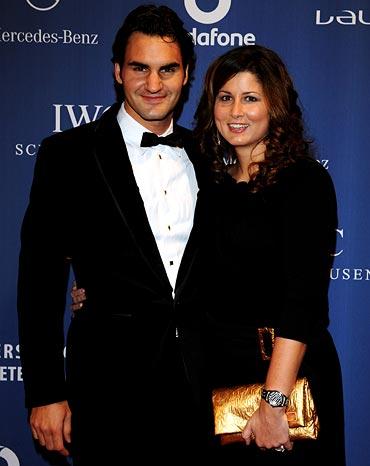 How does Roger Federer the tennis player differ from Roger Federer the father?
I'm as patient a father as I am on the tennis court. It takes a lot for me to get really upset but sometimes kids can get you really cross if they really keep bugging you. As they get older, they push the limits more. So it's more a matter of setting boundaries for the kids then getting really upset with them. But you have to pretend that you're a little bit upset sometimes.
I really enjoy time with the kids and I'm really happy I've only missed them for three weeks in the last two years. I've been very fortunate to have such a wonderful wife (Mirka) who is so supportive and so willing to pack all the bags and come on the road with us and make it work. It's a lot of organisation but I don't want to be away from the kids, I don't want to be away from Mirka and it's just a nice time and I wouldn't want to miss it for the world. I think I'm patient, good husband and good father but you have to ask others about it.
Are you a strict dad?
I think the strictness will grow as they grow, unfortunately for them.
Source:
© Copyright 2021 Reuters Limited. All rights reserved. Republication or redistribution of Reuters content, including by framing or similar means, is expressly prohibited without the prior written consent of Reuters. Reuters shall not be liable for any errors or delays in the content, or for any actions taken in reliance thereon.