Medal at World C'ship a bonus after Oly qualification: Vikas
Last updated on: October 11, 2011 14:22 IST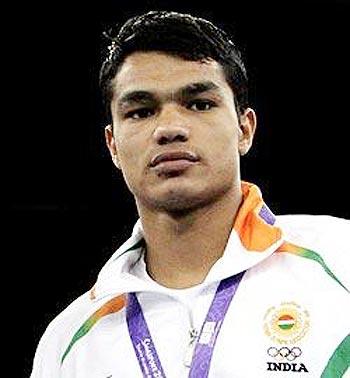 The youngest World Championships medallist in Indian boxing, teen sensation Vikas Krishan says the bronze he notched up in the recently-concluded mega-event in Azerbaijan was a bonus after he achieved his main target of qualifying for next year's London Olympics.
Four Indian boxers -- Vikas (69kg), Manoj Kumar (64kg), L Devendro Singh (49kg) and Jai Bhagwan (60kg) -- qualified for the Olympics in London by reaching the quarterfinals of the Championships, which ended in Baku on Saturday.
Vikas was the only one among them to bag a medal, emulating his idol Vijender Singh's feat of a bronze in the event.
"Medal was a bonus as I had gone there with my focus on qualifying for the Olympics and that is why I consider my pre-quarterfinal bout as the toughest because I put myself under a lot of pressure. After that there was a sense of relief," the 19-year-old, who returned to the country in the wee hours, on Tuesday, in New Delhi.
Vikas to give WSB a miss
Last updated on: October 11, 2011 14:22 IST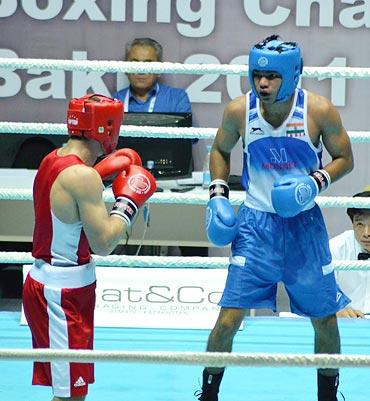 The Asian Games gold-medallist in the 60kg category said he considers his semifinal loss as one of the best efforts he has put in the ring even though he ended up on the losing side.
"I know, I lost but I fought my natural style. I tried everything and fought with a free mind because I had qualified for the Olympics. I felt no pressure.
"If I analyse the bout, I could not handle his (Ukraine's Taras Shelestyuk's) strength. He was very muscular and I had not faced a boxer of this strength till then," recalled the Haryana lad. "I was tired and in the end felt relieved when everything ended. I had jumped a couple of categories just two months before the World Championships and it takes time to be completely in control after changing divisions," he added.
And this is precisely the reason why he won't be seen at next month's World Series of Boxing, which now has an Indian franchise in Mumbai Fighters. "It's a bit risky for me because I am still adjusting but next season, I think I will definitely be there," he said.
I want to be like Vijender: Vikas
Last updated on: October 11, 2011 14:22 IST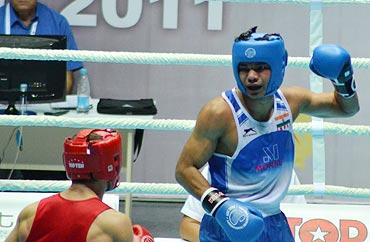 Growing up idolising Olympic bronze-medallist Vijender, who lost in the first round of the World Championships this time, Vikas said he is happy to emulate his inspiration.
"Vijender is Vijender, I don't think anyone can ever take his place. I can't compare myself with him but yes, I want to be like him. He motivates me a lot," said the teen.
As he prepares for the London Challenge, Vikas said he wants to train in Europe as boxers from the region are the ones he finds most challenging.
"I can tackle Asian boxers easily but it is the European ones I find challenging. Training in Europe and sparring with them will certainly help. Hopefully, I will get this opportunity before the Olympics," he said.
© Copyright 2022 PTI. All rights reserved. Republication or redistribution of PTI content, including by framing or similar means, is expressly prohibited without the prior written consent.