Gullickson-Parrott prove too good
Last updated on: September 11, 2009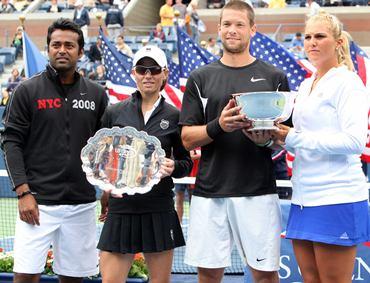 American wildcards of Carly Gullickson and Travis Parrott stunned defending champions Cara Black and Leander Paes 6-2 6-4 to win the US Open's mixed doubles championship on Thursday.
Gullickson and Parrott dominated the opening set before racing into a 5-2 lead in the second against the second seeds.
The unheralded duo were broken right back but ultimately won the 66-minute match on their next serve, the final point coming on a forehand volley by Gullickson.
Parrott and Gullickson, who had never previously played in a tournament together, won the crown amid swirling winds in Arthur Ashe Stadium.
'They played excellently well'
Last updated on: September 11, 2009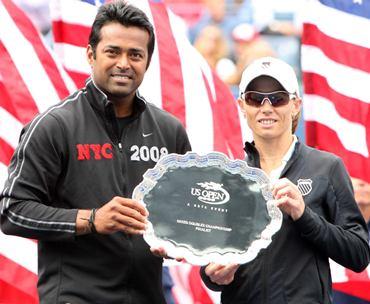 Paes and Black were unable to strike up a rhythm while the US wild card pair did everything -- from serving consistently to exploiting in the wide gaps their opponents left -- right.
"Our opponents were too good for us today." Paes said after the match.
"They played excellently well."
Paes still has a chance to lay his hands on silverware at the Open as he and Lukas Dlouhy [ Images ] take on third seeds Mahesh Bhupathi and Mark Knowles in the men's doubles final on Friday night.
Yuki Bhambri solid and sure
Last updated on: September 11, 2009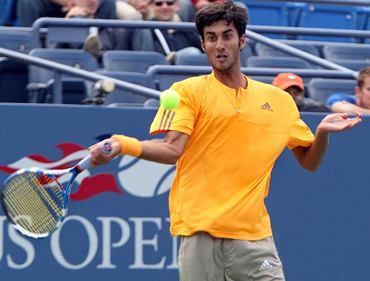 Bidding for his second Grand Slam title of the year, India's Yuki Bhambri stormed into the boys' singles quarter-finals of the junior US Open.
Yuki edged past local lad Jack Sock 6-4, 6-3 in the third round.
Yuki next plays the winner of the match between Chase Buchanan of America and Marton Fucsovics of Hungary.
Yuki's tenacity paid off
Last updated on: September 11, 2009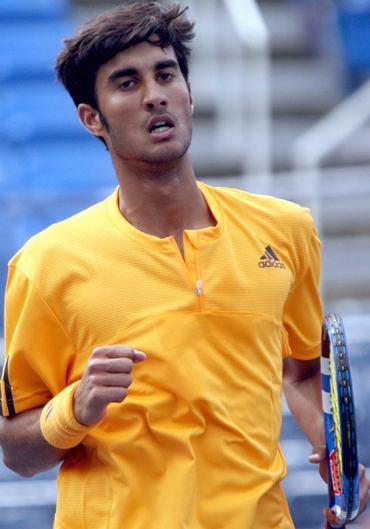 This was for the first time that Yuki faced some resistance in the tournament. Sock played some solid service games and made Yuki earn his points. Till the eighth game of the first set there was no break of serve.
However, Yuki's tenacity paid as he created chances and converted his fourth break-point in the ninth game to open up lead and served out the set in the next game.
The world No 1 junior though did not have to wait for a break in the second set as he broke Sock in the very first game to make a perfect start.
The reigning junior Australian Open champion, though, was in for a surprise as the American broke him in the fourth game to make it 2-2.
From there on, both players struggled to hold serve and traded breaks in three consecutive games before Yuki held in the eighth to make it 5-3 and converted his first match-point on Sock's serve in the ninth game.