'I'm sure I will have sleepless nights'
Last updated on: September 2, 2009
Ana Ivanovic discovered there was no where to hide at Flushing Meadows as she slumped out of the US Open in the first round with a 2-6, 6-3, 7-6 defeat by Ukrainian Kateryna Bondarenko on Tuesday.
The Serbian 11th seed, who has struggled with her form all season, summed up her run as "frustrating and disappointing" after she was beaten in the opening round of a major for the first time in her career.
Ivanovic opted to take refuge under the tournament's official towel during the changeovers but that failed to put off Bondarenko, who saved a match point before burying the 2008 French Open champion's title hopes.
"It hurts. I'm sure I will have sleepless nights," said Ivanovic, who was ranked on top of the world just a year ago.
"I created a lot of chances for myself, and I'm really disappointed that I made a few mistakes in the important moments and my forehand let me down on a few occasions.
"But I have to accept it and try to put this year behind me, and try to learn from it."
The 21-year-old Ivanovic looked to have staged a great escape when she clawed back from a 4-1 down in the decider and then earned match point at 6-5 in the tiebreak.
But she blew her chance and even when she watched Bondarenko double fault on her first match point, she could not gather her wits.
Instead, it was her opponent who never lost belief and the Ukrainian sealed a memorable victory after almost 2-1/2 hours of high drama when Ivanovic smacked a forehand into the net.
"It was really dramatic and emotional. My box (supporters) was screaming 'you can do it' and I believed them," the 52nd-ranked Bondarenko said with a smile.
After a season in which she failed to get past the fourth round of any of the four majors or even win a title on the regular tour, Ivanovic felt she needed to reassess her game.
"I've been thinking about everything too much and trying to address lots of issues with my game," said the bubbly Serbian.
"My fitness is at one level, mind at another, my game is at another level. All these things have to marry to get into the right direction and have to fit."
In Todd he trusts
Last updated on: September 2, 2009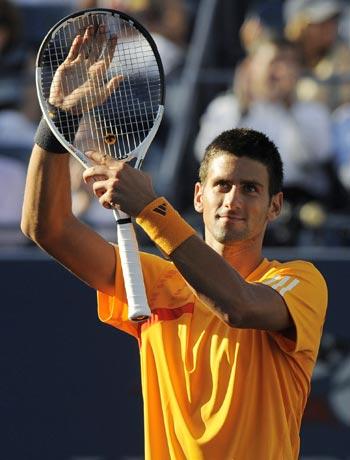 Novak Djokovic hopes the addition of Todd Martin to his coaching team will be the catalyst he needs to win another grand slam title.
The Serb, who captured his only major crown at the 2008 Australian Open, cruised into the second round of the US Open with a 6-3, 6-1, 6-3 victory over Croatian Ivan Ljubicic.
Fourth seed Djokovic has been trying to improve his attacking skills to his all-round game and believes twice grand slam runner-up Martin is the man to help.
"I was thinking about working with somebody that can help me out with my serve and my volley game," Djokovic said.
"You know, (somebody with) a lot of different variety and somebody that has been on top of the men's tennis and somebody that has a positive attitude and great experience.
"I think Todd is a perfect guy for that. He always looks for positives, and this is exactly what I need."
Djokovic, the runner-up at Flushing Meadows in 2007, said Martin will work alongside his existing coach, Marian Vajda, and said the new arrangement was working well.
"We have had a lot of hours on the court daily and of course fitness with my coach, really trying hard to work on some things to improve the game and get ready for the most important tournament in this period of the year," said the Serb.
"Todd, being a top five player, playing a couple finals of grand slams and of course many other tournaments, is very respected in the tennis world.
"He's a person that can help me a lot in any way, using his experience. He brought freshness to our team, which is always welcome.
"I just really look forward to it. So far the things have been functioning quite well for all of us."
'I didn't break any racket, so that's already a positive'
Last updated on: September 2, 2009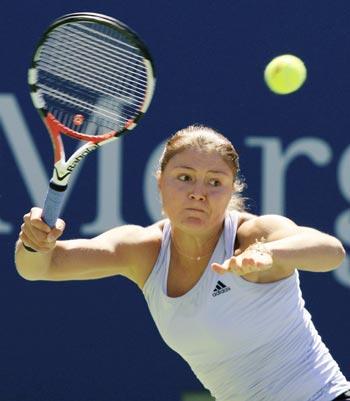 The Russian contingent of potential US Open champions nearly lost its kingpin when top seed Dinara Safina had to dig out of a third-set quandary to avoid the humiliation of a first-round exit on Tuesday.
Safina, the world's top-ranked player, produced 48 unforced errors and 11 double faults before defeating Australian Olivia Rogowska 6-7, 6-2, 6-4 in two hours and 35 agonizing minutes.
"I didn't break any racket and I didn't get a warning so that's already a positive," said Safina, a triple grand slam finalist whose volatile temperament is well documented.
While Safina escaped and set up a second-round encounter with Germany's Kristina Barrois, Russians Maria Sharapova Svetlana Kuznetsova, Elena Dementieva advanced easily.
Safina's near-flameout allowed her to avoid the dubious distinction of becoming the first top-seeded woman to lose in the opening round of the U.S. Open.
The explosive Muscovite was down 0-3, 15-40 in the final set before achieving a Houdini-like escape on a sun-drenched Arthur Ashe Stadium.
"I will never give up," said Safina, still looking for her first grand slam triumph. "So it doesn't matter how I'll play, but I will run and I will stay there forever.
"I will do everything to win the match."
She certainly did everything possible to win but it was hard to overlook the 65 unforced errors and 13 double-faults from her little-known opponent across the net.
The match was a festival of errors, each player begging the other to take command. When Rogowska took control in the final set, her nerves got the best of her.
"I'm disappointed that I was in a winning position and I let it go," said Rogowska, an 18-year-old wildcard from Melbourne ranked 167th.
"But it's a great learning experience. I'm getting confidence that I can match it up to the number one player in the world.
"Have to get more mentally tougher, and hopefully not let it slip again next time."
Murray uses patient game to beat big-hitting Gulbis
Last updated on: September 2, 2009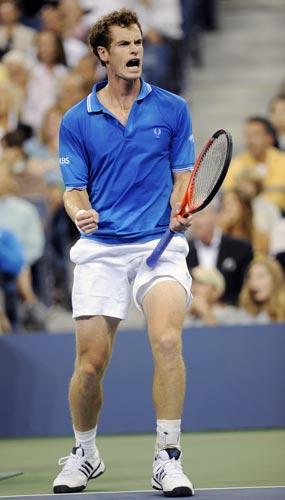 Second-seeded Briton Andy Murray played a patient, steady game to defeat big-hitting Ernests Gulbis of Latvia 7-5, 6-3, 7-5 in his first-round match at the US Open on Tuesday.
Murray traded baseline blows with 95th-ranked Gulbis in the first set and the Latvian responded with wild misses and blistering winners and pushed the Scotsman to five set points before finally succumbing to a service break in the 12th game.
Murray, runner-up last year to Roger Federer in his first grand slam final, then varied his attack by mixing in forays to the net and took advantage of mounting mistakes from Gulbis, who had 51 unforced errors, 30 more than Murray.
Murray advanced to a second-round match against 87th-ranked Paul Capdeville of Chile.
Less muscle means more success
Last updated on: September 2, 2009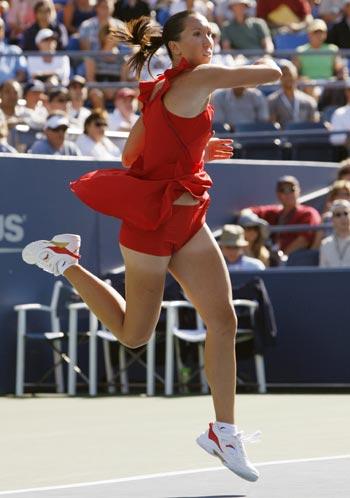 For Jelena Jankovic, less muscle means more success on the tennis court and last year's US Open runner-up is gearing up for another run at her first grand slam title.
"I'm back to normal," the fifth-seeded Serb told reporters after conquering Roberta Vinci of Italy 6-2, 6-3 in her opening-round match at Flushing Meadows on Tuesday.
Jankovic ended 2008 ranked number one and decided that adding more muscle would put her over the top against the likes of power-hitters like Serena Williams, holder of the Australian, Wimbledon and US crowns.
She gained seven kilos (15 pounds) of muscle but was not happy with the results.
"I wanted to be better in 2009. I thought being stronger physically will help me get a better serve, move better, hit harder, and all of these things. But for me it didn't work out, which led to bad results," Jankovic said.
"As well, I had some personal problems, too, which distracted me," she said, alluding to an illness to her mother. "But now everything is clear. I'm enjoying again. I'm back on the courts with a smile on my face."
Jankovic reversed the muscle-building process by cutting out some gym time and the heavy weightlifting she was doing.
"I play my best tennis when I'm light on my feet, when I'm dynamic, when I can move. When you have the movement, you are on the ball, you have the balance, you can do whatever you like with the ball," she said.
"When you're slow, sluggish, you're always late... you are your biggest opponent. You don't know what you're doing out there. So now I'm doing good and I'm feeling good."
The Serb hit her stride last month by winning the Cincinnati hardcourt title, defeating world number four Elena Dementieva and top-ranked Dinara Safina in the process.
"Every match I was getting better and better," she said. "And for sure my confidence was rising.
"I think I'm on the right track. My level of tennis is rising and rising, and I think I'm getting more and more dangerous."
Source:
© Copyright 2019 Reuters Limited. All rights reserved. Republication or redistribution of Reuters content, including by framing or similar means, is expressly prohibited without the prior written consent of Reuters. Reuters shall not be liable for any errors or delays in the content, or for any actions taken in reliance thereon.