Ivanovic feels like a top player again
Last updated on: September 2, 2010 12:04 IST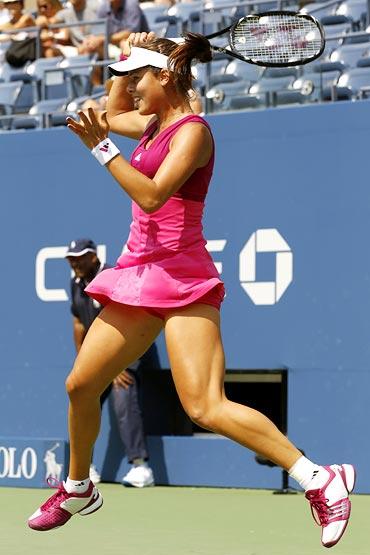 A relaxed Ana Ivanovic stormed into the third round of the US Open on Wednesday and said she finally feels like she is playing top-level tennis again.
The former world number one, who has dropped to 40th in the past year due to injuries and a loss of confidence, produced one of her best performances of late to crush 21st seed Zheng Jie of China 6-3, 6-0 for a place in the last 32.
"I remember a couple years ago when I was here and I was saying, even though I'm number one I don't feel I'm playing as number one," Ivanovic told reporters. "But now I feel like I'm playing like a top 10 player, I have confidence that I can beat these players. That's huge for me."
A leaner-looking Ivanovic said she had put in a lot of physical work in the summer but said her improvement was just as much down to the fact that she has matured as a person.
"Now I feel as if I am just coming up again, and I have really nothing to lose. I got that joy of competing again," she said.
Photographs: Reuters
Tipsarevic knocks out Roddick
Last updated on: September 2, 2010 12:04 IST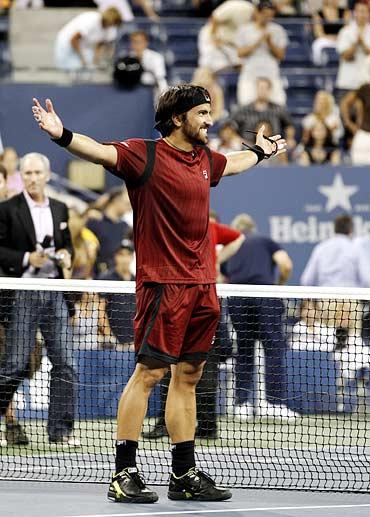 Unseeded Serb Janko Tipsarevic caused a major upset at the US Open when he beat former champion Andy Roddick 3-6, 7-5, 6-3, 7-6 in the final match of the day.
The 44th-ranked Tipsarevic served magnificently and peppered all areas of the court with winners, despite having both ankles wrapped in bandages, and clinched the fourth-set tiebreaker 7-4 with a reflex volley at the net to eliminate the ninth seed.
The Serbian sent down 16 aces, winning more than 80 percent of the points when he landed his first serve, and hammered home 66 winners
"That was huge," the Serb said. "In the first set, I was feeling really tired because I wasn't winning enough free points with my serve.
"But then I had a big first serve percentage and then one or two points in every game with my serve helped me with my fitness."
'He played great tonight'
Last updated on: September 2, 2010 12:04 IST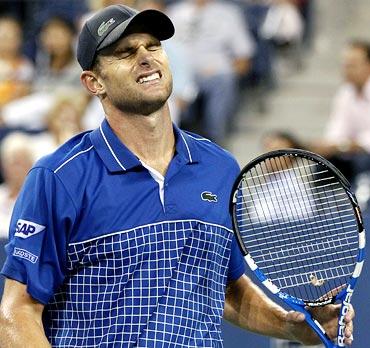 Andy Roddick, who went on a petulant rant in the third set when unsatisfied with a lineswoman's explanation of a foot fault called against him, entered the match with 36-9 Open record compared to a 2-6 mark at Flushing Meadows for the Serb.
The 2003 champion had calmed down enough after the contest to offer praise to his opponent, who also beat him with a fourth-set tiebreaker in the second round at Wimbledon in 2008.
"The Wimbledon match wasn't at that level," Roddick, the highest-ranked American in the men's draw, told reporters.
"He played great tonight. He played very high-risk and executed for four sets. I kept telling myself this has to have an expiration date on it."
'I still have a little way to go'
Last updated on: September 2, 2010 12:04 IST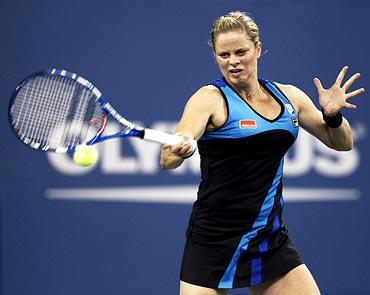 Kim Clijsters took an easy step on the path to defending her US Open crown by dismissing Australian teenager Sally Peers 6-2, 6-1 on centre court at Arthur Ashe Stadium.
Second-seeded Clijsters, 27, crushed 22 winners against just eight for the overmatched Peers as she raced through a 56-minute match against a 19-year-old qualifier ranked 201 and playing her first grand slam tournament.
The victory extended the Belgian's US Open match-winning streak to 16. She won the won the 2005 title but missed making a defense due to injury, and then took two years off after that to start a family.
Clijsters said it took a little while to get comfortable against an unfamiliar rival, whose only previous tour-level competition came in Hobart in 2009.
"I felt as the match got going, I started playing a little better. But I still have a little way to go to play my best tennis," Clijsters told the crowd.
The Belgian said she wanted to work on moving forward and getting on the attack.
"It takes time," she said. "I'm just trying every match to grow so I'm ready when the opponents get tougher."
Azarenka collapse dominates talk at steamy US Open
Last updated on: September 2, 2010 12:04 IST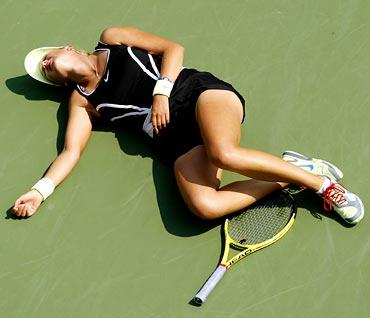 One of the hottest summers New York has experienced claimed its first victim at the US Open on Wednesday when Victoria Azarenka fainted on court and was taken to hospital.
The 10th-seeded Belarussian, wearing a black dress, dropped to the court in the first set of her match against Argentina's Gisela Dulko with headache-like symptoms.
Medical staff came to her aid and she was whisked away in a wheelchair as a medical official checked her pulse and then to a waiting ambulance for tests at a nearby hospital, ending her bid to win this year's US Open.
"I was scared," Dulko later told reporters. "She went to the floor. I was worried for her."
Although the weather was slightly cooler than the previous day, tournament officials invoked their rarely used Extreme Weather Policy half an hour before the start of play after the air temperature reached 88 degrees Fahrenheit (31.2 Celsius).
The policy allows all players to be given ice packs at the change of ends and to be sheltered from the sun by umbrellas. Women players are also allowed to request a 10-minute break between the second and third sets.
'It was brutal conditions'
Last updated on: September 2, 2010 12:04 IST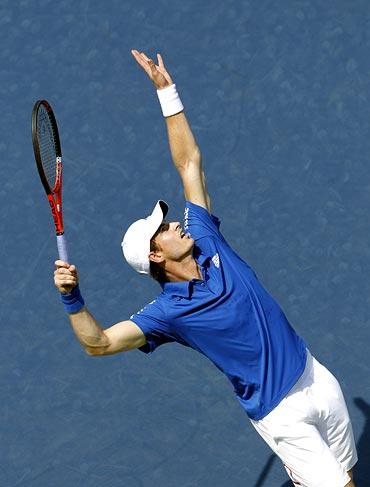 Andy Murray showed why he is regarded as a serious contender to capture the men's title as he crushed Slovakia's Lukas Lacko 6-3, 6-2, 6-2.
The perennial hope of British tennis, Murray succeeded in escaping the worst of the roasting heat by racing to victory in under two hours.
"I managed to get through in straight sets so I'm pleased, but it was a lot tougher than the score suggests," the fourth-seeded Scotsman said.
"Everyone in my (supporters) box always tells me it's a lot tougher watching in the heat than playing but I'm not so sure. It was brutal conditions."
Venus flies flag for Williams family at Open
Last updated on: September 2, 2010 12:04 IST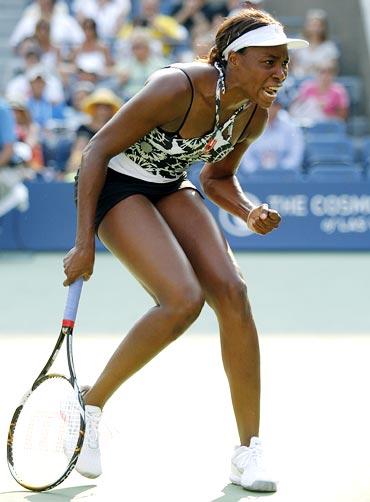 Venus Williams kept the flag flying for American tennis' most famous family at the US Open when she beat Canada's Rebecca Marino 7-6, 6-3 in the second round.
Marino gave the third seed a brief scare when she pushed the opening set to a tiebreak but Williams was able to raise her game in the second and wrap up a comfortable victory at Arthur Ashe Stadium.
Williams, US Open champion in 2000 and 2001, is the highest-ranked American in the women's draw this year after her sister, world number one Serena, withdrew because of a foot injury.
Serena is following her elder sister's efforts at Flushing Meadows from afar but Venus would not reveal the feedback she has been receiving.
"That's between Serena and I," Williams joked to reporters. "But she's always very positive."
Source:
© Copyright 2019 Reuters Limited. All rights reserved. Republication or redistribution of Reuters content, including by framing or similar means, is expressly prohibited without the prior written consent of Reuters. Reuters shall not be liable for any errors or delays in the content, or for any actions taken in reliance thereon.