The most inspirational Indian sportswomen
March 09, 2014 11:40 IST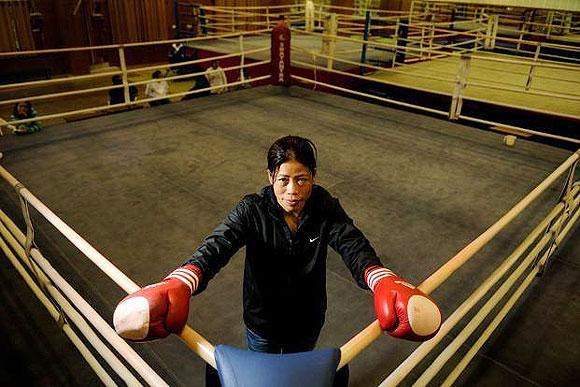 When we talk of sportswomen like M C Mary Kom and P T Usha the phrase 'Women of Substance' comes to mind.
Strong and efficient, at home and on the sports field. Like them, many other Indian women have fought the stereotypes and our patriarchal society to rise up the ranks and leave a mark on the world map.
This Women's Day Rediff.com's Norma Godinho salutes the bravehearts who have outlived obstacles to reach the pinnacle of success.
MC Mary Kom
MC Mary Kom needs no introduction. The 31-year-old made the country proud by bagging an Olympic bronze at the London Games in 2012.
A boxer par excellence, she is a proud mother to three doting boys, the youngest was born late last year.
She was also recently honoured by Limca Book of Records as one of India's 25 most inspirational women and featured in Google's doodle to mark international Women's Day this year!
Starting at the age of 18, the 'Magnificent Manipuri' etched her name on the international scene instantly. She won a silver medal (48kg category) in her debut international tournament, the AIBA Women's World Boxing Championship in the United States, and then there was no looking back for this pint-sized champion.
The Arjuna awardee (2003) grew from strength to strength, winning national and global tournaments, including five World Championships (48 kg category). Her recent and most lauded successes includes a bronze (flyweight) at the Asian Games in 2010 and a bronze (flyweight, 51kgs) at the 2012 London Olympics.
A keen music lover, Mary enjoys her guitar sessions at leisure.
She also plays mentor to a number of young, up-and-coming boxers who train at her academy in Manipur.
She was conferred the Padma Shree in 2006 and Padma Bhushan in 2013.
Bollywood starlet Priyanka Chopra is all set to essay the role of Mary in a biopic, produced by Sanjay Leela Bhansali.
- Please click NEXT to read more
The most inspirational Indian sportswomen
March 09, 2014 11:40 IST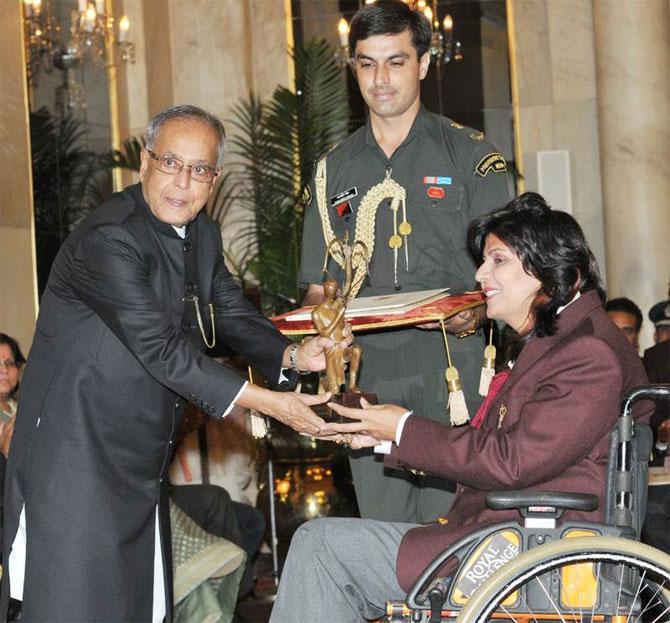 Deepa Malik
Deepa Malik, a paraplegic woman, has won several medals in swimming, shot-put, javelin and discus throw.
Paralysed below her chest, she has already set four Limca records: she swam 1 km across the Yamuna river in 2008, rode a customised bike non-stop for 55.25 km in 2009, drove a customised car up to Khardung La (5,359 metres) in 2011 and covered 3,278 km from Chennai to Delhi in a customised car in 2013.
She was also one of the 25 women felicitated by Limca book of records recently.
On receiving the honour, Deepa said, "I am humbled to be in the esteem company of these women. It is my family and my coaches who always believed in me. I'm very thankful to all of them.
"I do not feel like a guest here today, as I have got into the Limca book of records four times earlier and it is pleasure to be here again," Deepa, who underwent three major spinal surgeries and 183 stitches between her shoulder blades in 1999, said.
In 2012, the Indian government honoured her with the Arjuna award for her achievements in track and field.
Deepa's vivacity and good looks mask the pain behind her true story. As a seven-year-old, surgery to remove a spinal cyst left her immobile for months. But the re-occurrence of another, larger tumour in her back in 1999 left her paralysed, chest down, for life.
But that didn't deter her from fulfilling her dreams.
A mother of two daughters, Devika and Ambika, Deepa encourages her children also to take up sport. One of the girls is an avid swimmer!
Please click NEXT to read more
The most inspirational Indian sportswomen
March 09, 2014 11:40 IST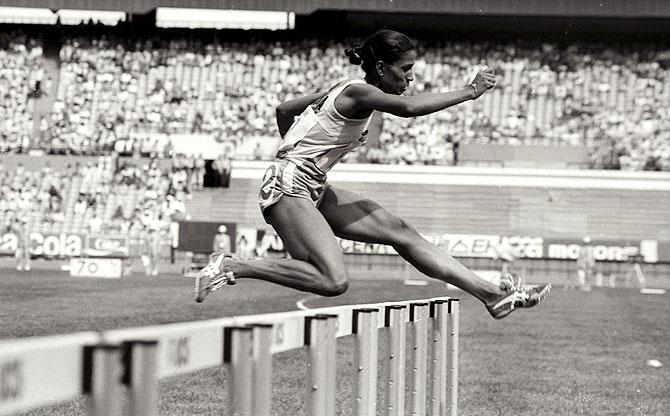 P T Usha
She was India's first international women's sports.
Nicknamed 'Payyoli Express', she was the queen of Indian track and field and the youngest Indian sprinter to represent the country at the Moscow Olympics in 1980.
The Arjuna awardee won 101 international medals, including 13 gold in Asian Track & Field meets from 1983 to 89.
In the 10th Asian Games, at Seoul in 1986, she scripted records in every event and won four gold medals and one silver in the track and field events.
She went on to earn the title 'Asia's Sprint Queen', and still holds the record in the 400m hurdles.
She keeps herself busy these days nurturing young talent at her academy in Kerala.
Tintu Luka, who was part of the 2012 London Olympics contingent is Usha's ward, and is expected to shine at the 2016 Games in Rio.
- Please click NEXT to read more
The most inspirational Indian sportswomen
March 09, 2014 11:40 IST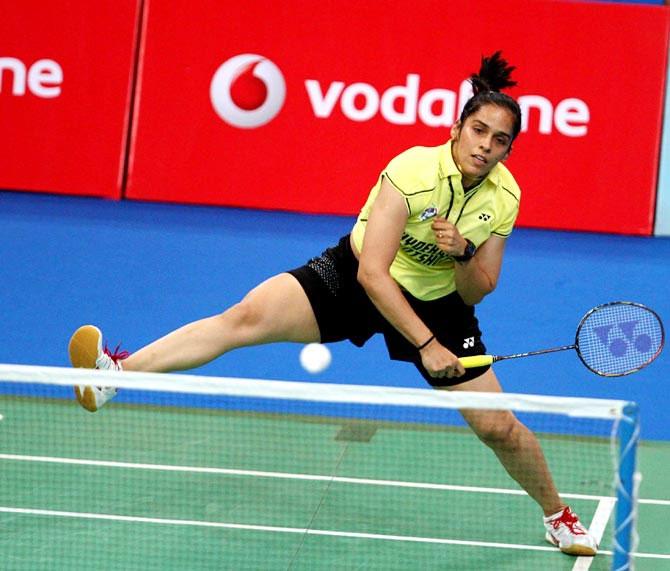 Saina Nehwal
A story of grit and gumption, the super-talented Saina Nehwal has many firsts to her credit.
In 2006 she became the first Indian woman to win a 4-star tournament, the Philippines Open, at the age of 16.
The Haryana-born athlete gradually made her mark globally, winning the World Junior Championships in 2008.
More success followed and she became the first Indian to reach the quarter-finals at the Olympics at Beijing in 2008. She upset the World No 5 and fourth seed Wang Chen of Hong Kong in a three-game thriller, but lost in the quarter-finals to World No 16 Maria Kristin Yulianti.
She is also the first Indian to win a Super Series title, in Indonesia in 2009.
Subsequent success saw her climb the rankings. She rose to No 2 and was duly honoured with the Rajiv Gandhi Khel Ratna the same year.
Few are aware that the 2010 Commonwealth Games champion ditched Karate at the age of 8.
India's highest-paid non-cricketing sportsperson, she proved she was meant for the badminton court when she clinched the bronze medal at the 2012 Olympics.
- Please click NEXT to read more
The most inspirational Indian sportswomen
March 09, 2014 11:40 IST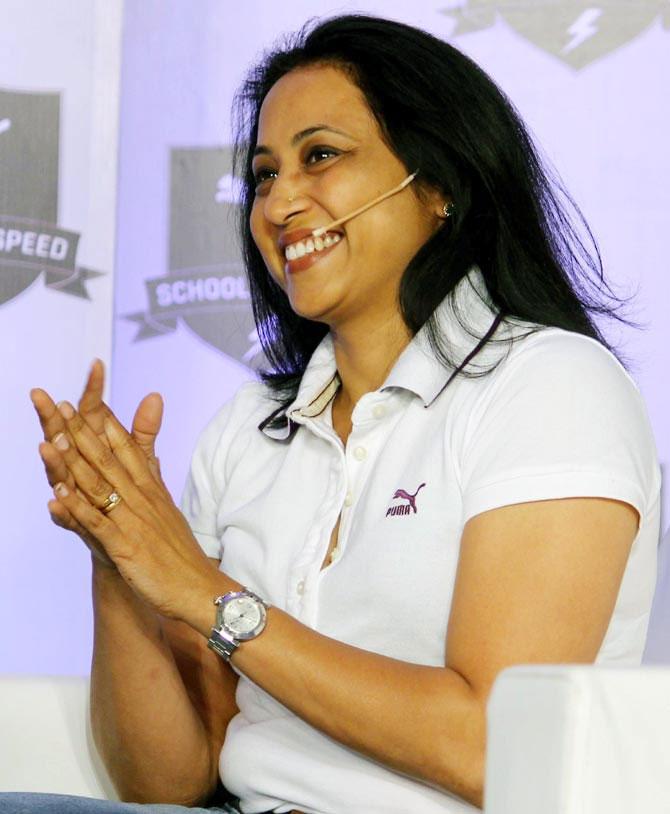 Ashwini Nachappa
A popular Track & Field athlete of the '80s, who later went on to star in a handful of South Indian films.
Nachappa was good competition for P T Usha and was called India's Flo-Jo [after United States' Florence Griffiths-Joyner].
She won a silver at the Asian Games in Beijing in 1990 (4x400m relay) apart from winning medals in the South Asian Federation Games in the late '80s.
The Karnataka sprinter went on to act in films, the first of which was a biographical one.
She was as talented in front of the camera as she was on the race track; she won an award for her self-titled debut film Aswani that was made in Telugu and also dubbed in Hindi.
Nachappa, now president of the Bangalore Districts Association and vice-president of the Karnataka Athletics Association, has called upon other former athletes to come forward and foray into sports administration.
- Please click NEXT to read more
The most inspirational Indian sportswomen
March 09, 2014 11:40 IST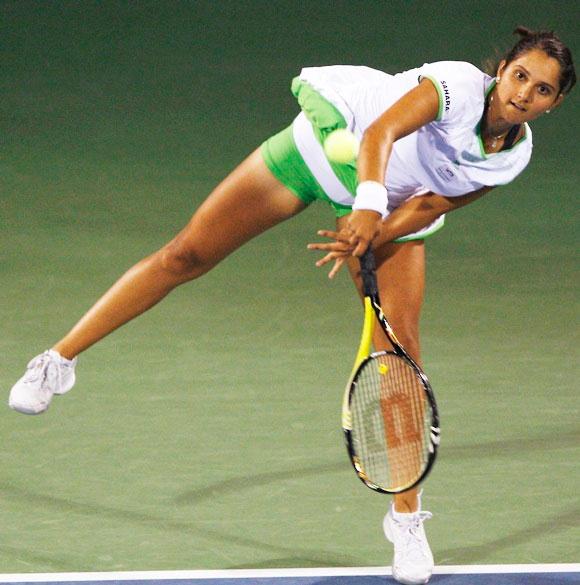 Sania Mirza
The Hyderabadi shone on the tennis court in 2013, winning doubles titles.
She started the 2014 season in brilliant fashion; with mixed-doubles partner Horia Tecau of Romania she lost in the semis of the Australian Open.
But her story is one to be shared.
She was one of the first girls to officially put the modern Indian sportswoman on the international radar. Other than Leander Paes and Mahesh Bhupathi (their countless fights notwithstanding) Indian tennis had no real heroes.
At the turn of the century, and with Paes and Bhupathi's growing success, tennis got its share of media attention. Then came this young lady, who, at 16, grabbed the nation's attention.
In 2003, she became the first Indian to win the Wimbledon's Championships girls' doubles and the French Open girls' doubles with Sanaa Bhambri.
With more wins on the ITF circuit, the Hyderabadi soon became a household name.
An Arjuna awardee, she is the first Indian woman to reach the fourth round of a Grand Slam tournament, at the 2005 US Open, losing to top seed Maria Sharapova in the Round of 16.
At the 2006 Doha Asian Games, Mirza clinched gold in the mixed doubles and silver in the women's singles and team event.
She also became the first woman to break into the top-30 in the world rankings -- reaching World No. 27 in the list.
In 2009 she won her first Grand Slam title, partnering Bhupathi to claim the Australian Open. Two medals at the 2010 Delhi Commonwealth Games and she was hungry for more success.
She again joined Bhupathi to win her second Grand Slam title, with victory at the French Open in 2012.
A strong-headed lady, she defied cynics and married Pakistan cricketer Shoaib Malik in 2010, making it one of the most talked about marriage alliances in the history of both nations.
- Please click NEXT to read more
The most inspirational Indian sportswomen
March 09, 2014 11:40 IST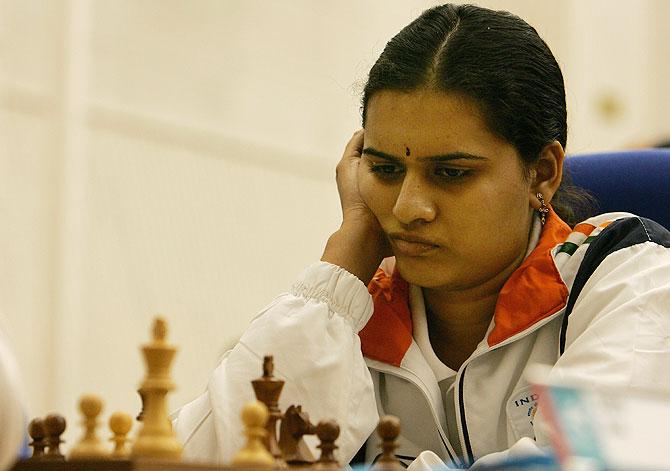 Koneru Humpy
This World No 2 chess star has won many plaudits for mastering the chess board for more than a decade.
Her success story began in 2001 after she won the World Junior Girls' Chess Championship and since then has only got better.
At 15, she was youngest woman to become Grandmaster (2002-2008).
The Arjuna awardee has often recorded massive Elo ratings, her highest being 2623 in 2009, and in so doing became the second female player ever, after Judit Polgár, to exceed the 2600 Elo mark.
With credentials like those, she is truly second to none!
- Please click NEXT to read more
The most inspirational Indian sportswomen
March 09, 2014 11:40 IST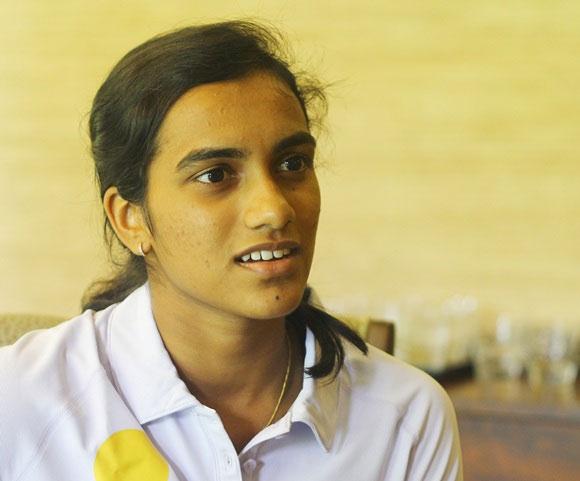 P V Sindhu
Another budding badminton talent from Pulela Gopichand's training stable, this 18-year-old is growing in leaps and bounds with each passing year.
Her fighting spirit and sense of discipline is well-documented and that is one of the primary reasons why she features in this list.
That she wowed India and the world by winning a bronze at the World Badminton Championships, and later the Macau Open GP gold last year, is not an achievement that can be forgotten easily.
Her super achievements merited the Arjuna Award last year.
- Please click NEXT to read more
The most inspirational Indian sportswomen
March 09, 2014 11:40 IST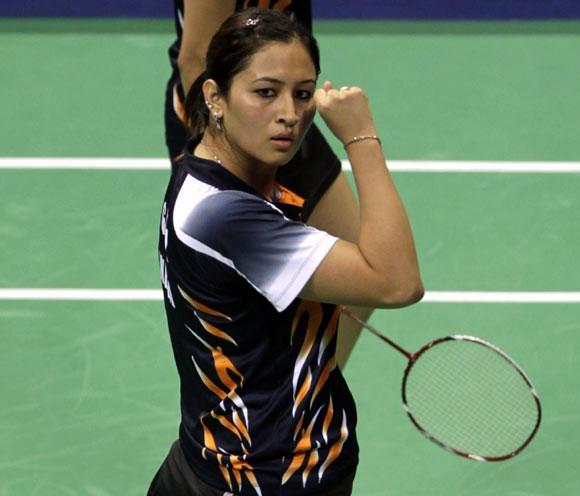 Jwala Gutta
She is controversy's favourite child, or so it may seem!
Year after year, somehow or the other she manages to find herself on the wrong side of situations.
In 2013, the BAI's (Badminton Association of India) disciplinary committee recommended a life ban on Gutta for trying to stop some players of her franchise, Krrish Delhi Smashers, from playing a match against Banga Beats in the Indian Badminton League in August.
But the Delhi high court passed a stay-order against the ban after she approached the judiciary.
This badminton champion's on-court successes have been overshadowed by her bold persona, but let's take nothing away from her.
The 31-year-old partnered Shruti Kurien and Ashwini Ponappa to clinch more than 10 national badminton titles.
She was also successful in claiming major titles, including a bronze in the 2011 World Championships (women's doubles) and a silver (mixed doubles) and gold (women's doubles) at the 2010 Delhi Commonwealth Games.
Gutta partnered Ponappa at the 2012 London Olympics, but the pair lost at the group stage itself.
Keeping in mind her fiery image and pretty face, she did a tantalizing photo shoot for the July 2012 edition of Man magazine. She was later roped in to do an item song for a Telugu film, titled Gunde Jaari Gallanthayyinde.
- Please click NEXT to read more
The most inspirational Indian sportswomen
March 09, 2014 11:40 IST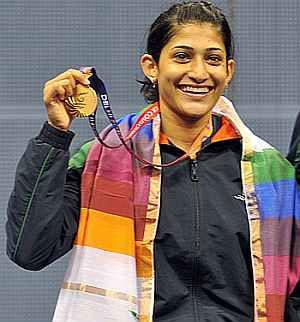 Ashwini Ponnappa
At just 12 years of age, Ashwini Ponnappa made waves in the national badminton circuit. Under the guidance of former All-England champion Prakash Padukone she won the junior championship in 2001.
She clinched her maiden major title when she struck gold at the South Asian Games in 2006. To further her career, she was advised to shift to Hyderabad and team up with Jwala Gutta. She made the adjustment and the dividends paid off when four years later, she and Gutta to brought more honours to India, clinching gold at the 2010 Delhi Commonwealth Games.
The pair later won a bronze at the World Championships last year, only to broaden her disarming smile.
She and Gutta made it to the 2012 London Olympics, but success evaded her there. This year Ponappa partnered Pradnya Gadre and reached the quarters of the Malaysian Open.
In an interview last year, Ponappa revealed that she has a massive sweet tooth and was frank in asserting that India's badminton doubles players don't get recognition they deserve which can be demotivating.
- Please click NEXT to read more
The most inspirational Indian sportswomen
March 09, 2014 11:40 IST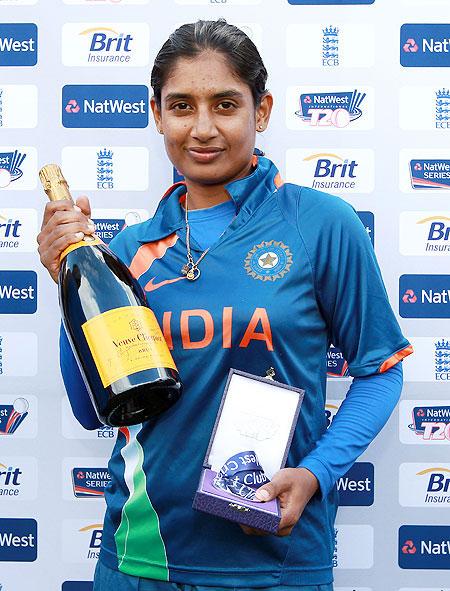 Mithali Raj
At just 31 years of age she is already being regarded as a cricket legend!
An integral part of the Indian team, Mithali Raj impressed fans and critics right from her debut match against Ireland in 1999, at the tender age of 17. She scored 114 runs without getting out in that match.
She can easily be termed the Tendulkar of women's cricket considering the plethora of records against her name.
In 2002, at the age of 19, in her third Test, she broke the record of the world's highest individual Test score of 209, set by Karen Rolton.
Mithali surpassed that to record a new high of 214 against England in the second and final Test at Taunton.
She also held the record for the highest individual score by an Indian woman cricketer in a World Cup match (91 not out) against New Zealand in 2005 Women's World Cup.
Her team-management skills were highlighted when in August 2006 she led the side to their first-ever Test and series victory in England.
Later that year, winning the Asia Cup -- the second time in 12 months -- without dropping a single game, made her one of the most successful captains to lead the Indian women's cricket team.
An ardent fan of Mark Waugh, Mithali topped the batting charts (ODIs) in February last year.
Making bowlers and fielders dance to her tunes comes naturally to this champion cricketer, considering she learnt Indian classical dance, Bharat Natyam, during her childhood.
- Please click NEXT to read more
The most inspirational Indian sportswomen
March 09, 2014 11:40 IST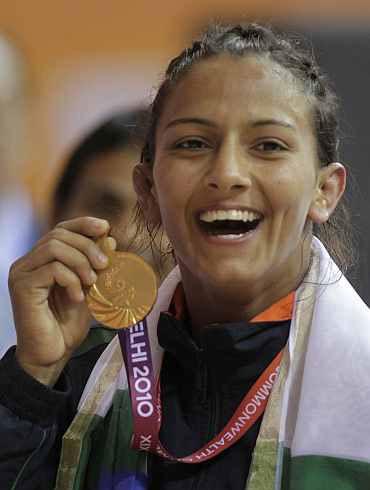 Geeta Phogat
Born in a family of wrestlers, this Jat woman has the distinction of being the first Indian woman wrestler to qualify for the Olympics.
Her talent has garnered her many international laurels, including three consecutive medals in the Asian Cadet Championships in 2003, 2004 and 2005.
She also clinched the Commonwealth Championship in 2009.
She catapulted to fame after winning a gold medal in the 55 kg freestyle category at the 2010 Commonwealth Games.
She wasn't too successful at the London Olympics, but later that year won a bronze at the senior women's World Wrestling Championship.
She ended 2012 on a high, with a gold in the FILA Asian Olympic qualification tournament.
- Please click NEXT to read more
The most inspirational Indian sportswomen
March 09, 2014 11:40 IST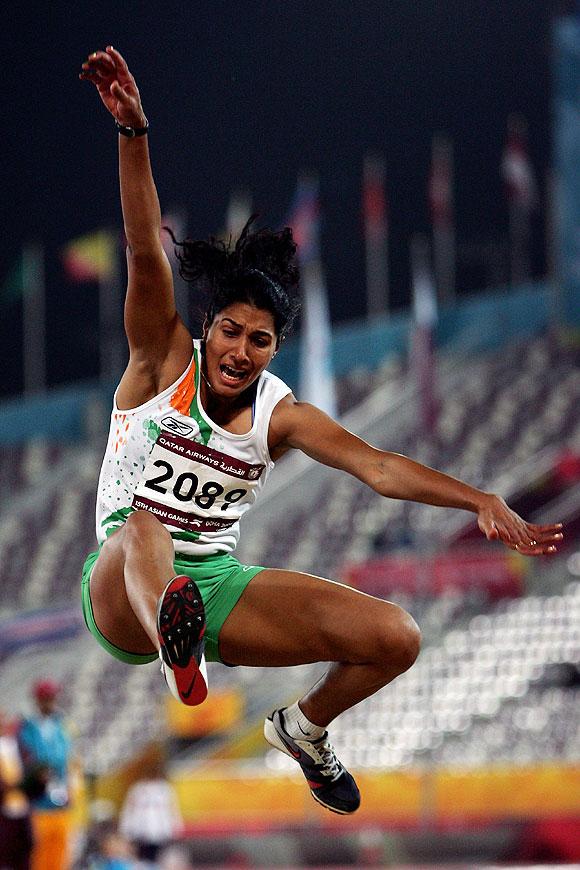 Anju Bobby George
Long jumper Anju Bobby George, for many years, was India's face at track and field meets in the early 2000s.
She first won medals at the National Games in Ludhiana and South Asian Federation Games in Nepal in 1999.
Anju then rose to prominence with a bronze at the 2002 Commonwealth Games in Manchester and then a gold at the Busan Asian Games the same year.
The Keralite's biggest success came when she became the first Indian athlete to win a medal (bronze) at the 2003 World Athletics Championships in Paris.
Many medals followed this stupendous feat and honours in the form of the Arjuna, Rajiv Gandhi Khel Ratna and the Padma Shri came around the same time.
This January, Anju's 2005 Monaco World Athletics Final result was upgraded to a gold medal, following a dope violation by Russia's Tatyana Kotova.
"I have been told by the AFI that I will get the gold in the Monaco World Athletics Finals. I am really happy and the wait was worth it. I had always some doubt about some of the top Russian women long jumpers of my time and I knew that they could have been in dope," she said.
- Please click NEXT to read more
The most inspirational Indian sportswomen
March 09, 2014 11:40 IST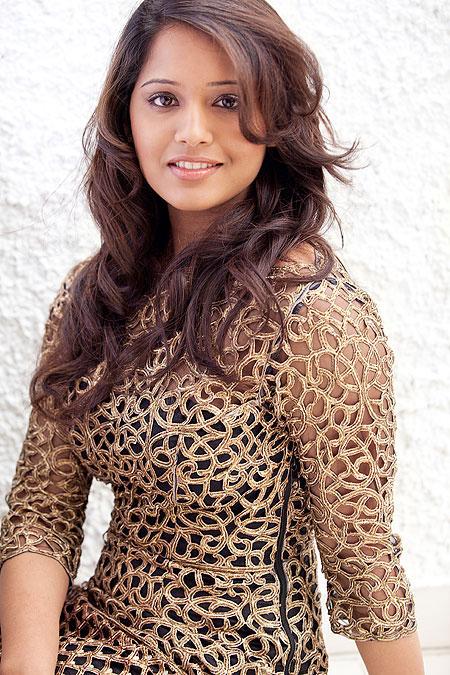 Dipika Pallikal
The sun has shone high and bright on India's squash ace.
The 22-year-old enjoyed immense success in 2013. A sixth WSA title, a spurt in her rankings (she is currently World No 12), winning the prestigious Macau Open and clinching a maiden Asian Tour title meant recognition was around the corner.
And so, it was.
Pallikal, who received the Arjuna in 2012, was honored with the Padma Shri on January 25 for her stupendous success.
There was also joy outside the squash court for her, who announced her engagement with cricketer Dinesh Kathik in December.
She took to squash quite accidentally and started her international career at the tender age of 12. She turned pro in 2006 and met with mixed success.
The Chennai lass wasn't receiving too many accolades on the squash court. That prompted her to move to the mecca of squash, Egypt, for a brief training camp. It proved profitable and Dipika's performances began to rise sharply.
She started to taste real success only as late as 2011 when she won three WISPA (Women's International Squash Players Association) titles. In the same year she became the first Indian woman to break into the top-20 of the world rankings, bettering the No 27 rank held by former national champion Misha Grewal.
She carried her good form into 2012, entering finals of the Australian Open and the Tournament of Champions in New York.
An avid shopper, high street brands like Zara, H&M and Top Shop are among some of her favourites. She was also featured on the cover of JWF magazine.
Her stunning looks won her a modeling contract with Globus Ltd.
- Please click NEXT to read more