Sumo wrestling gaining popularity in the US
Last updated on: December 23, 2010 15:57 IST
Harish Kotian finds out why three-time world sumo champion Byambajav Ulambayar and former world champion Naranbat Gankhuyag have landed in Mumbai, where the sport is hardly followed or practiced.
Sumo wrestling originated many centuries ago in Japan, but the sport has never really spread across the globe. One of the main reasons for that is professional sumo is practiced exclusively in Japan and still follows many ancient traditions while the wrestlers' daily lives are still dictated by strict traditions, including staying in sumo stables with fellow competitors, which includes following a strict regiment for daily meals, training and dressing.
But the sport is now making giant strides in other nations too as the wrestlers make a move to other countries and take up the sport in an amateur format.
The sport is also gaining popularity in the United States, with an annual tournament featuring some of the best amateur wrestlers from around the world. And India, with a population of around 1.2 billion, has now attracted the attention of the sport's governing body.
As the first step towards the mission of conquering the Indian market, former world champions Byambajav and Naranbat descended in Mumbai to compete in an exhibition match at the Mood Indigo, the annual cultural festival of IIT-Bombay.
Video and Photographs: Hitesh Harisinghani
'In sumo you don't have to be huge'
Last updated on: December 23, 2010 15:57 IST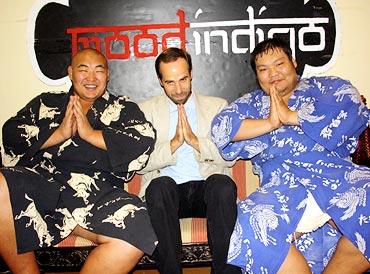 Andrew Freund, executive director of USA Sumo, the governing body of the sport in the country believes sumo wrestling can be developed in the country if it gets the necessary support and funding.
"It really depends on how sumo wrestling is developed. I have been developing sumo wrestling in the United States for almost 15 years and there are many challenges, but there are different ways of going around it. And number one is that there is a stereotype in sumo that you have to be really big and most people in India are not so big, but that is not really true," Freund told Rediff.com.
"In sumo you don't have to be huge you just have to be strong and fast. You will be surprised when you see these guys without the rope. Even though they are huge, they are very fit, strong and flexible. So there is potential for sumo wrestling in India but we just need to find the right people to develop it," he added.
Freund ready to support growth of sumo in India
Last updated on: December 23, 2010 15:57 IST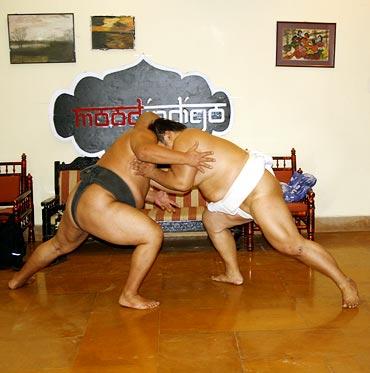 Freund said he would be ready to support the growth of the support in India by inviting their top wrestlers for his annual tournament in the US. But he pointed out that the Indian Sumo Federation needs to develop the sport in the country by setting up national federations in major cities across the country.
"The first step is that there is an organisation worldwide known as the International Sumo Federation and I believe there is an organisation in India known as the Indian Sumo Federation.
"So the first step would be to develop the national federation in India and I would recommend setting up of regional federations in major cities like Mumbai, Delhi and Kolkata. They can have a few tournaments every year for the major wrestlers around the country.
"And I can also play my part by inviting your top sumo wrestlers to take up in the annual tournament that I host in the US called as the US Sumo Open where we invite top guys from all over the world," he said.
The best two sumo wrestlers ever to visit India
Last updated on: December 23, 2010 15:57 IST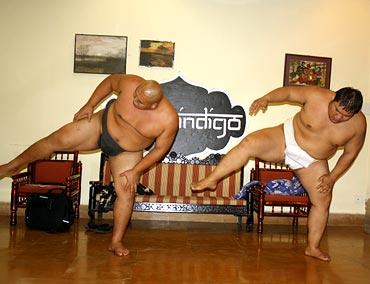 Talking about Byambajav and Naranbat's visit to India, the two former world champions Freund said that they are the best sumo wrestlers to ever visit the country.
"Both have of them have won world championships in sumo and both of them have spent many years in Japanese professional sumo. These two are the best sumo wrestlers in the world and definitely the best two sumo wrestlers ever to visit India."
Byambajav, the more popular of the two, finished his career in professional sumo wrestling and then went to Los Angeles where he acted in the Hollywood movie Oceans 13. He has done a lot of entertainment work in Hollywood and has been a part of many different movies, television shows and commercials.
But despite his popularity in the US, Byambajav is not a household name in Japan.
"That is because both of them left pro sumo wrestling before they reached the pinnacle. But it is a good thing because in pro sumo they are quite restricted. Now because they are not in professional sumo they are able to travel around and do these cultural exhibitions and interchanges around the world," Freund added.
Sumo wrestlers have a tough lifestyle
Last updated on: December 23, 2010 15:57 IST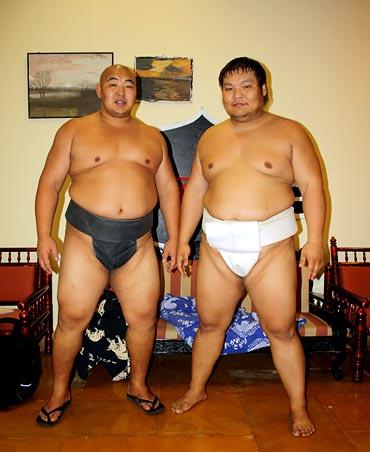 Freund further added that getting two professional sumo wrestlers from Japan would be near impossible, but outside of that these were the best options available.
"We were approached by a co-ordinator from Mood-Indigo and he told us that he wanted top level pro sumo wrestlers to come here. I gave him a few options but he wanted the very best. To get pro sumo wrestlers from Japan would be nearly impossible because it would cost millions of dollars and take years of planning. So outside of the pro sumo wrestlers the best guys you can get are these two guys, who are the best in the world and that is how it started. We have been talking to these guys for the last six months and we worked out the details. And that is how it was possible to get sumo wrestlers of such high calibre to come to India."
Freund also gave details about the tough lifestyle of sumo wrestlers.
"In professional sumo in Japan, the everyday basic lifestyle is that they wake up at 5am and they train all morning on an empty stomach. They train for five hours straight, constant motion, constant hitting and they lose around 6-7 kgs of sweat all morning. Then they eat two big meals -- lunch and dinner.
"Each meal would be a very big meal and each of them will have a chanko nabe (traditional Japanese food) which is a stew comprising of vegetables, meat and it is very rich in mineral and proteins. It also has rice so it is a very rich food and they eat very big quantities of it for lunch and for dinner. That is the sumo lifestyle."