Sports Shorts: Beckenbauer banned by FIFA for failing to cooperate
Last updated on: June 13, 2014 23:41 IST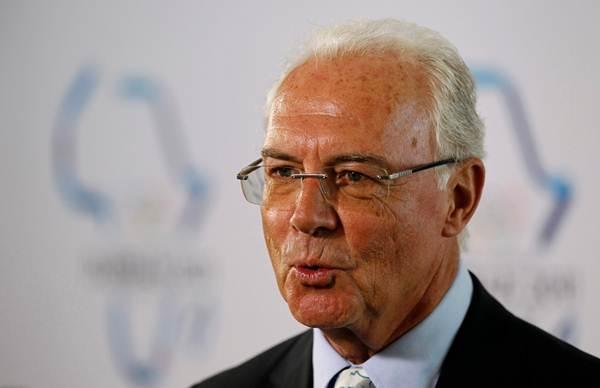 German World Cup-winning player and coach Franz Beckenbauer was banned for 90 days by FIFA on Friday after failing to cooperate in a corruption enquiry into the bidding process for the 2018 and 2022 World Cups.
Beckenbauer was part of the FIFA executive committee which voted to give the tournament to Russia in 2018 and Qatar in 2022, with the Qatari bid marred by allegations of vote buying.
"The apparent breach relates to Mr Beckenbauer's failure to cooperate with an Ethics Committee investigation despite repeated requests for his assistance," FIFA said in a statement.
"The case is now the subject of formal investigation proceedings being conducted by investigatory chamber member Vanessa Allard as chief of the investigation."
Former U.S. prosecutor Michael Garcia is investigating the decisions on behalf of world soccer's ruling body and is due to file his findings next month.
Britain's Sunday Times newspaper reported that Beckenbauer's former Exco colleague Mohamed Bin Hammam bribed fellow members to ensure Qatar would win the vote.
Bin Hammam has been banned from football for life over separate corruption allegations. Qatar has denied any wrongdoing.
- Please click NEXT for more...
Sourav Kothari wins Asian billiards
Last updated on: June 13, 2014 23:41 IST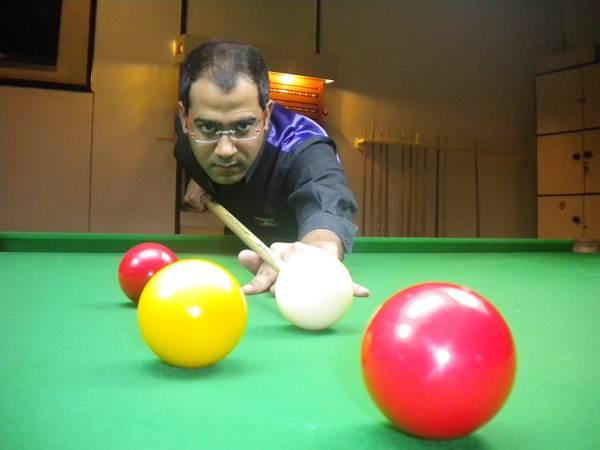 National champion Sourav Kothari won his maiden Asian billiards crown, beating compatriot Alok Kumar 6-3 in the final, in Chandigarh, on Friday.
The 29-year-old cueist raced to a 3-0 lead before Alok won the fourth game. But Kothari had no interest in leaving any loose strings and returned with two more breaks win to widen the gap to 5-1.
Alok attempted a fightback by winning two more games, but Kothari sealed victory with a 99-point break.
Meanwhile, in the Asian Under-21 snooker final, Thanawat Thirapongpaeboon of Thailand also claimed his maiden crown, humbling Iran's Siyavosh Mozayani 6-1 in the final.
Siyavosh won the first frame 66-38, but after that the experienced Thanawat produced precision potting to win easily and earn a World
Professional Tour ticket for next year.
Thanawat won the World Under-21 snooker championship in 2011 at Montreal, Canada, and is on the professional tour since then.
Scores:
ONGC Asian Billiards Championship: Sourav Kothari beat Alok Kumar 6-3 [100-34, 100(94)-58, 101(101)-11, 59-100(53), 101(80)-06, 101(98)-09, 05-102, 09-104(83), 102(99)-00].
ONGC Asian Under-21 Snooker Championship: Thanawat Thirapongpaeboon (Thailand) beat Siyavosh Mozayani (Iran) 6-1 [38-66, 57-32, 64(37)-00, 58-14, 63-21, 76-03, 79(50)-30].
- Please click NEXT for more...
Fabregas inks five-year deal with Chelsea
Last updated on: June 13, 2014 23:41 IST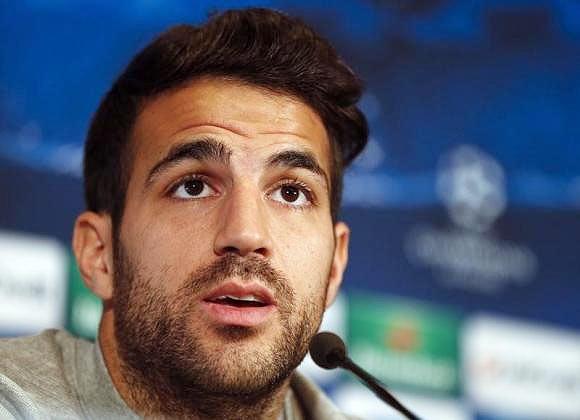 Chelsea will be hoping Cesc Fabregas can boost their firepower after the Barcelona midfielder agreed to sign a five-year deal with the StamfordBridge club on Thursday.
Fabregas, 27, in Brazil with Spain's World Cup squad, will return to London after leaving Arsenal to rejoin his boyhood club in 2011.
Spanish media reported Chelsea had paid 33 million euros ($44.6 million) for the 2010 World Cup winner, with a possible three million more linked to performance.
Switching allegiance from north to south west London, he joins Jose Mourinho's Chelsea side that finished third in the Premier League and reached the semi-finals of the Champions League last season despite having trouble scoring goals.
Fabregas is likely to team up with prolific Atletico Madrid striker Diego Costa, a much publicised transfer target for Mourinho, at StamfordBridge next season.
"I do feel I have unfinished business in the Premier League and now is the right time for my return," Fabregas told Barcelona's website (fcbarcelona.com).
"Everyone knows Arsenal had the first option to sign me. They decided not to take this option and therefore it wasn't meant to be.
"I considered all the other offers very carefully and I firmly believe Chelsea is the best choice. They match my footballing ambitions with their hunger and desire to win trophies."
Fabregas joins an expanding band of Spaniards at Chelsea where Fernando Torres has said he plans to stay, Cesar Azpilicueta is settled in defence and Brazil-born Diego Costa looks likely to be leading the line when the new season opens in August.
The midfielder has been given the number four shirt vacated by Paris St Germain-bound David Luiz.
Xavi, Fabregas's 2014 World Cup colleague and former Barca teammate, said the transfer was "great news for Cesc".
"I see him looking very happy," Xavi told reporters in Salvador.
"It's a great opportunity for him to be signed by a good team.
"He was hopeful it would happen. He now knows what his future holds for the next few years but of course it is a very important loss for Barcelona."
- Click NEXT to read more...
Sagna set join Man City after seven years at Arsenal
Last updated on: June 13, 2014 23:41 IST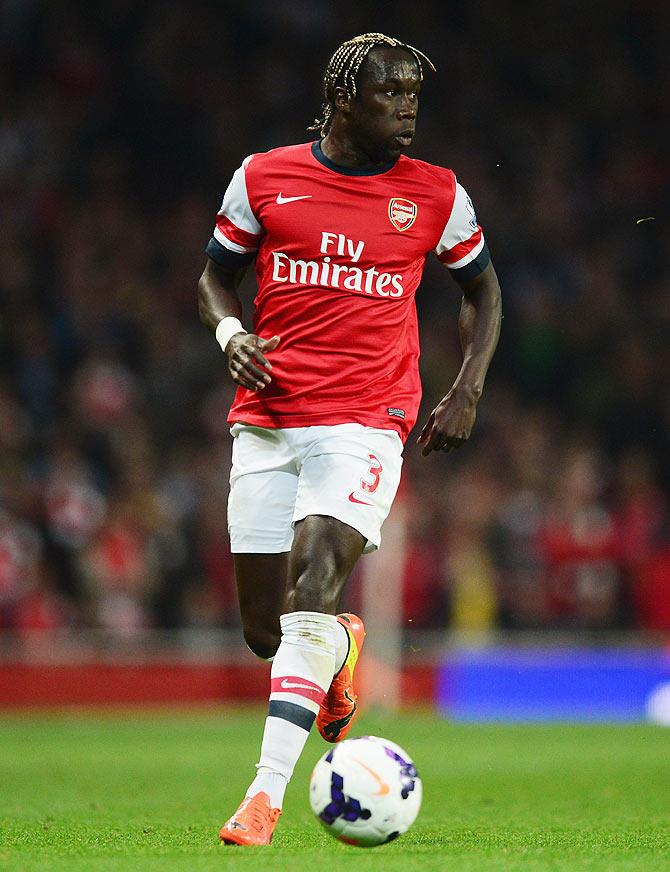 Arsenal defender Bacary Sagna, in Brazil with the French World Cup squad, has announced that his seven-year stint at the Premier League club is over.
According to media reports, the 31-year-old full back is on the brink of moving to champions ManchesterCity.
"I don't know where to start or even how to say it but I just wanna thank Arsenal FC, a family to me, a club who taught me so much in 7 years," he said on his Twitter feed on Thursday.
"Now it's time for me to move on and one more time THANK YOU."
Sagna joined Arsenal from Auxerre in 2007 and won his first trophy at The Emirates when the north London club beat HullCity in the FA Cup final at Wembley last month.
France kick off their World Cup campaign against Group E rivals Honduras in Porto Alegre on Sunday.
- Click NEXT to read more...
Manager Martinez to stay with Everton until 2019
Last updated on: June 13, 2014 23:41 IST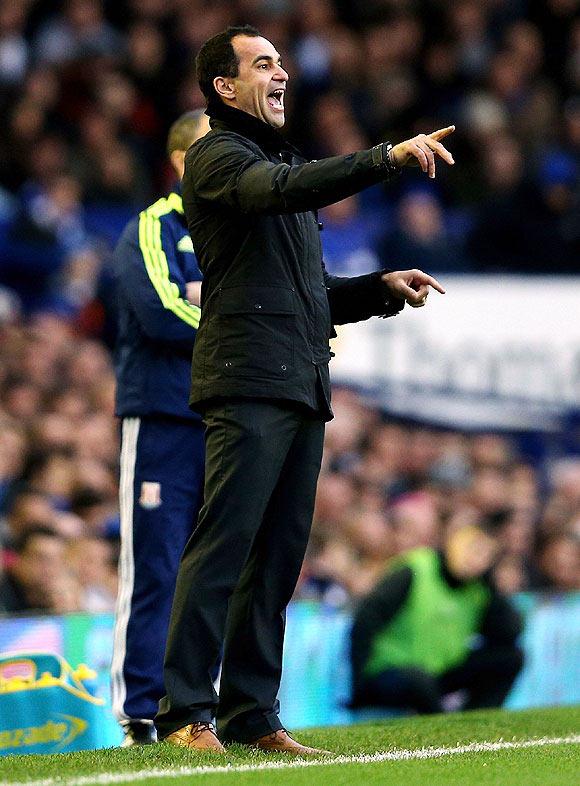 Roberto Martinez has signed a new five-year deal as manager of Everton, the Premier League club announced on Thursday.
The Spaniard replaced Manchester United-bound David Moyes at GoodisonPark a year ago and guided Everton to within touching distance of Champions League qualification in his first season.
The club known as the Toffees finished fifth and their points tally of 72 represented a club record.
"Everton has today confirmed it has signed a new five-year contract with manager Roberto Martinez," read a statement on the club's website (www.evertonfc.com).
"Martinez, who joined from Wigan Athletic just over a year ago, will remain at the club until at least the end of the 2018-19 season."
The 40-year-old, who won the 2013 FA Cup with unfancied Wigan, transformed Everton into a slick, creative team spearheaded by exciting young attacking players.
Their brilliant season under Martinez was capped with qualification for the Europa League. It will be their first appearance in European competition for five years.
"I am delighted to have been given the opportunity to make a further commitment to Everton," said Martinez. "I loved my first season.
"I could not be more proud of the way Everton performed throughout the entire season and the memories we were able to make together."
Chairman Bill Kenwright described Martinez as one of the best young managers in Europe.
"When we find our man, we empower him," said Kenwright. "We support and provide him with everything at our disposal.
"We commit to our managers and we're immensely pleased Roberto has committed to us. We want the best because only the best will do."
- Click NEXT to read more...
Aussie Rules Football rocked by drugs charges
Last updated on: June 13, 2014 23:41 IST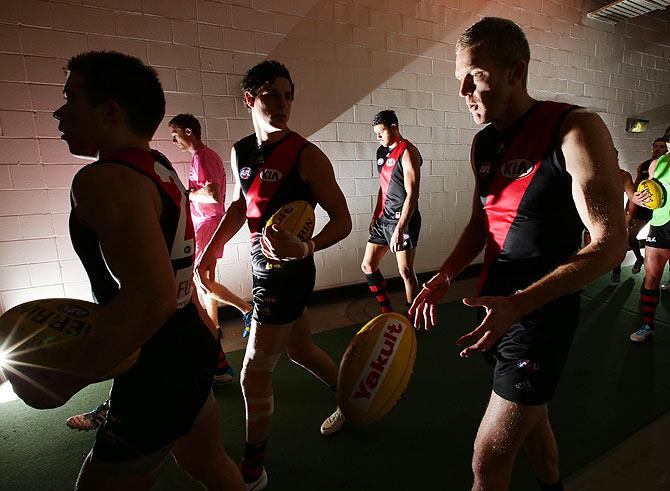 Australia's national anti-doping agency has charged 34 current and former Australian Rules football players with drugs violations, rocking the country's richest and most well-attended sport.
The charges are the culmination of a 16-month investigation into the administration of dubious supplements in 2012 at the Melbourne-based Essendon Bombers, one of the Australian Football League's oldest and most powerful teams.
"The Australian Sports Anti-Doping Authority (ASADA) has put formal allegations of possible anti-doping rule violations to 34 current and former players from the Australian Football League (AFL)," the agency said in a statement on Friday.
"Based on the advice of our legal counsel and a review of the evidence ... I have reached the conclusion that these players have a case to answer under the World Anti-Doping Code," ASADA CEO Ben McDevitt said.
The AFL disqualified Essendon from the competition's playoffs last year, banned the club's head coach James Hird for 12 months and slapped the team with a record fine for bringing the game into disrepute.
The punishments followed an independent probe commissioned by the club which found governance failures had contributed to a "disturbing picture of a pharmacologically experimental environment".
The scandal has sent shockwaves throughout Australia's AFL community, with local newspapers reporting grisly details of players being injected with peptides in private clinics under the supervision of club officials.
Peptides are short chains of amino acids which athletes can take in supplement form to aid muscle growth and re-generation.
A number of them are banned by the World Anti-Doping Agency, including growth hormone and Insulin-like Growth Factor-1 (IGF-1).
The scandal threatens to bring Essendon to its knees, with a majority of those charged still active players on the club's 47-man roster.
The club lies ninth in the 18-team table, halfway through the AFL's regular season.
The players have 10 days to respond to the charges, which ASADA refer to as 'show cause notices'.
"This information along with the evidence collected by ASADA will be put to the independent Anti-Doping Rule Violation Panel for consideration," ASADA said.
Essendon declined to comment, but issued a statement that chairman Paul Little would face the media later on Friday.
ASADA is also investigating the administration of banned supplements to multiple players at one of the country's top flight rugby league teams, the Sydney-based Cronulla Sharks, and are expected to lay charges in coming days.