'Simoncelli, we will miss you so much'
Last updated on: October 24, 2011 16:21 IST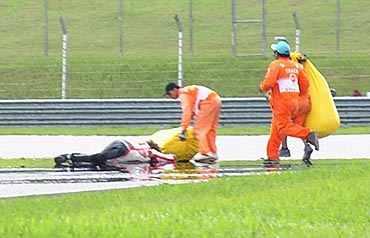 Italian MotoGP rider Marco Simoncelli died after a horrific crash at the Malaysian Grand Prix in Sepang on Sunday, completing a harrowing week for motorsport after British IndyCar driver Dan Wheldon lost his life last weekend.
Simoncelli, 24, crashed on the second lap and was hit by the bikes of Colin Edwards and Valentino Rossi as he slid across the track on his Honda.
His helmet was knocked off in the incident and the season's penultimate race was stopped immediately with a red flag and then cancelled.
Yamaha's Edwards also came off his bike but escaped serious injury, while Rossi was able to coax his Ducati back to the pits.
Simoncelli lay stricken on the track before being taken to the circuit's medical centre where he was pronounced dead.
"Everybody involved in MotoGP extends its deepest condolences to Marco's family, friends and team at this tragic loss," MotoGP said in a statement.
'Whenever the helmet comes off that's not a good sign'
Last updated on: October 24, 2011 16:21 IST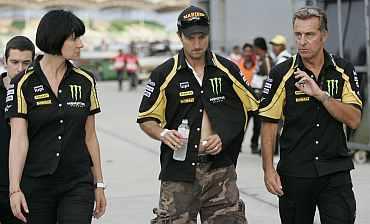 Casey Stoner, who won his second MotoGP title at his home Australian Grand Prix last week, said: "As soon as I saw the footage it just makes you sick inside.
"Whenever the helmet comes off that's not a good sign."
Medical director Michele Macchiagodena said Simoncelli was already unconscious when medics reached him.
"He was hit by other riders, he suffered a very serious trauma to the head, to the neck and the chest," he said. "In the ambulance there was a cardiac arrest."
Macchiagodena added: "(Edwards) had a dislocation of the shoulder and with anaesthesia the shoulder now is in the correct position. He is fine."
Daijiro Kato was killed in 2003 Japanese GP
Last updated on: October 24, 2011 16:21 IST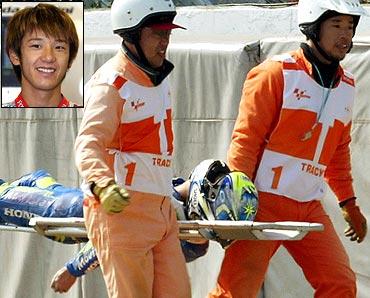 Simoncelli's death is the first in the sport's premier class since another Honda rider, Daijiro Kato, was killed at the 2003 Japanese Grand Prix.
Kato's fellow Japanese Shoya Tomizawa also died in a similar crash to Simoncelli in Moto2, the class below MotoGP, last year.
Simoncelli, known for his shaggy afro haircut and fun-loving personality, began in the 125cc class in 2002 before moving up to the 250cc class in 2006.
He won the 250cc world title in 2008.
Implicit danger
Last updated on: October 24, 2011 16:21 IST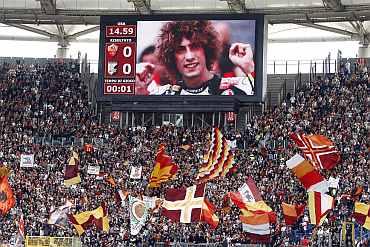 MotoGP bosses and riders have been working hard to improve safety following Tomizawa's death at the San Marino Grand Prix in September 2010.
However, they have acknowledged there is little more they can do given the implicit danger in motorcycling, especially when riders are hit by other bikes.
All Italian sports events on Sunday will observe a minute's silence in memory of Simoncelli, the Italian Olympic Committee said in a statement.
Simoncelli was a big fan of soccer club AC Milan, who released a statement offering their condolences and wore black armbands in their win over Lecce.
Last season's MotoGP world champion Jorge Lorenzo suffered a serious injury last weekend which could have cost him a finger, further underlining the danger of the sport.
"On a day like this I don't know what to say," said the Spaniard. "Marco, rest in peace."
'It is a really horrible day for all of us'
Last updated on: October 24, 2011 16:21 IST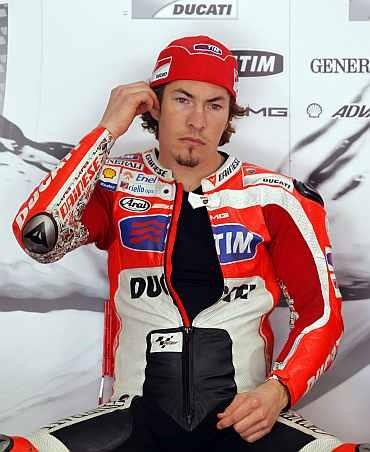 Nicky Hayden, the 2006 champion who rides for Italian team Ducati, was heartbroken. "It is a really horrible day for all of us," the American said. "I saw Marco fall.
"Leaving the corner he lost the back end and probably he didn't manage to regain his balance on the bike. I feel really bad. On the track we are all brothers."
Wheldon died at the Las Vegas Motor Speedway last Sunday after being involved in a 15-car crash.
Drivers questioned the wisdom of running the IndyCar finale on a very fast, high-banked oval which had not staged an event in the series for 11 years.
Others criticised the 34-strong field sprinkled with part-time drivers.
Source:
© Copyright 2021 Reuters Limited. All rights reserved. Republication or redistribution of Reuters content, including by framing or similar means, is expressly prohibited without the prior written consent of Reuters. Reuters shall not be liable for any errors or delays in the content, or for any actions taken in reliance thereon.