Serena's 50th rounds up the 'top 10'
Last updated on: May 13, 2013 10:40 IST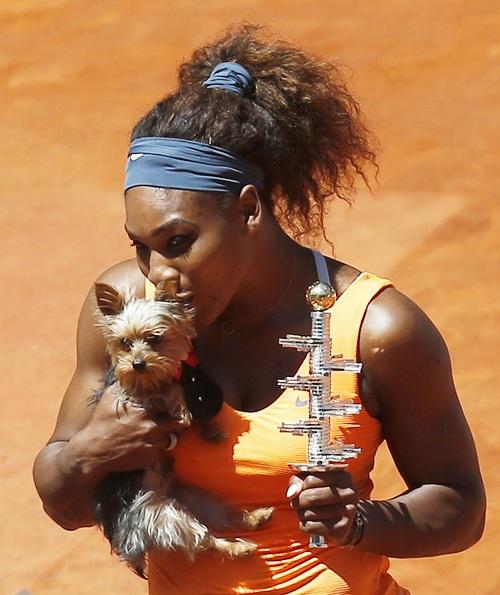 At the Madrid Open, Serena Williams became only the 10th woman to win 50 career titles. Bikash Mohapatra takes a look at players who preceded her at the elusive club.
Serena Williams had a lot at stake going into the final of the Madrid Open.
Her No.1 ranking was at stake. And the person who could have replaced her was facing her in the decider.
Maria Sharapova's new-found form on clay has had her win in Stuttgart, Rome and the French Open – completing her set of majors – last year and successfully defending her Stuttgart title recently. In Madrid, she reached her 50th career final.
However, to Serena's advantage, the Russian hadn't beaten her since the WTA Championships final in 2004. In fact the American had won the pair's last 10 meetings, most recently coming from a set down to deny Sharapova a Miami Masters title a fifth time.
Serena used this stranglehold to her advantage, getting quickly off the blocks and not allowing the Russian to settle down.
The 31-year-old kept her foot on the pedal throughout to win quite comfortably (6-1, 6-4). The win in Madrid, besides helping her retain the top ranking, also marked a career milestone.
It was her 50th WTA Tour title. Serena had become only the 10th woman in the world to win that many career titles. Rediff.com takes a look at the players who preceded her at the elusive club.
Martina Navratilova
Last updated on: May 13, 2013 10:40 IST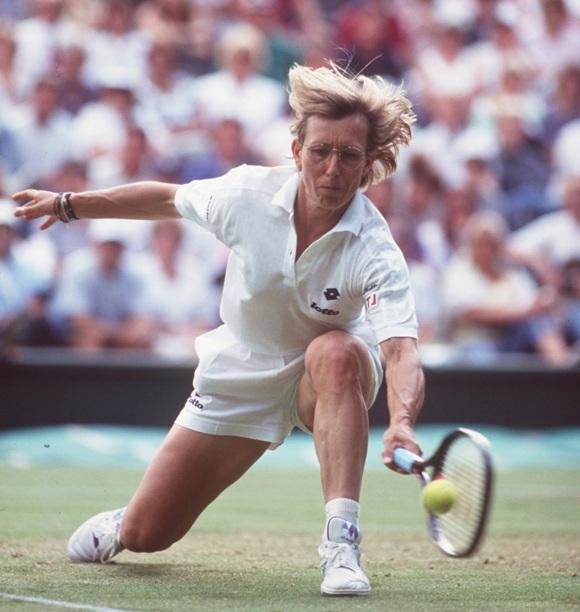 In a career spanning more than two decades, Martina Navratilova won titles galore, in every category.
The Czech-born American's singles count, 167, remains an all-time record and will continue to be so for many more years to come.
As also her record of having contested 239 singles finals.
Among Navratilova's many titles were 18 majors, including a record nine Wimbledon titles, the last of which came in 1990.
Chris Evert
Last updated on: May 13, 2013 10:40 IST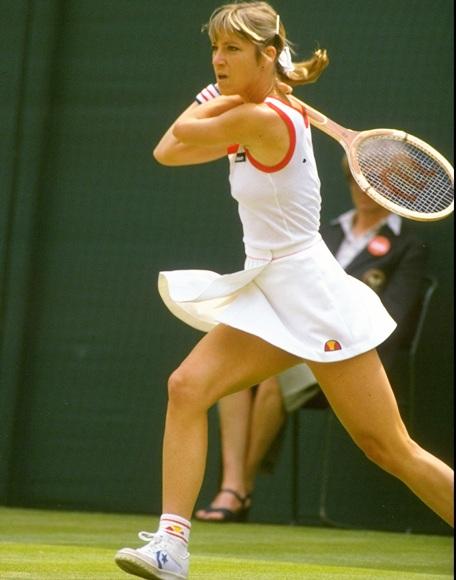 If Martina Navratilova leads the list can her eternal rival be far behind?
Chris Evert comes right behind in second place.
The American won a whopping 154 titles, from 208 final appearances, in a career spanning two decades.
Evert also won 18 major titles. However, while Navratilova reigned supreme at the All England Club, Evert dominated at the Roland Garros, winning on the red clay in Paris on seven occasions.
Steffi Graf
Last updated on: May 13, 2013 10:40 IST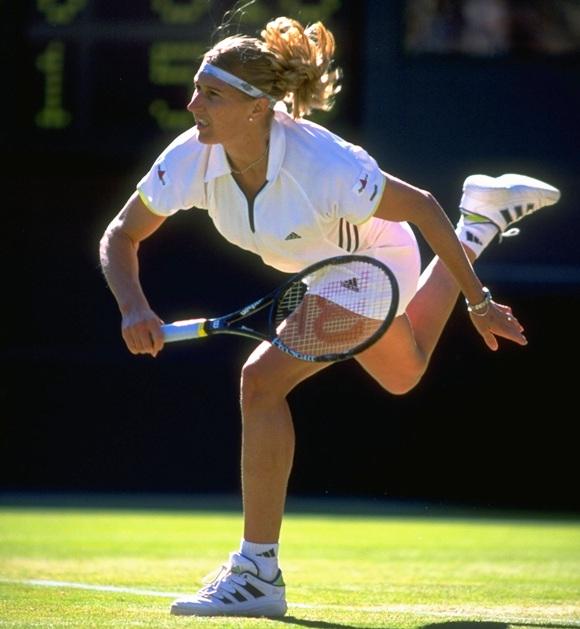 Next on the list is Steffi Graf.
The German won 107 titles in a 15-year career including a whopping 22 major titles.
Graf's success rate in finals was more than 75 per cent, she having lost only 31 off the 138 she featured in.
In 1988, Graf became the first, and so far only, player to perform a 'Golden Slam,' winning all the four major titles as well as the Gold Medals in the Seoul Olympics.
Margaret Court
Last updated on: May 13, 2013 10:40 IST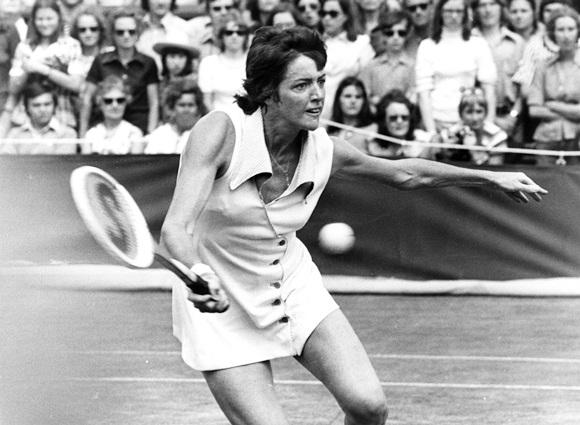 Margaret Court's career traversed from the amateur to the professional era in modern tennis.
The Australian won a whopping 92 singles titles in a prolific career that also ensured her considerable success in both women's and mixed doubles.
Besides, Court won 24 major titles, including 11 at her home tournament (Australian Open).
That's one record which has stood the test of time.
Evonne Goolagong
Last updated on: May 13, 2013 10:40 IST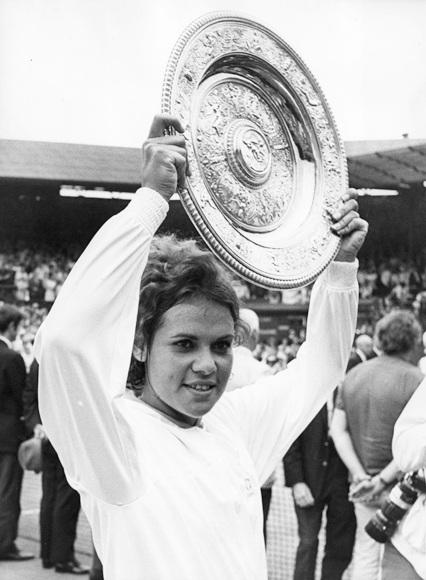 Margaret Court's contemporary and compatriot, Evonne Goolagong was an achiever herself.
The Australian won 68 singles titles in an illustrious career and stands fifth in the list.
Among her successes were seven major triumphs, including four at the Australian Open (1974, 1975, 1976 and 1977) and two at Wimbledon (1971 and 1980).
Her other major trophy came at the French Open in 1971.
Billie Jean King
Last updated on: May 13, 2013 10:40 IST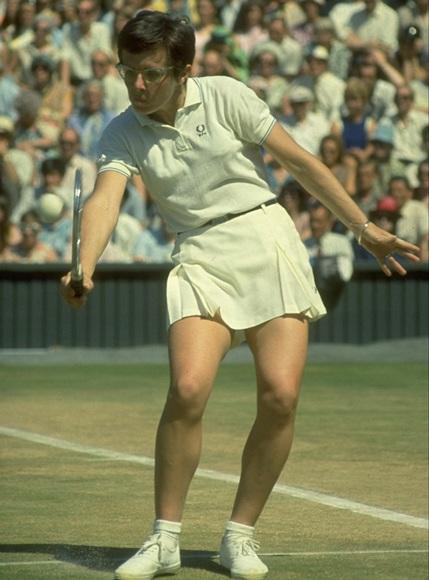 The first female star of American tennis, Billie Jean King's a memorable career.
The bespectacled American won 67 singles titles.
Among her titles were 12 major tournament wins, including six Wimbledon titles (1966-68, 1972-73 and 1975) and four at the US Open (1967, 1971-72 and 1974).
Lindsay Davenport
Last updated on: May 13, 2013 10:40 IST
One of the best players in the 1990s, Lindsay Davenport was unfortunate in the sense that her career coincided with that of many other great players.
As a result she managed just three major titles, one each at the US (1998), Wimbledon (1999) and Australian Open (2000). Certainly not a flattering statistic for a player of her caliber.
To her credit though she kept winning, amassing a total of 55 singles titles (from 93 finals).
Besides, she won the gold medal in the Atlanta Olympics in 1996.
Virginia Wade
Last updated on: May 13, 2013 10:40 IST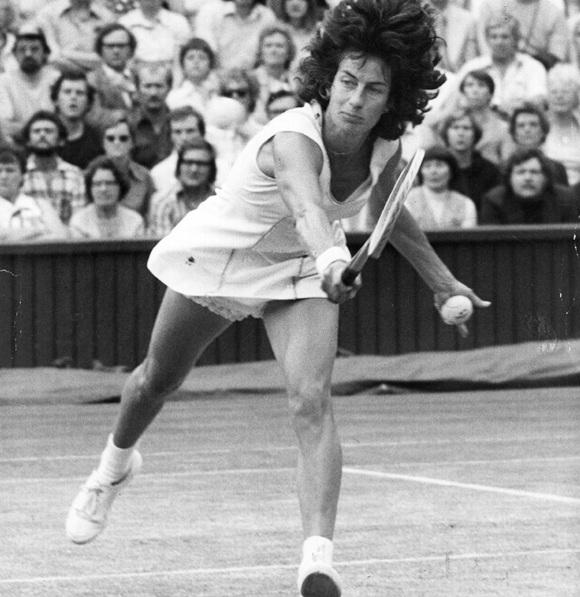 Andy Murray's triumph at the US Open last year might have ended the British 'major' drought but Virginia Wade remains the last British woman to win a Grand Slam.
Wade won the ladies singles title at Wimbledon in 1977, in the tournament's centenary year, and no one from her country has managed to replicate the feat thus far.
Besides, her All England triumph, Wade also won the US Open in 1968 and the Australian Open in 1972.
She ended her career with 55 titles.
Monica Seles
Last updated on: May 13, 2013 10:40 IST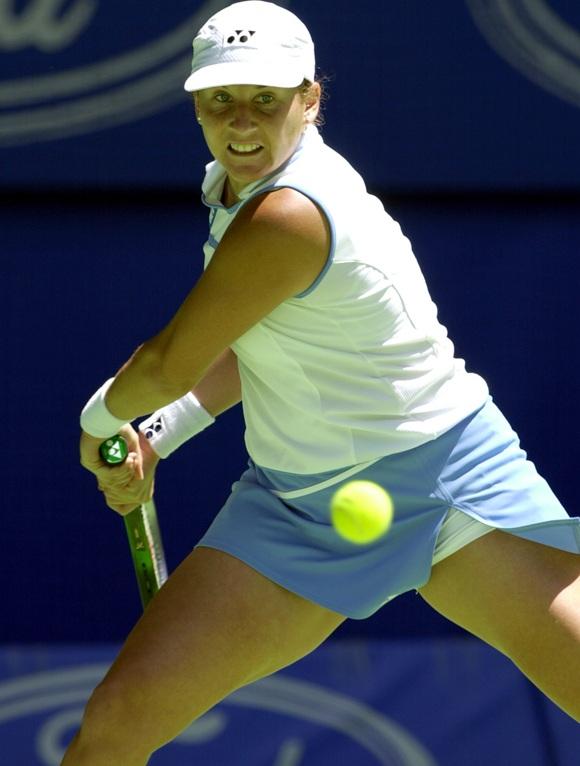 Had it not been for that attack in Germany (by a Steffi Graf fan), Monica Seles would have figured much higher in the list.
The Yugoslavia-born American had won eight major titles between 1990 and 1993, and a host of other titles, before the gruesome attack jeopardized her career.
Seles made a brave comeback, winning a ninth major – the Australian Open in 1996 – and a few more titles. But her game was never the same.
She ended up with 53 singles titles.