Russia's golden girls protest anti-gay law with podium kiss
August 20, 2013 08:16 IST
Russian athletes Kseniya Ryzhova and Tatyana Firova celebrated winning the 4x400 metres gold at the World Athletics Championships by sharing a kiss on the winners' podium at the Luzhniki stadium in Moscow on Saturday.

The athletes' public display of affection comes amid the controversy over the country's new anti-gay law. The Russian law, passed in June, bans gay and lesbian "propaganda".
Russia's golden girls protest anti-gay law with podium kiss
August 20, 2013 08:16 IST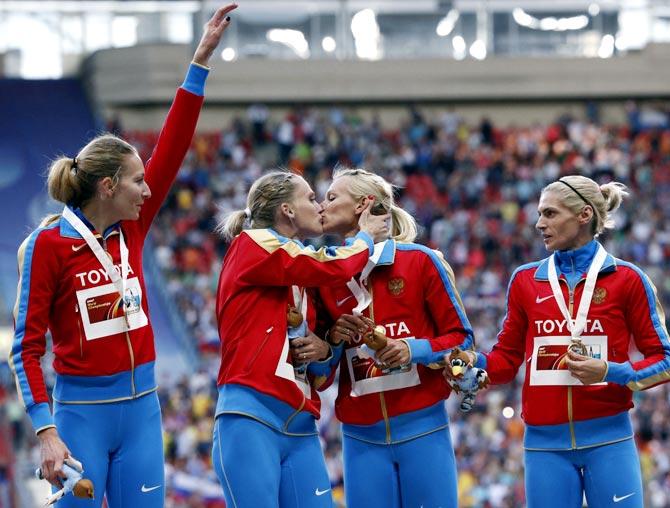 Ryzhova and Firova won gold along with teammates Gushchina Yulia and Antonina Krivoshapka. As soon as the medals were around their necks, they turned and kissed each other on the lips.

Russia ended the United States' domination of the women's 4x400metres relay.

The US, which had won the last three World titles, led early on but a superb second leg by Firova had the Russians in front and the crowd roaring.

Ryzhova drove home the advantage and individual bronze medallist Krivoshapka held off a determined run by Francena McCorory to clinch victory in 3:20.19 seconds.

The US took silver in 3:20.41s while individual champion Christine Ohuruogu brought Britain home for bronze in 3:22.61s.
Russia's golden girls protest anti-gay law with podium kiss
August 20, 2013 08:16 IST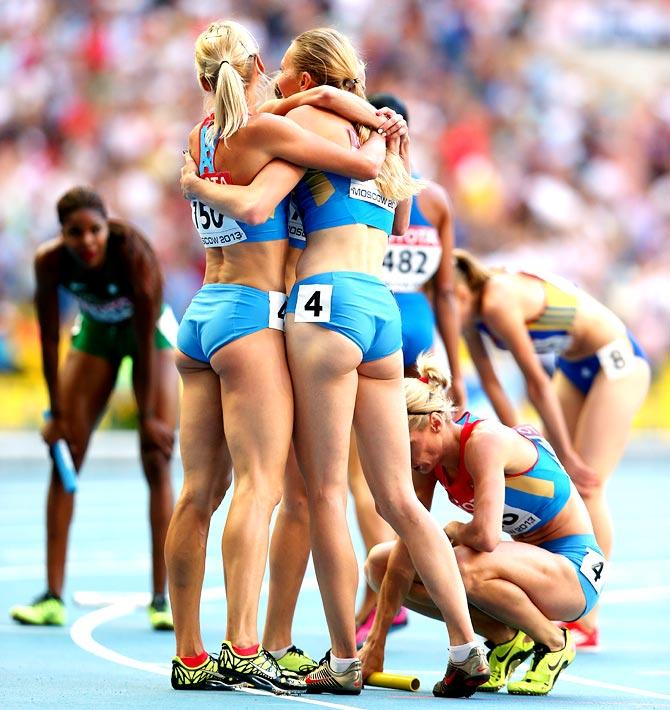 A few athletes at the World Championships openly talked about the legislation, although Russia's World pole vault champion Yelena Isibayeva caused international uproar when she spoke out in favour of it and appeared to condemn homosexuality, before later backtracking and saying she had been misunderstood.

American 800 metres silver medallist Nick Symmonds branded her as "behind the times", while Swedish high jumper Emma Green-Tregaro made a gesture of support for Russia's gay community during competition by painting her fingernails in the colours of the rainbow flag used by the gay movement.

After being warned the gesture broke the sport's code of conduct, Green-Tregaro appeared in Saturday's final with her rainbow nails changed to red.