PIX: Drama unfolds as Somdev goes down fighting at Aus Open
Last updated on: January 16, 2013 16:56 IST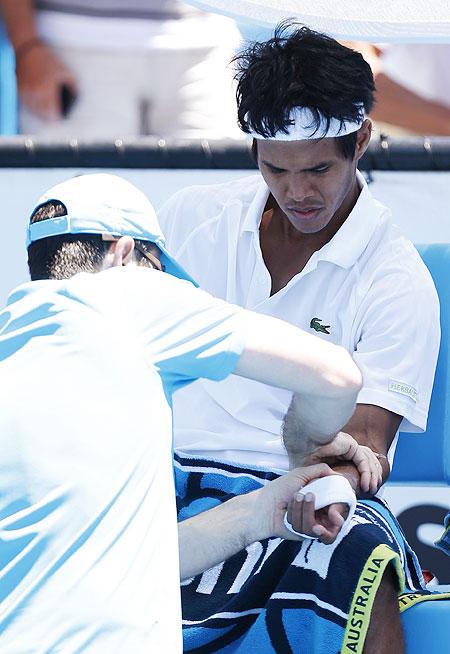 Somdev Devvarman gave a mighty scare to World No 26 Jerzy Janowicz before fizzling out while Sania Mirza and her American partner Bethanie Mattek-Sands suffered a shock first round exit at the Australian Open in Melbourne on Wednesday.
Somdev was well on course to record his best performance at the Grand Slams but frittered away a two-set lead to go down 7-6(10), 6-3, 1-6, 0-6, 5-7 against 24th seed Polish rival in the men's singles second round.
Somdev showed he has recovered well from his shoulder surgery, which ruined his 2012 season, but somehow could not complete the job despite a magnificent start.
Known for his never-say-die spirit, Somdev battled for four hours at court number eight but ended up on the wrong side of the result.
Janowicz exploded in rage after losing a 79-minute set to Somdev, hitting the umpire's chair with his racket and throwing his water bottle across court.
Janowicz suffers on-court meltdown
Last updated on: January 16, 2013 16:56 IST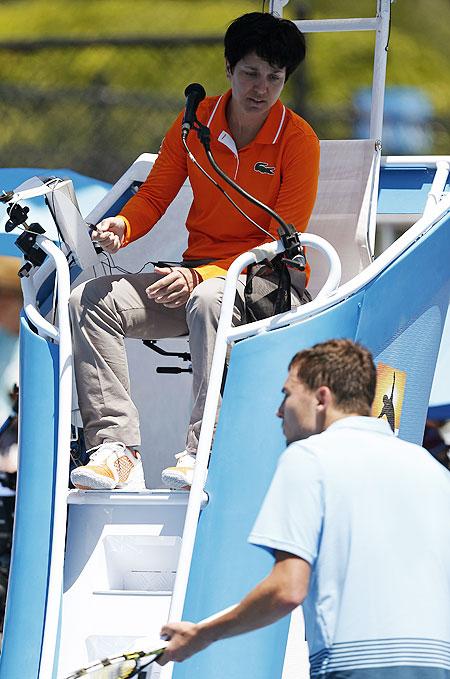 His outburst was sparked by a line call which the Pole furiously contested and at one stage he collapsed to his knees in frustration with his forehead touching the playing surface.
His Indian opponent took the tiebreak 12-10 to win the set and, at the changeover, Janowicz again argued his case with Croatian umpire Marija Cicak before making the point more forcefully with his racket.
Janowicz was back on his knees 161 minutes later in celebration after a remarkable comeback that secured him a third round tie against Spanish 10th seed Nicolas Almagro.
India's sole remaining representative in the single's draws, Devvarman raced away with the second set while the Pole was still regaining his composure.
Despite tallying 88 unforced errors over the match, Janowicz struck back by ramping up his serve and unleashing his forehand to level up the match at two sets all.
The hour-long deciding set was closer, with the players exchanging service breaks before the Pole secured the victory with another blistering forehand return for his 91st winner of the match.
Devvarman, who reached a career-high 62nd in the world in July 2011, has slipped to 551 after missing most of the 2012 season with a shoulder injury.
Sania crashes out of women's doubles
Last updated on: January 16, 2013 16:56 IST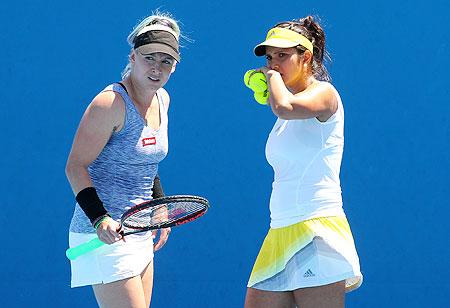 Meanwhile, in the women's doubles Sania and Mattek-Sands, who came into tournament after winning the Brisbane international, were ousted by Spanish duo Silvia Soler-Espinosa and
Carla Suarez Navarro.
The 10th Indo-American team bowed out with a 6-7(4), 3-6 defeat in their opening round of the women's doubles.
Sania will now compete in the mixed doubles with new partner Bob Bryan.
American hope Baker limps out of Australian Open
Last updated on: January 16, 2013 16:56 IST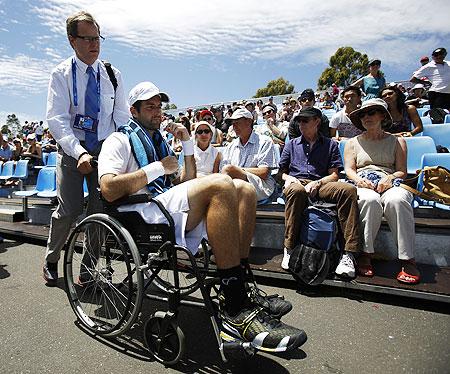 American Brian Baker's hopes of a fairytale run at the Australian Open were dashed in the cruellest of fashions on Wednesday when he was forced to retire from his second round match with a knee injury.
The 27-year-old, who returned last year after seven years off the professional circuit, had won the first set against compatriot Sam Querrey in a tiebreak and was level at 1-1 in the second with the 20th seed when he suffered the injury.
"I didn't see what happened," Querrey said.
"I hit a ball, and then he hit a ball long. I was looking at the ball kids to grab balls for my serve, and then I looked back and he was on the ground.
"And then just asking him, he said he kind of just felt his knee almost buckle and kind of heard like a pop or a snap. He didn't know if it was bones or a tear, but he couldn't straighten it, couldn't walk.
"I feel awful for him."
Runner-up at the French Open juniors in 2003, Baker was working his way up the senior rankings in 2005 when he first felt an injury in his left hip, which required surgery.
That began a nightmare run of two left hip surgeries, a right hip operation, hernia surgery and right elbow surgery which, with the exception of a couple of matches in 2007, kept him off the tour until 2011.
'In my mind he's a top 50 player'
Last updated on: January 16, 2013 16:56 IST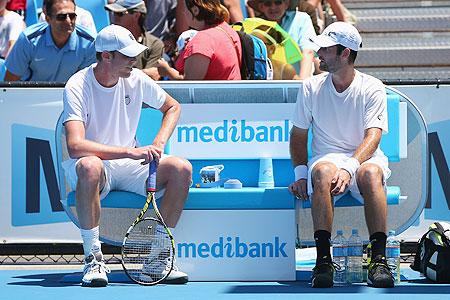 "He's the last person that deserves anything like that with his five or six surgeries already," added Querrey.
"He does everything right, treats his body great, just trying to come back, and then something like that happens, it's just so unlucky."
Baker gave it one final go last year and went from world number 456 to 57 at the start of this year's first Grand Slam, taking in a run to the last 16 as a qualifier at Wimbledon on the way.
His victory in the first round at Melbourne Park against Alex Bogomolov Jr. of Russia on Monday was his first at the Australian Open and he had hoped to get back into the top 50 in the world by May.
"In my mind he's a top 50 player and he can beat guys who are top 20, top 10," Querrey said.
"I think if he can heal quickly or if it takes a year, I think he can get right back where he is right now. He's talented, he's good enough."
Querrey, the sole American men's seed this year in the absence of injured compatriot John Isner, will now meet German Tobias Kamke or Swiss Stanislas Wawrinka for a place in the fourth round.
Li struggles to beat Belarusian Govortsova
Last updated on: January 16, 2013 16:56 IST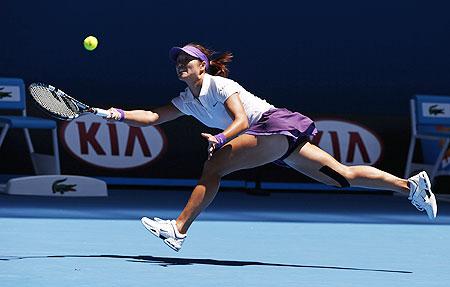 Former French Open champion Li was erratic in her 6-2, 7-5 victory over Olga Govortsova of Belarus.
Li sailed through the first set but struggled in the second, before clawing back four games in succession to progress.
"She started the second set much better so I'm just happy to win," said Li, adding that she was confident of adding to her solitary Grand Slam title in 2011. "Australia for me – I really believe I can win this Grand Slam."
The hardcourts seem to suit Li's style of play and she made the final at Melbourne Park in 2011, losing to Kim Clijsters, and was a semi-finalist in 2010.
Radwanska advances to Rnd 3
Last updated on: January 16, 2013 16:56 IST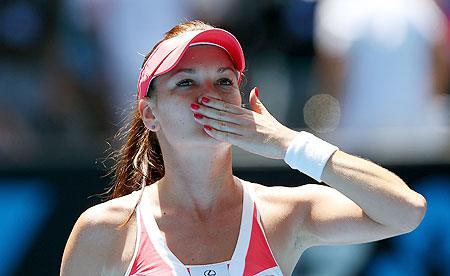 Agnieszka Radwanska continued her 2013 unbeaten streak, extending it to 11 matches, with a comfortable 6-3, 6-3 second round victory over Romania's Irina-Camelia Begu at the Australian Open on Wednesday.
The World No 4, who won the Auckland and Sydney tournaments before the Grand Slam began and is yet to drop a set this year, will now meet either Ksenia Pervak or Heather Watson in the third round.
Despite her hot form Radwanska, who won both the Auckland and Sydney titles before the year's first Grand Slam, is not quite sure if she's playing as well as she can.
"I hope not," she said with a broad grin when asked if she was in the form of her life after the 6-3, 6-3 win over Begu.
"Then I can play even better.
"I'm definitely happy that I'm playing my best tennis at the start of the year which is always tough after a few weeks just practising.
"(But) playing matches is always different and I didn't really expect to win that many matches in a row and hopefully I can keep going."
'Today was a better match for sure'
Last updated on: January 16, 2013 16:56 IST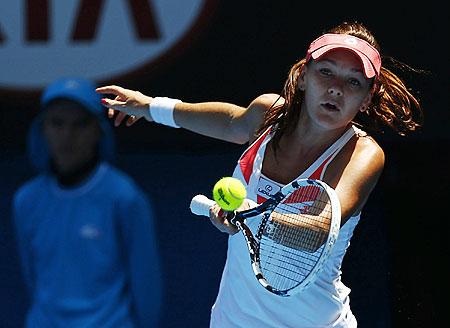 The Polish 23-year-old, who made her first Grand Slam final appearance last year when she lost to Serena Williams at Wimbledon, had entered the consciousness of the public at the Australian Open as one of the favourites of the underdogs.
A player likely to advance comfortably through the early rounds, then just as likely lose to someone below here in the rankings from the quarter-finals onwards, as she was to beat the three women ranked above her.
Radwanska is more of a grafter. Someone who plays superb defence, works her opponents around the court, mixes her pace and exploits the angles but does not overpower them.
On Wednesday, she did exactly what she needed to do against Begu.
She had initial problems with the ball toss of her serve as the giant television screen overhanging Rod Laver Arena was in her eye line and was broken in the first game.
However she quickly adjusted and got into her stride, moving the tall Romanian around and running down everything to win the first set in 46 minutes.
In the second set, she was forced to scramble to overcome Begu, but again consistently put pressure on the Romanian and sealed the third round clash with either Heather Watson or Ksenia Pervak when she punched away a backhand volley.
"Today was a better match for sure," she said.
"It was a tight match but I played the (important) moments a little bit better and I managed to take it in two sets."
Kerber creams Hradecka to enter Rnd 3
Last updated on: January 16, 2013 16:56 IST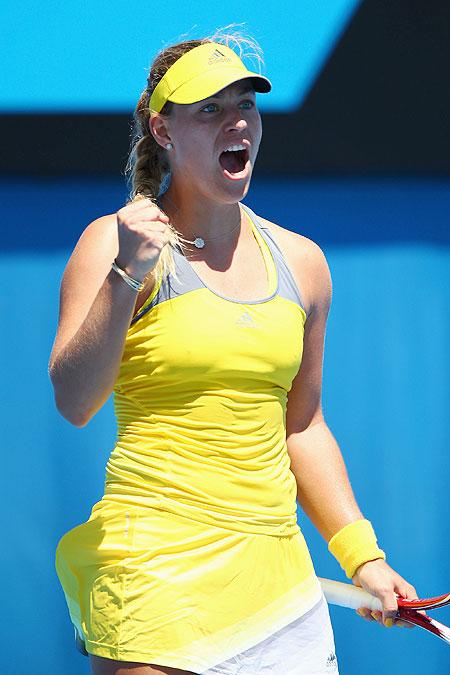 Fifth seed Angelique Kerber also advanced to the third round when she managed to overcome a feisty Lucie Hradecka 6-3, 6-1 in 69 minutes.
Kerber, like Radwanska, dropped the first service game of the match before clicking into gear in the second set and sealing a clash against either American wild card Madison Keys or Austria's Tamira Paszek with an ace.
The German left-hander has also quietly moved into contention in the Grand Slams, accumulating rankings points with a series of semi-final appearances.
She also won her first WTA career titles, in Paris and Copenhagen, last year and won eight times against women ranked in the top-10.
One of those victories was against Serena at Cincinnati - the only match the American has lost since Wimbledon last year -- and the German is relishing going deeper at Melbourne Park than her previous best third round appearances in 2010 and 2012.
"I have a lot of confidence from the last year," she told reporters after her victory over Hradecka. "I beat a lot of good players and reached the top 10, top five.
"I'm just enjoy(ing) where I am right now."
Sharapova serves 2nd double bagel
Last updated on: January 16, 2013 16:56 IST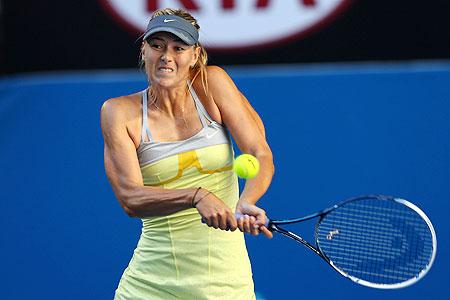 A rampaging Maria Sharapova doled out a second consecutive double-bagel win at the Australian Open on Wednesday, hammering Japan's Misaki Doi 6-0, 6-0 to storm into the third round of the year's first Grand Slam.
Second seed Sharapova opened her campaign on Monday with the same scoreline against fellow Russian Olga Puchkova and completed 92nd-ranked Doi's humiliation in 47 minutes.
Doi, raising ironic cheers from the crowd at Hisense Arena with every point she won late in the contest, surrendered the match by slamming a shot into the net to hand Sharapova a virtual walkover.
Sharapova will next play Venus Williams or Alize Cornet in the third round as she bids for a fifth Grand Slam and second at Melbourne Park.
Stosur knocked out of home Slam early, again
Last updated on: January 16, 2013 16:56 IST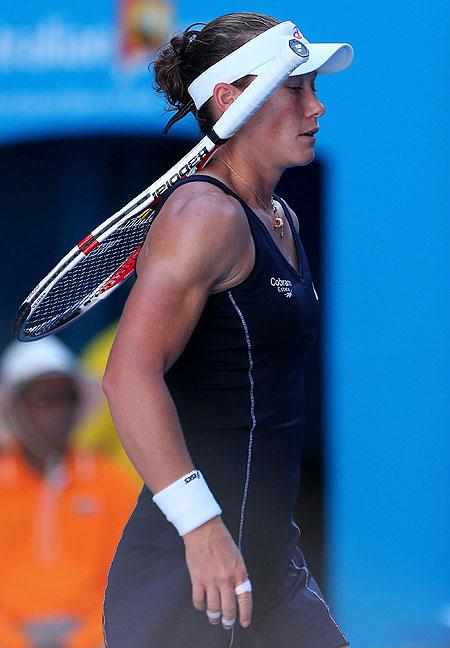 Playing an unranked opponent, 5-2 up in the third set and serving for the match, World No. 9 Samantha Stosur agreed she had 'choked' to lose her Australian Open second round match against China's Zheng Jie.
The 6-4, 1-6, 7-5 'choke' ensured she crashed out of her home Grand Slam early, again. The Australian has not advanced beyond the fourth round at Melbourne Park in 10 main draws.
Her form in her home country is even more abysmal. Over the last two seasons, the 2011 US Open champion has won just twice in eight matches.
"Obviously it's a pretty hard one to take when you get yourself well and truly into a winning position (and) playing really quite well," Stosur said. "Then all of a sudden you get to 5-2 and you lose five games straight.
"Whatever word you want to put on it. At 5-2 up in the third, double break probably is a bit of a choke, yeah."
It's just hard no matter where you're playing
Last updated on: January 16, 2013 16:56 IST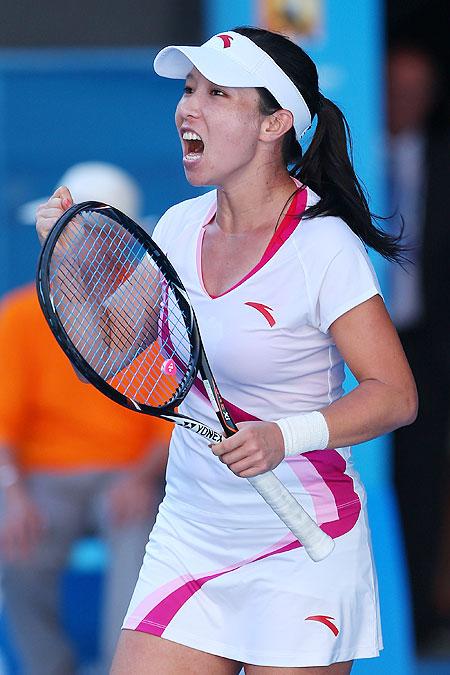 Stosur had started terribly against Zheng, who had beaten her a week earlier in the first round in Sydney, with her kick serve drifting wide of the service line or beyond the "T".
However, battling to hold her serve in the first game of the second set kick-started a renaissance for the Australian and she won 11 of the next 14 games.
Serving for the match, and a third round clash with Germany's Julia Goerges, the Australian served a double fault and then blasted an easy forehand return straight into the net.
The loss of the game tightened her up, she said, and she got too within her head as she could not let the lost opportunities to seal the match go until it got too late.
"You make an error and you tighten up a little bit, but you try and reset and refocus before that next point," she said.
"Unfortunately it just kept happening point after point after point.
"You do it over and over and over again, and then, yeah, you start not wanting to miss rather than wanting to make the winner.
"Instead, it's 'I don't want to make the error'. Then crazy things start popping into your head, and before you know it, you're back on even terms and really lost a lead that with two breaks in the third should never go away."
Stosur was the last Australian woman in the draw and given her rise into the top-10, local hopes had rested upon her to become the first home grown women's champion since Christine O'Neill won the title in 1978.
Expectations, however, had not played a part in her loss or indeed even her dreadful run at home over the last two seasons.
"It's just hard no matter where you're playing," she said of playing at the top level. "You obviously want to play your best.
"I know I haven't been playing my best. I've been trying to get to that point. Now, unfortunately, the summer is over.
"I'll do what I always do and keep playing and keep trying hard. I mean, I know I'm going to get over it. It's just you want it now, not tomorrow."
AGENCIES