Phelps reasserts his authority
Last updated on: July 30, 2009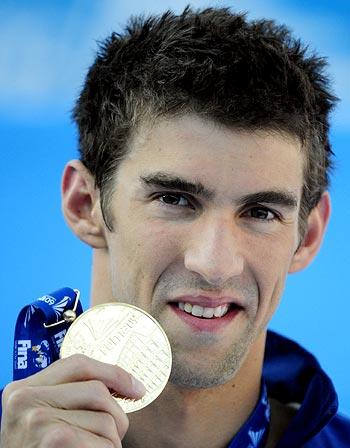 Michael Phelps retained his 200 metres butterfly world title and smashed his own world record on Wednesday to reassert his authority after a tough 24 hours.
The American lost his world record in Tuesday's 200 freestyle final when he was beaten by Germany's Paul Biedermann but he burst back to form with an awesome display of power.
"I guess you'd call it my bread and butter event," Phelps told reporters after swimming one minute 51.51, bettering the world record he has held since 2001 for the eighth time.
Phelps did it wearing long pants
Last updated on: July 30, 2009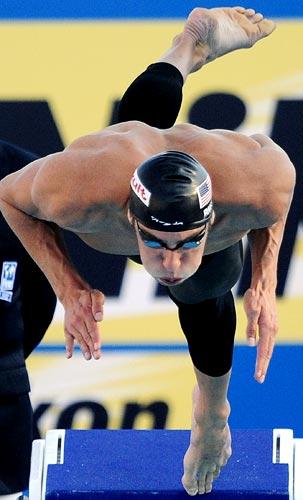 His achievement was all the more remarkable given he did it wearing long pants rather than one of the soon-to-be banned bodysuits which have contributed to a deluge of world records at the Rome World championships.
The performance-enhancing polyurethane swimsuits may be causing controversy but they are also helping to thrill the crowds.
'I tried to swim as fast as I could'
Last updated on: July 30, 2009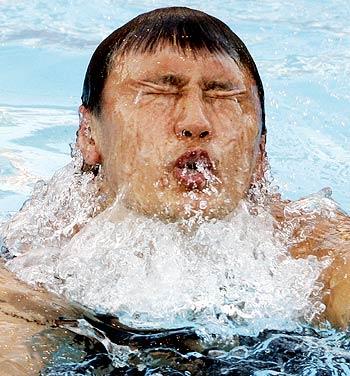 China's Zhang Lin prompted utter astonishment when he knocked more than six seconds off the previous world record to win the men's 800 freestyle final.
Zhang, China's first male world champion in long-course swimming, beamed: "I felt a lot of pressure, I didn't know how to swim at this level but my coach told me you just have to do your best.
"I didn't have any strategy. I just tried to swim as fast as I could. I didn't think I'd swim 16 seconds faster (than in qualifying)."
'I'm the greatest Italian athlete ever'
Last updated on: July 30, 2009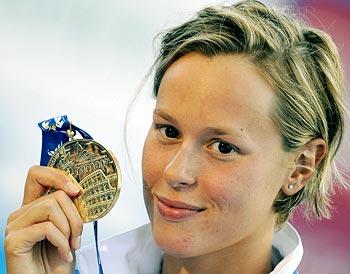 The fans at the Foro Italico were less surprised when home favourite Federica Pellegrini stormed to victory in the 200 freestyle final, shattering the world record she had already broken in Tuesday's semi-finals.
She clocked 1:52:98 to chalk up a freestyle double having triumphed in the 400 on Sunday.
Asked if she was Italy's greatest athlete, she replied: "I think so."
More world records tumble in the pool
Last updated on: July 30, 2009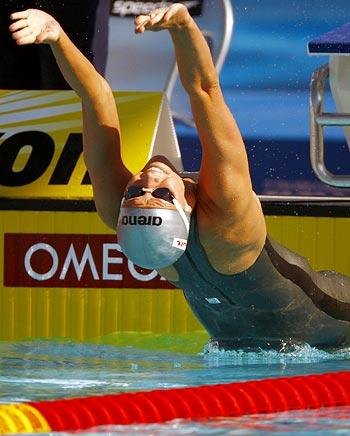 Despite 15 world records falling in the first three days of competition, Wednesday's action in the open-air pool was even more mesmerising.
American Mary Descenza was stunned to break the world record in the women's 200 butterfly heats.
German Daniela Samulski then set a world best time in the 50 backstroke semis only for Russia's Anastasia Zueva to better it immediately in the second semi.
Zueva, now favourite for Thursday's final, had also smashed the 100 backstroke world record earlier in the week before that mark was beaten.
Bernard starts as favourite
Last updated on: July 30, 2009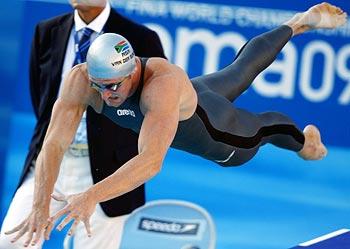 Records were flying left, right and centre with swimmers who failed to tax the timekeepers beginning to look ordinary.
South African Cameron van der Burgh made sure he did not miss out on the party by battering his own world record to take gold in the men's 50 breaststroke, having set the previous best mark in Tuesday's semi-finals.
Defending champion Filippo Magnini was dumped out in the 100 freestyle semis and will watch Thursday's final from the sidelines when France's Olympic champion Alain Bernard, quickest in qualifying, will go off as favourite in an intriguing race.
Source:
© Copyright 2022 Reuters Limited. All rights reserved. Republication or redistribution of Reuters content, including by framing or similar means, is expressly prohibited without the prior written consent of Reuters. Reuters shall not be liable for any errors or delays in the content, or for any actions taken in reliance thereon.