Paes reveals Lendl's role in US Open triumph
September 20, 2013 09:23 IST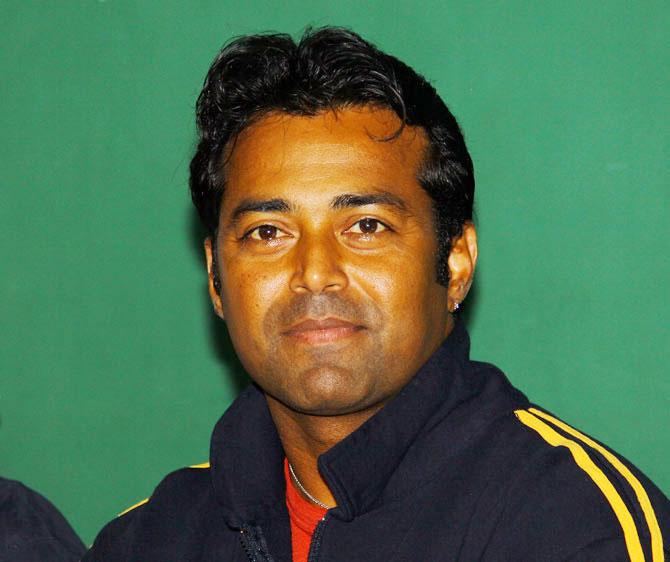 Oldest Grand Slam champion says at 40 he still has lots to learn
Indian tennis legend Leander Paes says working with former World No. 1 Ivan Lendl over the years helped greatly in improving his game.
Paes recently hit the headlines when he won the US Open men's doubles title with Radek Stepanek of the Czech Republic. In the process, the 40-year-old become the oldest man in the Open era to win a Grand Slam title.
"I spoke to him [Lendl] before the US Open when we were in Cincinnati and we continuously have this ongoing dialogue. I guess our friendship is the wonderful part of this whole thing. It is an ongoing process; little bit about the serve I ask some players on that, little bit on the movement, watch some matches… it is all the process of doing the right homework," Paes said, in Mumbai on Thursday.
He added that he has been consulting Lendl since he started out as a junior in 1990.
Lendl has been credited with the recent triumphs of Briton Andy Murray, who won the Wimbledon singles title this year and Olympic gold medal at home last year.
"I have shared a great relationship with Ivan Lendl over the years. When I came out of the juniors in 1990, I was No. 1 in the world, I travelled with Ivan for two-and-half years and trained with him and Tony Roche in Australia. I had such a great relationship with such a great player of the game. As you all know, I love to keep learning, but my game at the net is instinctive, it's fast; but my game on the baseline is what I need to keep improving on."
'The last Olympics left a real sour taste in my mouth'
September 20, 2013 09:23 IST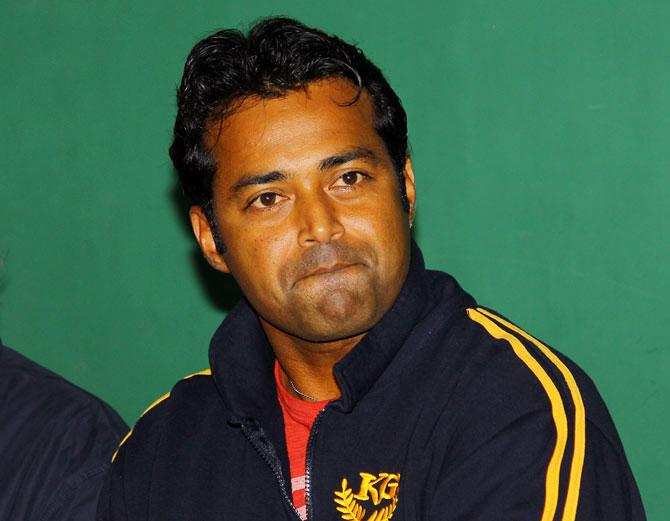 Paes revealed his conversation with Lendl in recent times was on improving his balance while playing the single-handed backhand shots.
"I watched specific players like that. I watched (Novak) Djokovic with the balance that he has on the court. I watched Andy Murray with the balance he has on court. Both those two players have a two-handed backhand so I can't really relate; but someone like Lendl had a single-handed backhand. Hence, you can talk to him and break down how his prodigy uses that two-handed backhand, what he does with his balance and what Ivan's concepts are about that in terms of that as a single-handed backhand player and what he does about that."
The veteran player also pointed out that he got a rough deal during the London Olympics last year when he was forced to play with rookie Vishnu Vardhan. He said that had made him more motivated to have another shot at Olympic glory in three years time in Rio despite turning 40 recently.
"This last Olympics leaves a real sour taste in my mouth and that is something that is still there. Probably that has been one of my biggest motivating factors to go to Rio. At the end of the day I think I can only do what is within my control and that is to make sure that I am ready.
"The Olympics is still three years away; it is still a long way away. For me, it is making sure I am ready, making sure that I am in the best playing condition health-wise, physically, with my game, with my form when we get closer to the Olympics," he said.
'Radek is the best doubles partner I have had'
September 20, 2013 09:23 IST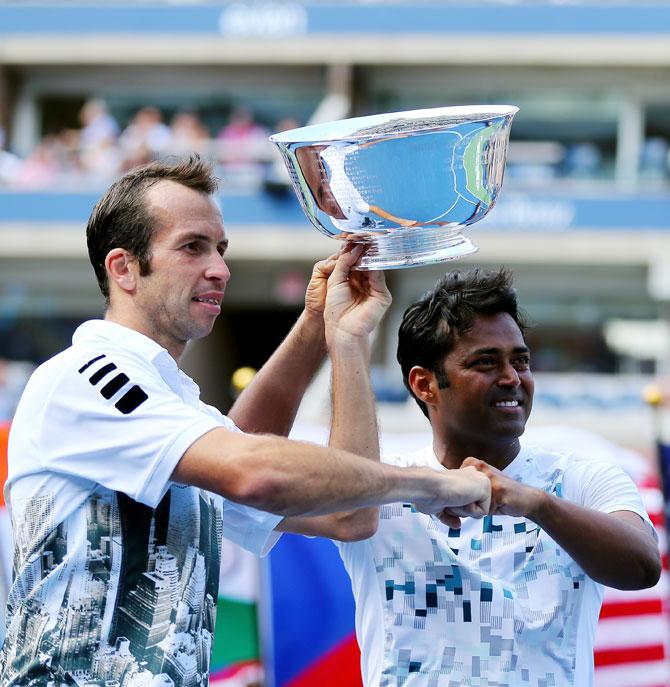 Paes, who was won 14 Grand Slams titles in doubles and mixed doubles, is hoping that the Indian Olympic Association gets its house in order and athletes are able to compete under the Indian flag.
"I think Indian sports are at a cross roads at the moment. Right now, we will still be representing under the IOC flag. Firstly, I hope that is lifted. I hope that we get to perform under our own flag, we get to perform for our own people."
Paes also paid rich tributes to Radek Stepanek with whom he has won two Grand Slam titles, including this year's US Open doubles title, saying he is the best partner he has had so far.
"One of the reasons I feel that Radek is the best doubles partner I have had on the men's side is his intelligence to pick up things, the way he actually creates shot, the way he grasps what we are trying to do in each match; he is so fast that it makes so fun to play with him. He is such a talented player and is very intelligent. When I share something with him, he picks it up really quick," he said.
'What Sachin has done in the world of cricket is phenomenal'
September 20, 2013 09:23 IST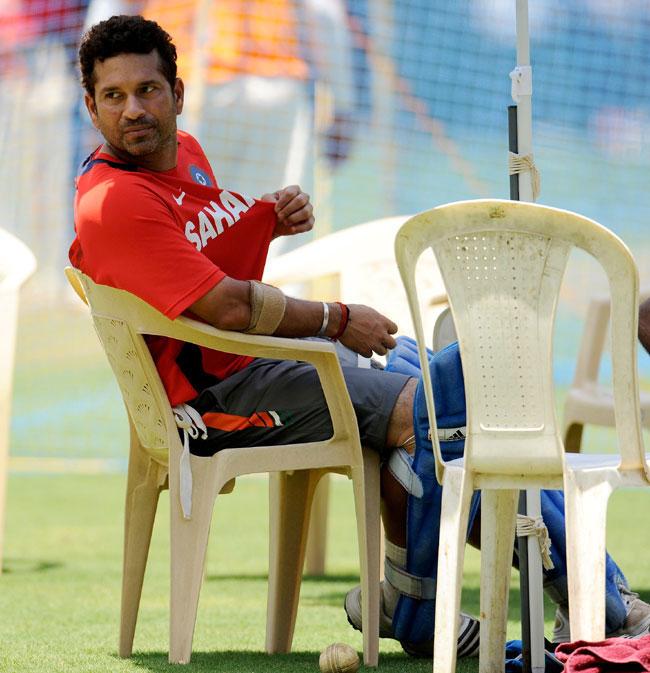 He went on to say that he has amazing respect for fellow-Indian sporting legends Sachin Tendulkar and Viswanathan Anand.
"I have tremendous respect for Vishy Anand and Sachin, two contemporaries of mine. We are all born around the same time and same year. We all sort of had a same career journey. I have amazing respect for what both have done.
"What Sachin has done in the world of cricket is phenomenal. The role model that he is, he has been phenomenal.
"What Vishy Anand continues to his sport, profession, is fantastic, both in the fast game and the regular game of chess. Personally, I have enjoyed watching both the boys play and I hope they continue doing great things."