Olympic Gold Quest has raised hope for Indian athletes
Last updated on: December 14, 2010 19:58 IST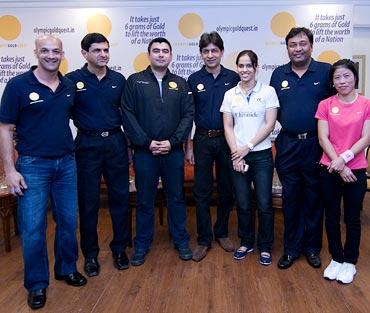 Olympic Gold Quest's recently-launched programme, 'Power Your Champions', attempts to involve the country's sports fans in its quest for a gold medal at the Olympics. OGQ Chief Operations Officer Viren Rasquinha explains how in an exclusive conversation with Harish Kotian.
Abhinav Bindra's gold medal at the 2008 Beijing Olympics sent the entire nation into raptures. It was India's first individual gold since the quadrennial Games began in 1904, and the country's first in 28 years, since the men's hockey team triumphed at the 1980 Moscow Olympics.
A nation of more than a billion people had failed to produce champion sportspersons. Though various reasons can be attributed to India's lacklustre showing, the major one is certainly funding.  Statistics tell only part of the story. India's defence budget is estimated at $29 billion while that for sports is more than half of the figure, at nearly $11 billion.

Thus, life is never easy for an Indian athlete. Funding is difficult, unless he/she does make a mark at a major international event.
But Olympic Gold Quest, a not-for-profit organization, set up with the sole aim of producing Olympic champions, has raised hope. Founded by India's biggest sporting legends -- Prakash Padukone and Geet Sethi -- in 2006, the trust is addressing the various issues faced by Indian sportsperson and providing them a platform to excel at the Olympics.
Their recently-launched programme, 'Power Your Champions' (PYC), attempts to involve the country's sports fans in its quest for a gold medal at the Olympics. All they have to do is contribute as little as Rs 100.
Speaking exclusively to Rediff.com, OGQ Chief Operations Officer Viren Rasquinha outlined the 'Power Your Champions' programme.
"Even though we are funded by a whole pool of corporates, we are currently supporting 22 athletes at a very elite level. We made some back-up calculations that even if a million Indians contribute even Rs 100 per month it would go towards the OGQ, which would then go towards the training and preparation of athletes," he says.
That kind of funding can certainly help OGQ support 2000 athletes at the grassroot level.
"Every Indian wants his country to do well in sports; you cannot make a big donation, but you can give definitely give atleast Rs 100 per month which will be automatically debited from your account by means of a simple one-time standing instruction," explains Rasquinha.
"You will not feel the pinch. Yet, when you watch Saina Nehwal, Gagan Narang or MC Mary Kom winning a gold medal you will feel proud because you have supported them and you will feel part of their success. So we want people to feel the pride and create involvement.
"We want OGQ to become a movement; we don't want OGQ to belong to a few of us, we want it to belong to the entire nation," he adds.
'We are all so proud of Saina'
Last updated on: December 14, 2010 19:58 IST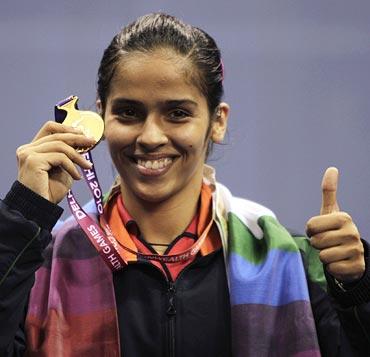 Olympic Gold Quest's support is indeed paying off. It reflects in the meteoric rise of Saina Nehwal. The badminton ace won her career's fourth Super Series title with a thumping victory at the Hong Kong Open on Sunday. She earlier won back-to-back titles -- Indian Open Grand Prix, Singapore Open Super Series and defended the Indonesian Super Series -- before clinching the gold medal in the Commonwealth Games in October.
"We are all so proud of Saina," declared Rasquinha, after she emerged triumphant at Hong Kong.
"Just wanted everyone to know that Saina's entire Hong Kong trip, including that of the coach and physio were funded by Olympic Gold Quest," the former India hockey captain added.
He went on to thank those funding the OGQ, saying without their help "all this would just not be possible. Please keep supporting us and all the other fabulous OGQ athletes like Gagan and Marykom and keep the faith".
'We can maintain a great deal of transparency'
Last updated on: December 14, 2010 19:58 IST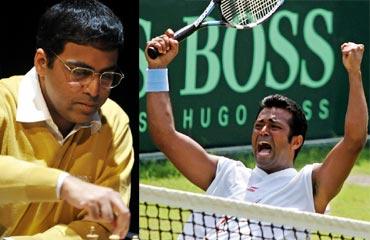 Rasquinha explained the 'Power Your Champions' concept.
"We have tied up with a company that helps us with the backend of this process. You will need to download a simple form from our website and you can either send it to us or we can arrange to get it from you. You just need to mention the amount like Rs 100 (or more) in the form. I am sure for most of us who spend Rs 100 on a cup of coffee, it won't pinch our pockets much. And once you fill that one-time standing instruction form you are committed to that cause for ten years.
"We plan to promote it in two years. Our OGQ talks at a lot of seminars and conferences at corporates because we want the employees to come on board so they can contribute to this Power Your Champions programme."
The programme was launched on September 23 in Delhi and already OGQ have employees of 15 companies on board this programme.
"So just think about this. If 10,000 people contribute Rs 100 per month, that makes it 10 lakh a month and 1.2 crore a year. So that amount can go towards contributing to supporting so many athletes at the grassroot level," says Rasquinha, adding, "If people want to contribute to any such cause they look at three things. First is the credibility of the people involved. And we have some of the biggest achievers in their field, like Geet Sethi, Prakash Padukone, Leander Paes and Viswanathan Anand. Similarly, we have top achievers from the corporate world too like Niraj Bajaj, (chairman of one of the Bajaj group of companies) and incidentally also a four-time National table tennis champion and an Arjun awardee and Shitin Desai (executive vice-chairman DSP Merrill Lynch).
Also top names from the corporate world include Sify co-founder R Ramaraj (now senior advisor with Sequoia Capital India), Neeraj Bharadwaj (managing director of Accel Partners) and Rakesh Khanna (Founding Partner, AMBIT RSM)
"They also want to see transparency and we are very sure that we can maintain a great deal of transparency in the way we will utilize our funds for the athletes.
"And the last thing people want to see is impact. And we have some athletes like Rakesh Sampat, Tintu Luka and Tejaswini Sawant who have shown great improvement since joining OGQ. This shows how we have made a great deal of impact and improved their performance."
'We will not fight against the system'
Last updated on: December 14, 2010 19:58 IST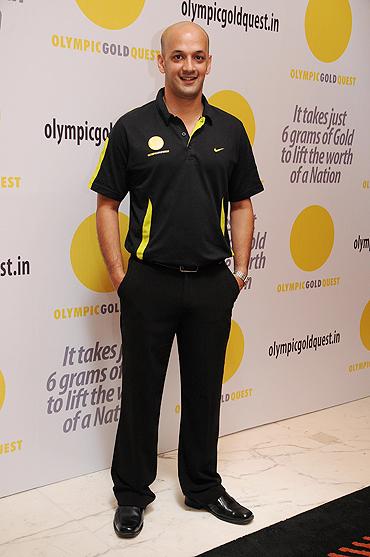 After just three months since the launch of 'Power Your Champions' Rasquinha is confident it will succeed.
"I have seen that the people are more than willing to contribute. They want India to do well in sports and winning a medal at the Olympics is a matter of pride for them. We want every Indian to feel that sense of pride at the Olympics and be involved with it.
"We work very closely with the government, the federations and the national team coaches. We have a clear policy that we will not fight against the system but we will work with the system. At the end of the day, the goal of everyone including the government, federations and the OGQ is to win Olympic gold medals," he says.
Rasquinha says the OGQ would like to support every athlete in the country.
"Right now we are very focused on producing World champions and Olympic champions, so our entire efforts are geared towards that. But in due course, the athletes can lead a respectable life once their careers are over. I don't know whether we can do that in the near future but in the long term we want to ensure that all our athletes are insured and taken care of."
With a little help from all Indians, Olympic Gold Quest can certainly achieve their goal.