Michael Schumacher an F1 great, if not the greatest...
December 30, 2013 11:49 IST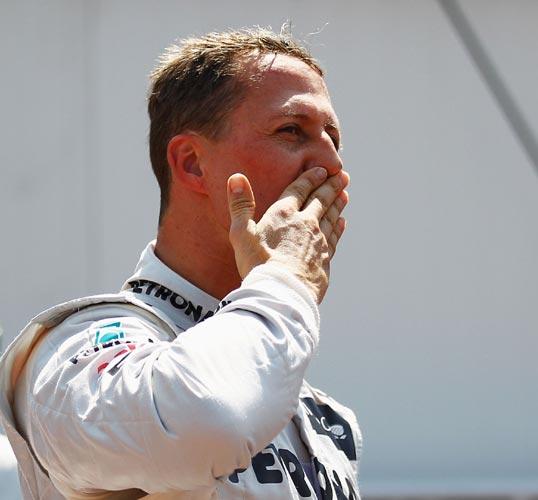 Michael Schumacher enjoyed more wins, more titles and more success than any driver in the history of Formula One but where he ranks in the pantheon of greats will be debated for decades to come.
-Down memory lane: The best and worst of Michael Schumacher
-'Come on Michael!' Sporting world echoes in support
-Former F1 champion Schumacher 'critical' after skiing fall
To his fervent fans the seven time world champion will always be simply the best - a giant whose fame transcends the sport and whose name is familiar even to those with scant passion for motor racing.
'Schumi', 'Schuey', 'The Red Baron', 'Der Weltmeister' (world champion): The German won an unprecedented 91 races and set record after record including five titles in a row with glamour team Ferrari between 2000 and 2004.
In 2002, Schumacher finished every race on the podium and statistically, stands in a class of his own.
The prayers and tide of goodwill messages as the 44-year-old lies in critical condition in hospital in Grenoble after a skiing accident in the French Alps testify to his status and esteem in the sport and beyond.
It seems almost churlish at such a time to point out an alternative view, that his greatness was flawed by favouritism over team mates and a questionable sense of fair play with too many controversies.
Schumi's remarkable career will stand as a drama in two parts
December 30, 2013 11:49 IST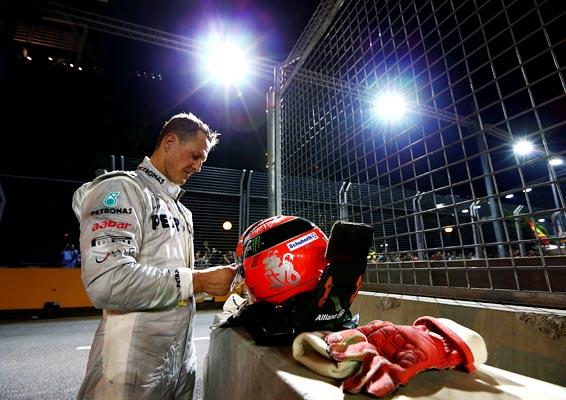 The Schumacher Mark II, drove a suitably silver Mercedes, had become a scuffed shadow of the shiny Mark I model who dominated racetracks around the world in the colours of Benetton and Ferrari.
His truly remarkable career will stand as a drama in two parts, with a three-year intermission, that some will see as an entirely fitting outcome for a driver who also divided the sport like few others.
Back in 2006, when Schumacher informed the world that he would be retiring as a Ferrari driver at a Monza news conference after the Italian Grand Prix, it seemed like the end of an era.
He had a string of records to his name, including finishing every race on the podium in 2002 and winning the title with six races to spare. In 2004, he chalked up a record 13 wins with seven of them in a row.
His second retirement did not seem as momentous after three disappointing comeback years with Mercedes in which he had produced just one podium finish.
'I have had my doubts for quite a while'
December 30, 2013 11:49 IST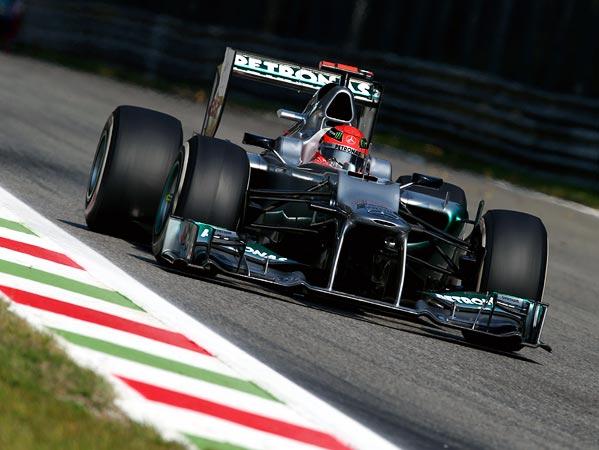 The Formula One world has moved on and younger talents, such as Red Bull's double world champion Sebastian Vettel and Schumacher's replacement Lewis Hamilton, now command the attention.
Schumacher still holds many of the records but Vettel is now the youngest ever double champion, after winning his first at the age of 23.
The finger-pointing German chalked up nine wins in a row, the first time any driver has done that in a single campaign since the championship started in 1950, and 13 in total to equal compatriot Michael Schumacher's 2004 record with Ferrari.
The man who was supposed to lead the 'Silver Arrows' worked Mercedes back to the top of the podium was a mere spectator when teammate Nico Rosberg - 26 at the time - secured the long-desired win in China in 2012.
Schumacher will never rank as the most popular
December 30, 2013 11:49 IST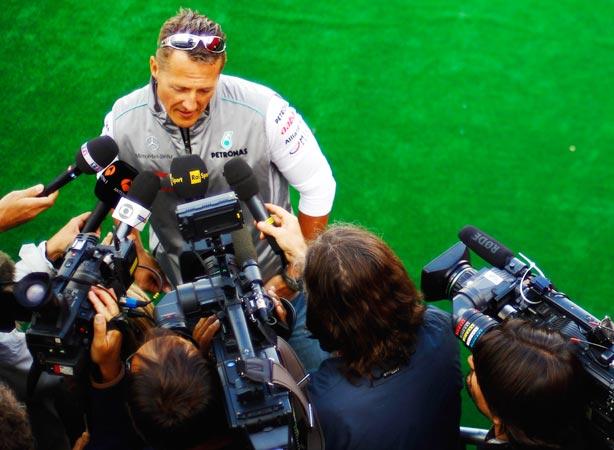 Self-doubt was never a big part of the old Michael Schumacher's make-up. The freedom he enjoyed then was of the town of Maranello as Ferrari's undisputed No 1.
Ayrton Senna was loved, despite the Brazilian's sometimes questionable tactics on the track, and mourned after his death in 1994. Argentine Juan Manuel Fangio was admired, Briton Jim Clark revered.
Schumacher may be the greatest, although the number who would dispute that has grown after three unimpressive years, but he will never rank as the most popular.
"I think he is the greatest racing driver of this century," said Mercedes team principal Ross Brawn, an accolade that also neatly sidestepped the sport's first 50 years and comparisons with the greats of yesteryear.
He's learned lessons and become more approachable
December 30, 2013 11:49 IST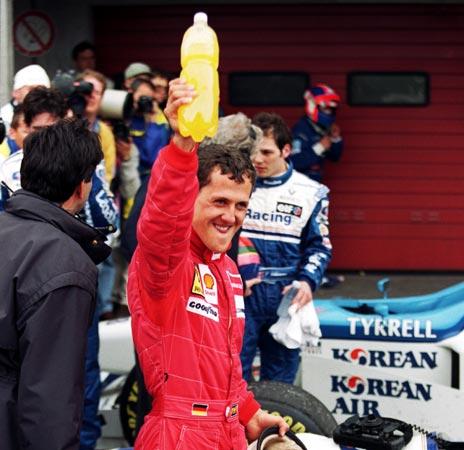 Schumacher has softened, prepared to admit mistakes. He has, he freely recognised, learned lessons and become more approachable.
He even practised his Italian - something he rarely managed even in his glory years when Ferrari fans worshipped his success but often wished he would be a little less German.
"In my first career, as I entered into Formula One (with Jordan in 1991), immediately I had a lot of focus on me. So there was a constant demand and pressure on me that was difficult to cope with over the years," he said.
"In that absence (from 2007 to 2010), I was more free and recharged myself...when I was back I noticed it is possible to be open, to enjoy, but not lose the focus. And that is something I was not doing in the first part.
"(In the second part) I had a bigger picture, I had more experience, and it was much easier to handle things."
'On his day, and particularly in the wet, he was breathtaking
December 30, 2013 11:49 IST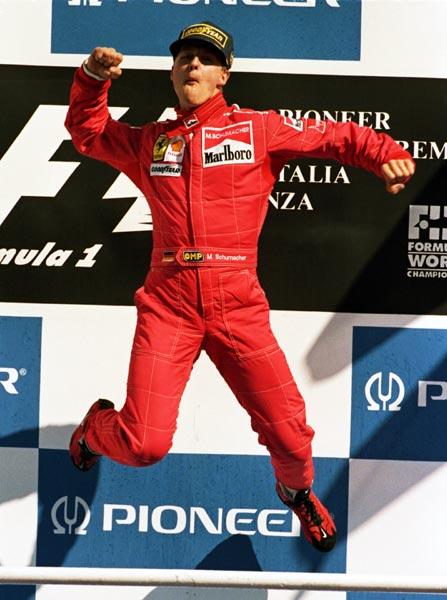 Yet the controversies of the past still hang over his reputation like the mists that shroud his favourite Spa circuit in the Belgian forests.
There was the collision with Damon Hill in the 1994 title decider, the notorious attempt in 1997 to run Jacques Villeneuve off the road and the global scorn and outrage that followed Austria 2002 when Ferrari ordered Brazilian Rubens Barrichello to gift him an undeserved win.
On his day, and particularly in the wet, he was breathtaking. His mind-management, and ability to gel a team around him and give swift and incisive feedback, set him apart from the rest.
Physically he looks like a man 10 years younger
December 30, 2013 11:49 IST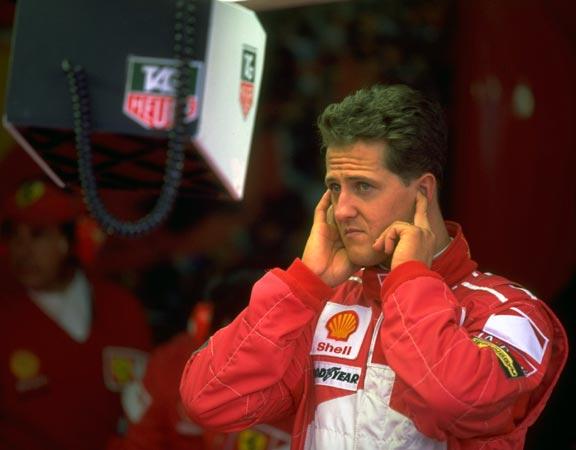 But his achievements were countered by the feeling that he benefited from the best car and a subservient teammate throughout his Ferrari years.
The 2006 Monaco Grand Prix saw him branded a cheat after a blatant attempt to block rivals in qualifying by stopping his car at the penultimate corner in the final seconds and he has been in more scrapes since then.
He has also shown flashes of brilliance, his fastest time in qualifying in Monaco this year the prime example even if a gearbox penalty denied him the pole position, and physically he looks like a man 10 years younger.
'Michael brought a lot to the team in his second period'
December 30, 2013 11:49 IST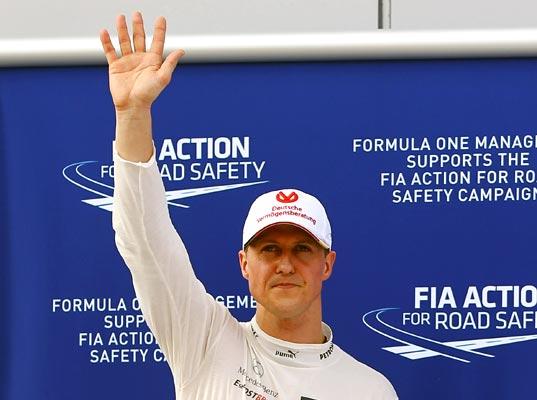 At Spa in August, he celebrated his 300th race. "I was very privileged to work with Michael from the very beginning," said Brawn, who guided him to glory at Benetton and Ferrari.
"We had some fantastic times, tough times but also very successful times.
"I think Michael brought a lot to the team in his second period that people don't see, a huge contribution behind the scenes...when we do achieve in the future, Michael will have made a contribution to it."
Source:
© Copyright 2022 Reuters Limited. All rights reserved. Republication or redistribution of Reuters content, including by framing or similar means, is expressly prohibited without the prior written consent of Reuters. Reuters shall not be liable for any errors or delays in the content, or for any actions taken in reliance thereon.