Kromowidjojo wins women's 100m freestyle
Last updated on: August 3, 2012 16:50 IST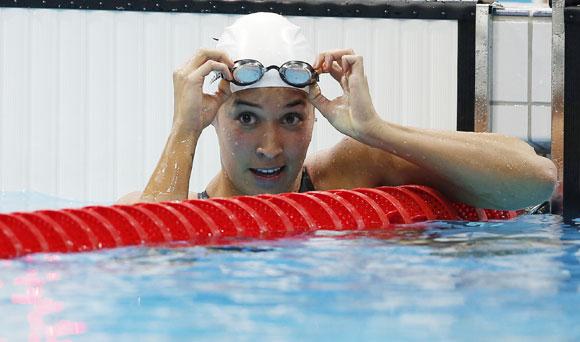 Ranomi Kromowidjojo of the Netherlands won the gold medal in the women's 100 meters freestyle at the London Olympics on Thursday.
After completing the first lap in fourth place, the flying Dutchwoman hit the accelerator on the last length, surging clear to win in 53.00 seconds.
Aliaksandra Herasimenia of Belarus, who was joint world champion last year, took the silver in 53.38 while China's Tang Yi won the bronze in 53.44.
American teenager Missy Franklin finished out of the medals in fifth place.
Kromowidjojo became the first Dutchwoman to win the classic women's sprint at the Olympics since Inge de Bruijn in 2000.
Clary wins 200m backstroke gold
Last updated on: August 3, 2012 16:50 IST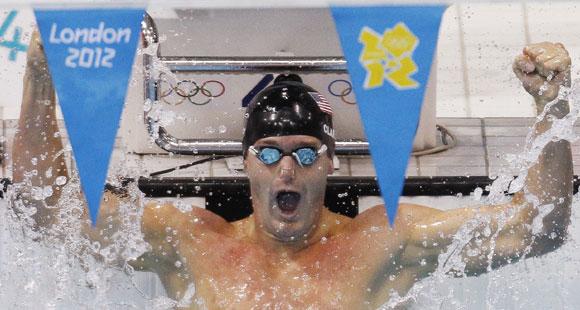 Tyler Clary vindicated his decision to take on the world's toughest swimmers when he upset his American team mate Ryan Lochte to win the men's 200 meters backstroke gold medal at the London Olympics on Thursday.
Lochte went into the race as the overwhelming favorite and led at all the turns but faded on the last lap as Clary made his move.
Clary drew level with Lochte then pushed as hard as he could and won a tight finish to capture his first Olympic gold medal in a time of one minute, 53.41 seconds.
"I stuck to my guns and I was able to come by in those last few 15 meters and get my hand on the wall," he said. "That was the perfect race I swam...it couldn't have gone any better."
Japan's Ryosuke Irie, runner-up to Lochte at last year's world championships, also made a late charge to grab the silver while Lochte won the bronze.
Phelps wins men's 200m individual medley gold medal
Last updated on: August 3, 2012 16:50 IST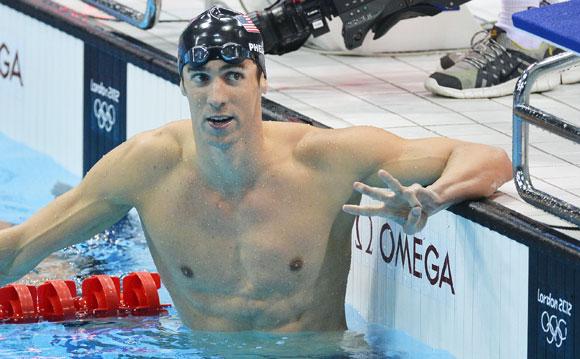 Michael Phelps became the first male swimmer to win the same event at three successive Olympics when he clinched the men's 200 meters individual medley gold medal at the London Games on Thursday.
Phelps, who won the event at the Athens and Beijing Games, relegated compatriot and world champion Ryan Lochte to silver while Hungary's Laszlo Cseh took bronze.
Phelps led all the way and got his giant hands on the wall first in a time of one minute, 54.27 seconds, just outside Lochte's world record of 1:54.00 that he set last year in the final at the Shanghai world championships.
Lochte, close to exhaustion after winning bronze in the 200 backstroke half an hour before the medley, held on to finish second, just 0.63 behind his team mate. Cseh clocked 1:56.22 for the bronze.
Phelps had joined forces with Lochte on Tuesday to win gold in the 4x200 freestyle relay and claim a record 19th Olympic medal and the 200 individual medley victory on Thursday gave the 27-year-old his 16th Olympic gold medal and 20th overall.
Only two swimmers had ever won the same individual event at three successive Olympics, Australia's Dawn Fraser, in 100 freestyle in 1956, 1960 and 1964, and Hungary's Krisztina Egerszegi in 200 backstroke in 1988, 1992 and 1996.
It is a feat that had eluded generations of the best male swimmers until Phelps, who had the chance of doing it in four different events in London.
He came fourth in the 400 individual medley and looked to set to achieve the feat in his favored 200 butterfly but was pipped by South Africa's Chad le Clos on the final stroke.
Phelps still has the 100 butterfly to come on his program, with the American the second fastest qualifier into the semi-finals, which will take place later on Thursday.
Bubble burst, Lochte's Olympics ends
Last updated on: August 3, 2012 16:50 IST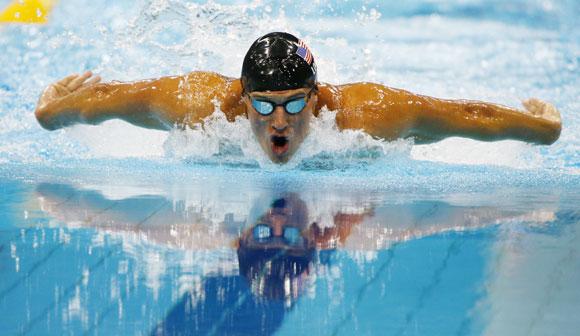 It was going to be his Games.
Ryan Lochte's mantra all year has been that 2012 would be his time, his turn to come out of the giant shadow cast by compatriot Michael Phelps and shine himself.
"I trained my butt off for four years, I just feel it inside my gut that this is my year," he said, brimming with confidence and chutzpah on Saturday. 'Go big or go home', his website proclaims.
Just five days later, the luster has tarnished.
Lochte's Games are over and he will celebrate his 28th birthday on Friday with two golds, two silvers and a bronze.
Many athletes would be delighted by that, but not the 2011 world swimmer of the year and quintuple gold medalist at last year's world championships. Lochte was hoping for six golds from six events in London.
"I wanted to get all golds in my events, but, you know what, it didn't happen," a tired looking Lochte said on Thursday, his bubble burst. "I'm going to have to live with that and move on and learn from it and try not to make the same mistakes in the next four years."
Those mistakes, he said, were over-enthusiasm, not over-stretching himself.
"It wasn't fatigue and I don't ever get pressured, I think it was just the excitement of being in the Olympics, being a lot faster than I was in 2008.
"That had a lot to do with going up there and going off a lot faster than I usually do."
Lochte doubled up on Thursday, beginning with the 200 meter backstroke, an event for which he was the Olympic champion.
Ahead after each of the first three laps, he lost steam in the final lap and was overtaken by countryman Tyler Clary and Japan's Ryosuke Irie.
Less than half an hour later and hardly dry from the first race, a grueling event that drains energy from swimmers' legs, Lochte was back in the pool in the 200 meter individual medley, and up against his long-time rival and team mate Michael Phelps.
Leading all the way, Phelps, already crowned in London as the most successful ever Olympian, took gold in this, their last competitive clash. Lochte was relegated to silver.
While Phelps is retiring, Lochte made clear he was already aiming for Rio 2016, albeit at a more modest pace.
"I can tell you this, I'm definitely going to be training differently, all those brutal workouts that I put my body through, you know what, I'm getting older," said Lochte, who seemed older and wiser than the cocky young man of five days ago.
"I think it's time to take it down a notch."
Soni wins 200m breaststroke gold
Last updated on: August 3, 2012 16:50 IST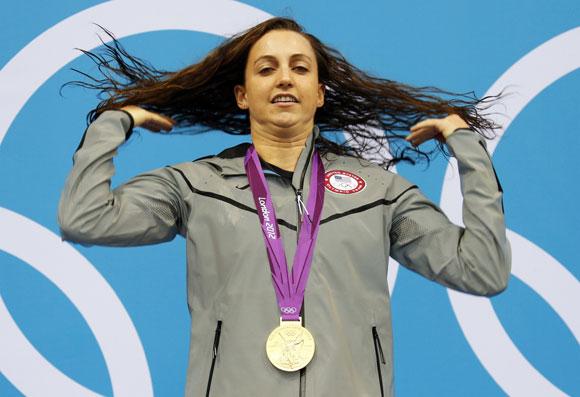 Rebecca Soni broke the world record for the second time in 24 hours to win the women's 200 meters breaststroke gold at the London Olympics on Thursday.
The American surged clear of her rivals after trailing after the first lap then taking the lead at the halfway stage to win in a time of two minutes, 19.59 seconds, slashing 0.41 off the previous record of 2:20.00 she set in Wednesday's semi-finals.
Japan's Satomi Suzuki won the silver medal and the bronze went to Iuliia Efimova of Russia.
Soni also won the four-lap event in Beijing four years ago and by winning in London she became the first woman to successfully defend a breaststroke title at the Olympics.
Source:
© Copyright 2019 Reuters Limited. All rights reserved. Republication or redistribution of Reuters content, including by framing or similar means, is expressly prohibited without the prior written consent of Reuters. Reuters shall not be liable for any errors or delays in the content, or for any actions taken in reliance thereon.